Direct Store Delivery vs Distribution Center: Which Works for Your CPG?
There are two principal distribution models for transporting consumer packaged goods (CPGs) from manufacturers into stores: direct store delivery and centralized distribution.
It's important for brands to make an informed decision. Each brand or product will have its own needs and special requirements, so there isn't necessarily a clear-cut answer. And yet, employing the right method could accelerate growth, improve profit margins, and grant access to new stores.
There are pros and cons to each model, but what are the differences and how do CPG brands decide between them?
Get comfortable, because we're about to tell you everything you need to know. Let's start with definitions.
What is DSD?
Direct store delivery (DSD) does exactly what it says. It's the distribution method whereby products are delivered straight from the supplier (or their partner distributor) to the store. It bypasses the retailer's own warehouse or distribution center.
DSD has evolved from the competitive landscape of grocery retail, where stores needed to minimize inventory carrying costs.
In this model, stores take a much more passive role in the logistics of getting products onto shelves.
Transportation and storage is usually outsourced by manufacturers to third-party distributors, who often specialize in certain products.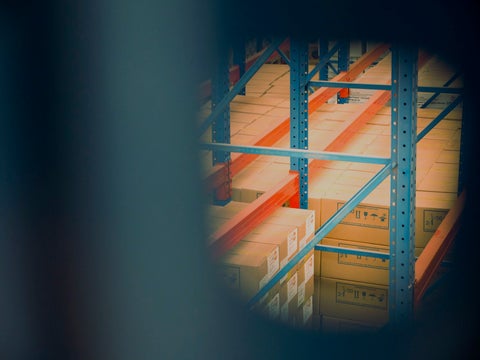 What is a Distribution Center/Centralized Distribution?
The terms distribution center (DC) and centralized distribution can be used interchangeably. They both refer to the logistical model in which CPGs are distributed to retailers' own warehouses, before being taken to stores.
As soon as the product is received into the retailer's distribution center, the retailer takes over and is responsible for that product reaching supermarket shelves.
The retailer may, of course, outsource their centralized distribution network, but it will only require one distributor, rather than several CPG distributors.
DSD vs DC: the pros and cons of each
Now that you know the differences between the two models, let's investigate the benefits that each brings to the table.
Certain products will be better suited to a particular distribution method. So although you may like the sound of one model, it may be more beneficial to your business to opt for the other.
Direct Store Delivery
This model is typically more popular and valuable with food and beverage CPG brands. There are a few good reasons behind this.
Fresher products for longer periods
As we've already discovered, the DSD model bypasses the retailer's distribution center. The 'direct' nature of the model minimizes the time that products spend in the supply chain.
With less time sitting in warehouses or on trucks, products can have a longer shelf life. This gives more time for the product to be purchased before reaching the expiration date, so that fewer products are lost to waste.
Groceries, fresh eggs, and dairy are all products that would benefit from minimal time in the supply chain.
Minimal product damage
You can't guarantee that retailers' own distribution centers will be fully equipped to store and transport products with specialized requirements. For instance, fresh flowers will require a different level of care than canned drinks.
DSD allows CPG brands to carefully select distributors who specialize in their products. They'll have all the necessary equipment and training to handle products properly.
Flexible and responsive
The best-case scenario for any CPG brand is that their product flies off the shelves. To be 'sold out' is the dream, right?
Well, not necessarily. Of course, you want your sales to rocket, but out-of-stock items can frustrate retailers and customers alike.
You don't want your customers to be let down when they go to the store to buy your product(s) and find that it's not there. This forces them to try competitors' products — meaning you're losing out on sales.
Out-of-stock scenarios are reportedly 2 to 4% less frequent when retailers use DSD over DC.
Products that are in high demand and will doubtlessly sell work well with the DSD model. Bottled water, toilet paper, and bread are always in high daily demand.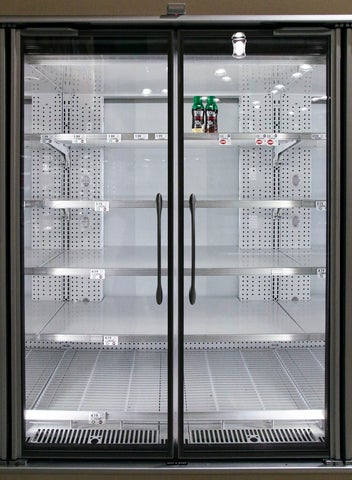 Additional services
DSD distributors often offer more services than delivery and storage. Some will take care of shelf inventory management, meaning that they'll unpack and stock the products on the retailer's behalf.
Some will handle the in-store forecasting, calculating how many products will be required by when — avoiding those dreaded out-of-stock situations.
Price and promotion execution, store ordering and in-store merchandising are all examples of services that distributors may offer. It's always worth asking what they can do for you.
Reach more retailers
Not all retailers will have their own centralized distribution networks. Local, smaller, or indie retailers may rely on DSD to stock their shelves.
Inner-city retailers may particularly benefit from DSD, where they might not have much space to hold inventory within stores. In other words, there is no 'checking in the back' when products go out of stock.
By getting your products into these niche retailers, you'll be able to target consumers who would really be interested in trying your product(s). For instance, if you landed a plant-based product in a vegan store in LA, you'll likely see better traction than you would in a large supermarket on the outskirts of California.
Benefits retailers
The benefits for retailers have come up a few times already as we've explored DSD, but why does that matter for CPGs?
Retailers are the ones facilitating the end customer transaction. Retailers are also a type of customer to you because it's up to them whether or not your product makes it onto their shelves — now and later.
If you can take some of the workload off the retailer by using DSD, thereby improving their profit margins, they'll appreciate it.
Distribution Center
DC could be a good option for non-perishable foods or CPG products other than food.
Larger order quantities
When using the DC model, you may be able to offload more products at once. If the retailer believes in your product, they may order in bulk. Large orders result in a good injection of cash into a CPG business.
But on the other hand, economies of scale come into play here. If a retailer orders in bulk, the unit prices will no doubt come down, meaning a smaller profit per item for you.
It's not all bad though. If the retailer is able to make some savings, they can pass those onto the consumer. This may help your brand to attract or reach more customers and that's key for the growth of your market share.
Retailers may prefer DC
Some retailers may prefer to stick to their own DC. This allows them to control their own shelf stocking and storage.
They may also prefer to manage fewer relationships with distributors by using their own centralized distribution network.
However, they may only need to work with a handful of larger distributors to get their stores fully stocked.
Higher risk of damage
With DC, the goods will be transported twice. This creates a higher risk of items becoming damaged in transit.
Fragile products may therefore not bode well in a centralized warehouse. Potato chips or bread are good examples to use here. If the packets aren't stored properly, the products could get damaged. Crushed chips and squashed bread are not a good look for brands.
These scenarios could cost you customer loyalty at no fault of your own.
Finding the right distributor
Now that you know the differences between the models, you can decide which best suits your brand or products.
If you're on the lookout for a distributor who can help you to take care of business, check out Buffalo Market.
We're the leading distributor of purpose-driven food and beverage brands — and, what's more, we're poised to change the future of food distribution with our Direct Store Delivery model.