Buffalo Market gets the best produce from local suppliers.  This box comes with fresh fruit and/or vegetables valued over $60.   Give it a try and let us know your favorite recipes to share with our customers!
Customer Reviews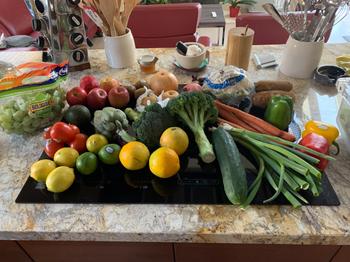 10/24/2020
I recommend this product
What a colorful feast !
An amazing assortment of fruits and vegetables. Lots of colors and variety. Perfect !
Stephanie M.

United States
12/03/2020
I recommend this product
Great buy!
We love the Grocery surprise box! It's the perfect size for two people and the supply of fruits and veggies lasts for 10 to 14 days. There is always a good variety in the box and everything is fresh and crisp.
Anonymous

United States
10/24/2020
I recommend this product
surprise box
everything arrived in good shape and it is wonderful. in fact, two of my neighbors are going to order.
Anonymous

United States
10/18/2020
I recommend this product
Amazing produce "surprise" box
Everything was fresh but what I really liked was that it was filled with items that I would use and incorporate into my menu. Not some strange item that would never be used. Loved, loved this surprise box!
Bonnie P.

United States
08/27/2020
The most delicious surprise box at an awesome price!
Just want to update my previous review because I realized some might want to know the content of this box. So here is what I got this past Sunday: ALL ORGANIC 1 purple onion 1 yellow onion 4 potatoes 1 celery bunch 10 bananas 1 watermelon 1 acorn squash 1 spaghetti squash 1 cantaloupe 4 apples 4 oranges 2 red peppers 2 green peppers
Giselle A.

United States