Cooking with Cilantro and Parsley: Don't Throw Away the Stems!
One of the major benefits of cooking for yourself, rather than just ordering takeout, is that you can eliminate food waste by optimizing every part of your ingredients. Used for added taste or simply thrown on the compost heap, organic produce and its waste products will always have a purpose in your kitchen – and herb stems are no exception.
Since there are so many herbs, offering a diverse array of textures and aromas, you can satisfy a broad palette when cooking with them. Ranging from sweet and juicy to tough and bitter, herbs can exercise a remarkable influence over the final taste of your dishes. Not to mention the health benefits you'll enjoy as a result – did you know, for instance, that the antibacterial properties of parsley can boost your immune system?
So the next time you're prepping your ingredients, save yourself the finnicky job of pulling apart your herbs from the stem and just chop them all up in one go!
How to use cilantro stems
Often the most obvious answer is usually the best one, so it won't surprise you to learn that the best way to use cilantro is as a seasoning for soups and stews. Thanks to their warm, tangy flavor, cilantro balances out hotter ingredients – such as the chili and fennel seeds you might add to a curry – just as well as it is complements the milder richness of slow-cooked casseroles.
While some chefs just use cilantro leaves as a decorative flourish on their meals, an added depth of texture can be achieved by incorporating the stems as well. All you need to do is chop up the stems to a small enough length so you can easily sprinkle them over whatever dish you've made.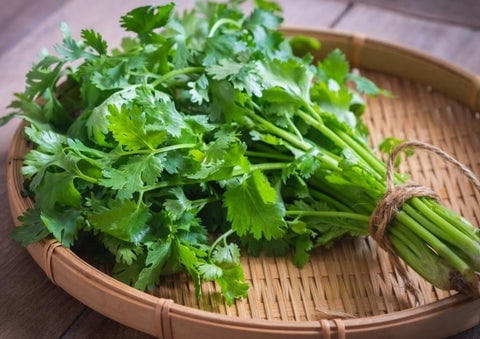 What's great about this is that the cilantro stems taste just as good as their leaves, but that little extra dose of crunchiness can really add to the crispiness of salads, and would work nicely in tuna mayo when mixed with the mild spiciness of some diced red onion. Otherwise, you can put chopped cilantro stems on your fried eggs, or add them to your homemade salsa – especially with half a lemon squeezed in there.
Cooking with cilantro
As a buffer against food poisoning, with anxiety-reducing properties that can lower blood pressure, cilantro is an organic health aid that's well-suited to the harsh climate of the winter months. One idea for a warm, healthy meal is a carrot and pumpkin soup which you could then garnish with your cilantro stems. In one hot and delicious serving, you'll be getting a hearty dose of vitamins C and A to boost your immune system against seasonal flus – and even improve your eyesight!
If you wanted to diversify your vegetable selection, you're going to want to try the kabocha, a small Japanese squash that's loaded with iron and offers a sweet, buttery flavor similar to that of pumpkin or sweet potato.
Alternatively, if you're in the mood for some Mexican food, you could easily add some chopped cilantro stems to our recipe for corn truffle quesadillas, made with Huitlacoche, a national delicacy known as the Mexican truffle.
Why you shouldn't throw away parsley stems
Stemming from the center of the Mediterranean, parsley is native to Cyprus, Spain, Morocco, Portugal, and southern Italy, making it one of the most widely grown herbs in the world. Keeping in line with its diverse background, parsley also comes in an array of different forms. Known as a biennial herb, courtesy of its two unique forms, you can find parsley as either a flat-leaf herb or in its moss curled variant.
While the latter is more suited as a garnish, given its soft, easy-to-tear quality, flat-leaf parsley is more commonly employed in cooking thanks to its stronger flavor-enhancing attributes. On either variant, the stems of parsley will always contain a stronger taste, and in fact the closer you are to the bottom of the stem the more intense that flavor becomes.
If you're cooking a dish which calls for some added texture and substance – a curry, for example, rather than a smooth and creamy soup – this is where you could easily incorporate some crunchy parsley stems. Given their relative fragility, the stems will have softened significantly by the time the curry is cooked and ready to serve, but they will still have infused everything else with their mildly peppery taste.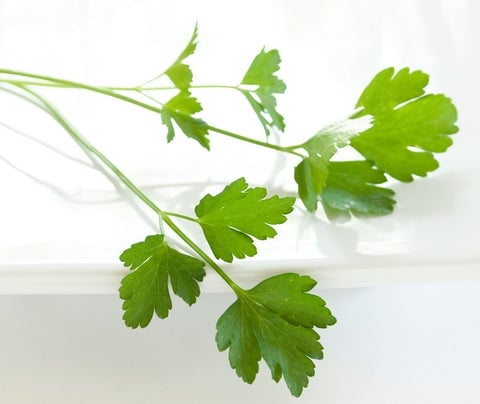 This would be a good alternative to those who want to add strong-tasting ingredients, such as sweet neem leaves into their food, but don't want the tough texture that goes with it. You will also be enjoying the health benefits of parsley, which has been known as a natural remedy for ailments such as high blood pressure and inflammatory diseases. Not only that, parsley is loaded with vitamins A, C, and K, the latter of which maintains bone health and is necessary for blood clotting to assist the healing of wounds.
Using herb stems will not only give you added flavor in your cooking, but help you save on your grocery bills as well. More taste and less waste? You'll be wondering why you never thought of using your herb stems in the first place – but now you know how to incorporate more of them into your ingredients list when making beef stew, slow-cooked Bolognese sauce, or any other meaty winter warmers.
So the next time you're cooking and what to ignite your meals with stronger tastes and more powerful aromas – the warm tang of basil leaves or the strong kick of rosemary, among many others – don't bother picking the herbs from their stems. Cut everything up in one go! You'll save yourself a heap of time and add a whole lot more flavor to your food.