Jan 25, 2022
How To Cook With Apples
Apples are a great fruit, and they're at their peak at the beginning of fall. Healthy, nutritious, and delicious, apples are the perfect snack – just grab one and eat, anytime of day! But they're also a versatile ingredient in the kitchen, with good cooks knowing precisely how to use them to augment a whole variety of dishes, both sweet and savoury.
Of course, it would be impossible to start anywhere other than good 'ol apple pie. The classic recipe – perfect flaky crust, apples softened with butter, sugar, lemon, vanilla, and cinnamon – is an absolutely delight, and there are infinite variations; some people add caramel, nuts like pecans, a whole host of different spices, sour cream, and even bacon or cheddar cheese. Apple cake is also common, the pastry replaced with a light, fluffy sponge cake.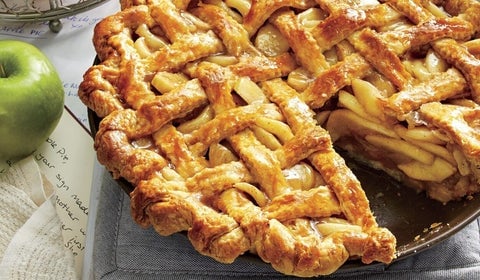 Is your salad lacking a little pep? Zest it up with some apple slices, a trick that will improve the flavour and the texture. Depending on the salad, you could sauté the slices in butter, sugar, or all manner of spices and flavourings first. These slices can be stored in kiln jars, or added to soups and stews – they go great with anything involving butternut squash, sage, kale, and cabbage.
You could make a chunky pork and apple stew, with bacon, mustard, cider, and sweet potatoes, or a rich, hearty kale and apple soup. Or how about an apple, sausage, and smoked cheddar cheese casserole, a delicious one-pot that's a glorified, super-deep omelette (and can even be eaten for brunch)?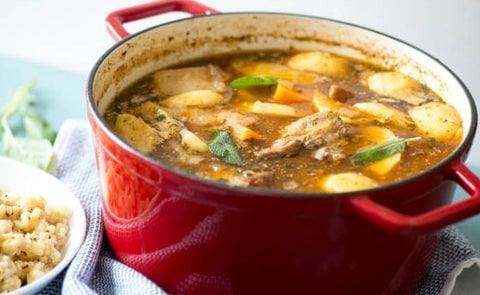 Think apples have no place in a sandwich? Think again! For a quick and easy filling lunch, try some apple, cheddar, and chicken melts – pile grated apple, cooked shredded chicken breast, and coleslaw on slices of wholemeal sourdough, top with grated cheddar cheese, and grill. Or add super thin apple slices to a brie and ham baguette, complete with a smear of Dijon mustard – sandwich heaven!
We all know apple sauce goes well with pork (and poultry), and is a cinch to make, but what about apple butter? Boil thin apple slices, cider, and sugar together, blend until smooth, and stir in some cinnamon and cloves for a super delicious way to add a little autumnal flavour to just about anything.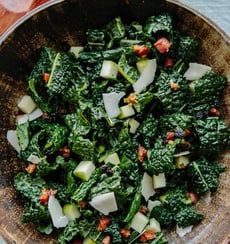 For sides with a difference, apples are great. For a twist on a warm spinach salad, pan fry pancetta with shallots, chopped kale, thin apple slices, and some currants before drizzling with vinaigrette and parmesan shavings. Or if you're feeling festive, whip up some baby brussels sprouts with apple, hazelnut, and brown butter dressing – this goes great with poultry of all kinds.
Sweet tooth? There's no end of things you can do with apples. Strudel, apple crisps, crumble, muffins, fritters, apple custard, baked and stuffed, dumplings, loaf, and apple tart – especially traditional tart tatin – the list is endless. You can even make your own granola bars.
It's always best to check which type of apples work best with which recipe – sweet, tart, juicy, or crisp. At Buffalo Market, we're always looking to expand the range of varieties we carry, and work hard with local farmers and producers to bring you the best apples we can. Check out our range here, add some to your cart, and get cooking!