Jan 26, 2022
How To Make Pancakes
Forget relying on pancake mix, good 'ol fashioned pancakes are super easy to make. Invented by the Ancient Greeks, just about every country and region has their own version or serving traditions – they can be served any time of day or year, and with a variety of toppings and fillings both savoury and sweet. The basics – a batter formed with egg, milk, butter, then cooked in a hot pan – remain the same, but there are subtle difference around the world.
In the UK, pancakes are often unleavened and thinner, resembling a crêpe, while in North America, a leavening agent is used – normally baking powder – creating a thick fluffy pancake. The French, of course, are famous for their crêpes, a thin Breton pancake cooked in a special pan to achieve a lacelike network of fine bubbles.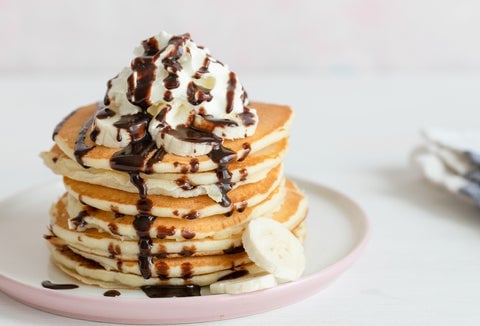 For the brunch classic pancake that you know and love, it really couldn't be simpler. You'll need 1 ½ cups of all-purpose white flour, 3 ½ teaspoons of baking powder, 1 ½ cups of milk, 1 tablespoon of sugar, 1 egg, and 3 tablespoons of melted butter. But the most important element is the pan – you'll need a cast iron griddle or a specialist pancake pan, the heavier the better (if you have neither, a good quality non-stick pan will do).
In a bowl, sift together the flour, baking powder, salt and sugar. Make a small hole in the center and pour in the milk, egg and melted butter; mix until smooth. Heat your lightly oiled pan over a medium-high heat, then pour or scoop the batter onto the griddle, using approximately 1/4 cup for each pancake. Cook each pancake until bubbles form on top, one to three minutes, then flip – aim for a nice, golden brown.
For thinner pancakes or crêpes, leave out the baking powder and use a proper crêpe pan. For a more substantial pancake, you can add protein powder or some grated potato – for a tarter flavour, use buttermilk instead of milk. Or, for a healthier version, swap the white flour for whole wheat or buckwheat.
When it comes to toppings, the only limit is your imagination! If you're making crêpes, they go great with savoury fillings like cheese and ham, but you can also go for the classics – Nutella, jam, or just sugar and lemon. Fruit works well too, particularly berries, but you can use banana, peach, or pear. Add some maple syrup for a sweet treat, or for true decadence, serve with ice cream or mascarpone.
We've got everything you need to make great pancakes, including the wonderful Happy Eggs. Add some to your cart today and get cooking.