Jun 21, 2022
LGBTQ Leaders: Buffalo Market Co-Founder Panels 2022 Nasdaq Event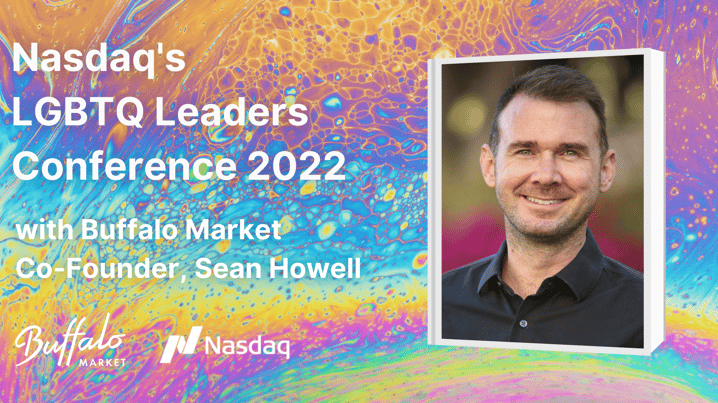 This week, Buffalo Market co-founder Sean Howell joined a panel of LGBTQ+ entrepreneurs at Nasdaq's LGBTQ Leaders Conference in New York. The event was sponsored by Nasdaq's LGBTQ+ network The OPEN (Out and Proud Employees of Nasdaq) and was open to all Nasdaq clients, as well as non-profits and organizations which champion LGBTQ-related causes.
The annual event brings together industry trailblazers to share their thoughts and experiences as queer people in the business world and explore calls to action for the community.
Before co-founding Buffalo Market, Howell served as the CEO of Hornet, a social media app dedicated to helping millions of users discover and join queer communities based on shared interests. He also ran the LGBT Foundation Blockchain and LGBT Token, a not-for-profit organization aiming to jumpstart and normalize cryptocurrency adoption within queer economies.

The panel discussion focused on the leadership perspectives and the current entrepreneurial environment as experienced by LGBTQ+ trailblazers. Joining Mr. Howell on the panel were:
Moderator Genesis Garcia, VP Global Strategy, Marketing and Communications, BNY Mellon; StartOut Board
Perrin Quarshire, Founder & CEO, RealBlock
Ashley Wilson, Founder & CEO, AuditMate
Andres Wydler, Exec Director, StartOut
This year's conference is the fourth such event hosted by Nasdaq, a company that has been recognized by the Human Rights Campaign's Corporate Equality Index as one of the best places to work for LGBTQ+ equality four years in a row. The index weighs inclusive policies, non-discrimination protections, and healthcare benefits for gay and trans employees.

Buffalo Market is proud to have LGBTQ+ representation in our leadership and of all the work Mr. Howell has accomplished in the queer community.
---
More about Sean Howell
Sean Howell is co-founder of venture-backed Buffalo Market-- the most efficient, transparent, and brand-friendly food distributor on the market. Buffalo Market specializes in working with the fastest moving products and the largest retail chains across the United States, like Costco, Walmart, Whole Foods, etc. Investors include Forerunner, Construct, Chainsmokers, and Gaingels. Prior to Buffalo Market, Howell ran the LGBT Foundation Blockchain and LGBT Token, and at Hornet he served as CEO for 10 years building one of the largest social networks in the world with over 35 million users, delivering over 100 million messages a day. He is a published researcher and prior to Hornet, he was a fellow of the World Affairs Council, trustee, and President of the Young Professional International Network. He helps hundreds of organizations leverage technology to expand their impact through his work at the MSM Global Forum; serves on various non-profit boards and committees: UNAIDS, E-CDC, PFLAG, and Center for Public Health and Human Rights at John Hopkins; is a founding member of the UN Global Coalition for HIV Prevention and technical advisor to UNDPs and the World Bank LGBTI Index.