Sushi Bake is the Latest Food Trend You Need In Your Kitchen
The worldwide lockdown over the past year has taken so much away from us – vacations, weddings, the chance to see friends at home and abroad – but it has given us a whole load of one thing in return: time. Oodles and oodles of time. Yet for any budding chefs, this is the prime opportunity to recreate their favorite restaurant meals at home – and if there's one lockdown trend you need to get into your kitchen, it's the sushi bake.
The traditional Japanese rice and seaweed dish, filled with a variety of meats, fish, and vegetables, sushi is the ultimate lunch on the go as it can be found in the sandwich section of just about any grocery store. But the point is that it's refrigerated… Surely, you can't cook sushi, can you?
What is sushi bake?
Well, the basis of this dish is the "California roll" variant of sushi, a North American take that supplements seaweed on the outside of the rice for vinegared rice, and is often filled with avocado, crab, and cucumber. The sushi bake takes these elements and simply pulls them apart and puts them in a casserole dish.
This dish involves seasonal rice and furikake rice seasoning, a layer of seafood fillings topped with a spicy mayonnaise, some more furikake, and a few more squirts of spicy mayo and Sriracha chili sauce on top. You bake it and then serve on pieces of dried seaweed, to enjoy with whatever additional toppings you want.
Why is sushi bake popular?
Sushi itself is a very popular dish – with around 4,000 sushi shops across the U.S., generating annual revenue verging of $2bn – but it can be quite difficult to make at home, given the specific ingredients and technique required. I've always found that rolling the sushi is the hardest part, where you have to bundle everything up into that bamboo mat, leading to some very messy experiences.
But this sushi bake is ideal for lovers of Japanese food, as everything fits into one neat tray and you simply portion as much you want on some nori seaweed after it's cooked!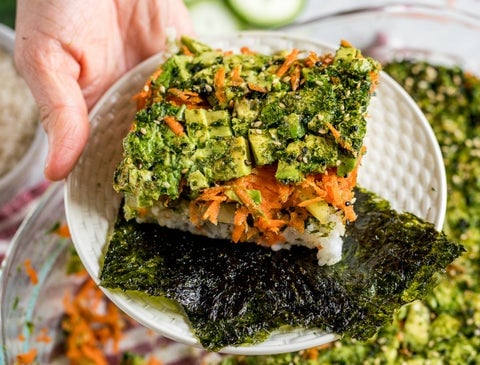 While house parties and family get-togethers are, for the time being, out of the question, there will always be a lot of importance placed on family mealtimes. Food is a powerful social utility, as it often requires a team effort to assemble, and the ritual of sharing around a dining table will always be a force for good.
The sushi bake, then, is a perfect dish for any household – it tastes great, it's super easy to divvy up for a group of people, and its mixture of oven-baked warmth and creaminess makes it a winner for any time of the year.
Naturally, with most restaurants closed and takeout being just about the only substitute, recreating our favorite dishes has been one of several lockdown food trends to have persisted throughout the past year. With all this free time, there are plenty of opportunities to try out more complex recipes through trial and error – and the money that would have otherwise been spent on dining can instead go into fresh organic produce.
What can you put in sushi bake?
What makes this dish so popular is the freedom it offers chefs to improvise. So much of this dish can be modified to suit personal tastes, and because the basic principle is so straightforward – rice, filling, seasoning and spicy mayo – you can make a few batches every week if you wanted to. Every new try allows the chance to experiment with the ingredients you want, and the success of that recipe can be judged by how good it tastes.
While the key component of the California roll is crab meat, there are plenty of alternative seafoods you can use in your own sushi bake. Hunting around on Google for recipes, you can expect to find variants that use spicy tuna, scallops, shrimp, eel, and plenty of other things. You could even make a sushi bake with rib-eye steak!
One ingredient of sushi bake that may be a little tricky to get your hands on is the furikake rice seasoning, which you sprinkle over every layer of the sushi bake as it's assembled. But you can make furikake at home with some roasted sesame seeds, salt, roasted seaweed flakes, and sugar.
Rice dishes at home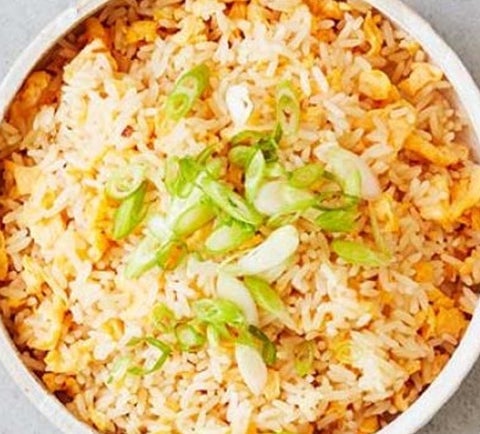 Those of you feeling inspired by this new sushi bake trend can try your hands at some of the rice-based recipes we have at Buffalo Market. With a few simple steps, you can bring the world into your kitchen, and these recipes can be customized to bring in many of your favorite flavors and ingredients.
Gyeran Bap
This Korean egg rice dish is pretty difficult to get wrong, with only four key ingredients resulting in a dish that is delicious and open to many different variations. You can add just about kind of meats and vegetables to this, to suit your personal tastes.
Nasi Goreng with brussels sprouts
A common dish of Indonesian cuisine, this variant of fried rice is regarded as one of the ultimate comfort foods. A great way to get more brussels sprouts into your diet, this proves the little green vegetables don't just have to be side servings at Thanksgiving dinner!
Broccoli egg fried rice
Those of you pining for Chinese dining right now can take Asian cuisine into your own kitchen, with this simple recipe for broccoli egg fried rice made with ingredients that can be found in just about any grocery store. This one is great for leftovers, too, as whatever you've got lying around in the fridge can easily be added to this dish.
Just because restaurants are closed for business, it doesn't mean your imagination has to be as well. There are plenty of new and rewarding recipes out there for you to experiment with in lockdown, and the ones we've offered here are sure to spark some fresh ideas for your future meal plans. Give them a go and spice up your meal plans this week.