Jan 25, 2022
The Best Ways To Cook Parsnips
Fall and winter mean root vegetable season, and one of best, and most delicious, is parsnip. Closely related to carrots and parsley, pastinaca sativa is native to Eurasia and has been cultivated since the 7th Century BC. Known for its sweet, rich flesh, it was actually used as a sweetener in Europe before the arrival of cane sugar, as well as being both cooked and eaten raw. These days however, it's the former that is more common, and there are plenty of great ways to do it.
That rich, creamy flesh is absolutely perfect for soup – and parsnip soup is a great winter warmer. It's super easy to make; just fry some garlic and diced parsnip in oil, add vegetable stock, simmer for 15 min, blend until smooth, then add some cream or yogurt. It can be spiced up with the addition of some chilli, or for a deeper flavour, roast the parsnip in the oven first.
Such a soup can also be made with other root vegetables too – carrot, butternut squash, and sweet potato all go great with parsnip.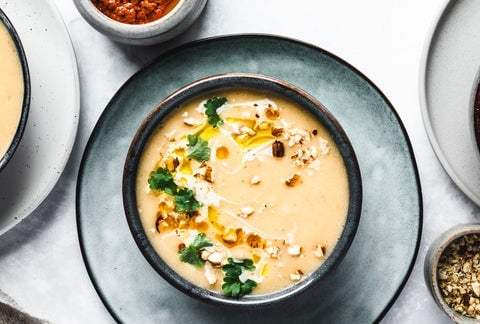 Roasting is another great way of cooking parsnips. This method caramelizes the vegetables' natural sugars, turning them into delicious little nuggets of goodness, and couldn't be easier. Just toss some chopped parsnip with olive oil and salt, spread them out on a baking tray, and throw in the oven. These work perfectly as a side for all kinds of roast meat or winter stews.
Parsnips can also be mashed, either on their own or added to normal potato. It's prepared in the same way as normal mash – boil the parsnips in salt water till soft, drain, add some butter, salt, and pepper, and mash to your desired consistency. So easy! If you want it really creamy, you can add a splash of milk or actual cream, and it can be flavoured with garlic too.
For something a little different, try parsnip noodles. These are a great, gluten free substitute for thin pasta like spaghetti or linguine, or egg noodles. To make them, you can use a spiralizer, but a standard peeler works too. You just start peeling the parsnip….and don't stop! (peel at an angle to give you the longest strips) The noodles can be quickly cooked in boiling water, fried in a little oil, of just added straight to whichever dish you're making.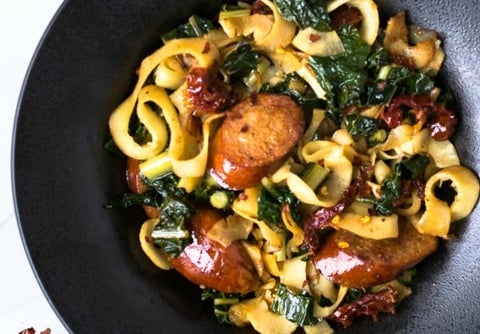 And, if you're feeling really adventurous, how about parsnip rice? You might have heard about cauliflower rice, but parsnip rice is just as easy and delicious – a low-carb, grain-free alternative to rice that goes great with stir fries, stews, chilli, or mixed into salads to add texture and flavour. You can even make a pilaf from it, with dried fruits, nuts, and herbs.
It can be made in a food processor, but it's just as quick using a normal box grater. Once grated, simply microwave for a few minutes until they are cooked but retain a little "bite", then toss with some salt (and, if you like, a little oil and pepper). Bingo – ready to serve!
With parsnips in season from Fall right the way through to Spring, now is the perfect time to add them to your kitchen repertoire. We've got some great organic parsnips in right now, so order some today to enjoy one of the best root vegetables at its peak.