Jan 25, 2022
What Apples Grow In California?
Here at Buffalo Market, we're firm believers in a Farm To Table philosophy. That's why we work hard on building long term relationships with local farmers and suppliers, to ensure we can deliver the best tasting food direct to your door. Nowhere is this more evident than with apples.
California is powerhouse when it comes to growing apples. A number of varieties thrive in Southern California's Mediterranean climate, with its long hot summers and mild winters. Consequently, the state is the 5th largest producer of apples in the US, and the 2nd largest exporter. Over 25,000 acres are dedicated to apple trees, and it's estimated that the fruit generates over $520 million per year.
While you can find over 80 different varieties growing across the Sunshine State, California specialises in four main types: Gala, Fuji, Granny Smith, and Cripps Pink Ladies. We've already looked in to the different qualities and characteristics of these main types, but for the intrepid foodie, there's a world of choice and variety grown right here.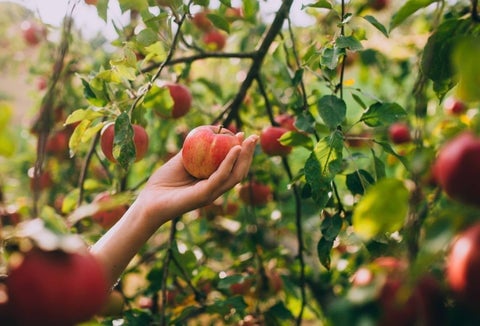 There's the Spitzenburg, an apple with a pronounced aromatic flavour and a dense, buttery flesh. Excellent for desserts and juicing, it generally needs to be stored for a month after picking to let the flavour mature and develop – but the wait is more than worth it!
Or how about the dark burgundy Arkansas Black? A distinctive, late-season apple, it's also more suited to cooking than eating raw, and is increasingly used in cider production (the tart, intense flavour makes it perfect for distillation).
The wonderfully named Wickson Crab is also a cook's best friend. The sweet, dense flesh and high levels of pectin make this the ideal variety for making jams and jellies. It makes great juice too, as it requires no extra sweeteners.
If it's straightforward eating you're after, look no further than Liberty, a modern variety developed partly from crab apples and McIntosh. Known for its clean, well-balanced flavour, it has just the right amount of tartness and sweetness to be eaten straight from the tree. Chef's also swear by Liberty for making apple sauce; leave some skin on to give your sauce an attractive pink tinge.
We're always on the lookout for new, great varieties to deliver straight to your door. Why not browse our current selection and add something different to your cart today?