7 CPG Brands Taking Steps Toward More Sustainable Business Practices
Would you shop with a sustainable CPG brand over one with shoddy environmental practices? The majority of consumers definitely would.
The recent UN IPCC report has highlighted the pretty darn serious state of the climate crisis. And the environment has never been higher up the agenda.
CPG brands are taking note. Companies are increasingly doing their bit — minimizing the effect their company and its operations have on our planet.
Here we take a look at some of the best and most sustainable CPG brands out there. And find out exactly what they're doing to make their businesses even more environmentally friendly.
But first…
A few reasons why becoming a more sustainable CPG brand has never been more important
Some brands build sustainability into their business model from the get-go. Others are playing catch-up, trying to adapt old operations to the new reality.
Either way, they're probably choosing to embrace sustainability for one or more of the reasons below.
1. It's the right thing to do
Communities around the world are already being affected by climate change. Now is not the time for individuals or brands to bury their heads in the sand.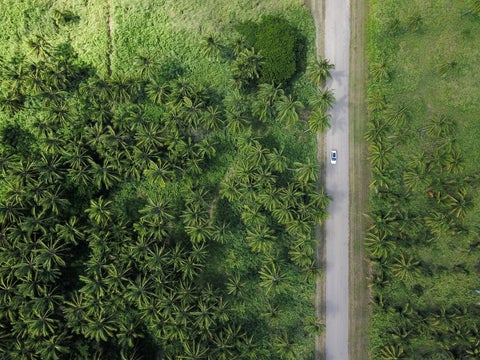 2. Consumers favor brands who consider their environmental impact
Deloitte's 2021 report on consumer behavior and sustainability found that 1 in 3 consumers have stopped shopping with a brand because of concerns about its sustainability.
Now, more than ever before, consumers are aware of the climate crisis and are motivated to take action.
3. There are lots of benefits for sustainable CPG brands
According to a study conducted by NYU Stern CSB, 50% of CPG growth in 2013-2018 came from sustainability-marketed products.
Also, the majority of shoppers are willing to pay more for a sustainable CPG product. This trend is particularly marked in younger age groups.
But beyond the financials, any CPG brand with its eye on long-term prosperity has to consider the ingredients and resources it uses each day.
If we don't take better care of the planet, these resources are at serious risk.
7 sustainable CPG brands showing us how it's done
There are a ton of sustainable CPG brands out there, profitably doing their bit for the environment, consumers, and stakeholders.
Here are a few standout stars to inspire your own journey towards sustainable business practice.
Montanya Distillers is a Colorado-based rum maker. From the very early days of the company, its founders were committed to becoming a sustainable CPG.
They've certainly well on the way to achieving their aim — with the help of some hard work and an ability to root out the very best sustainability partners.
Montanya worked with Power Knot, who supplied an onsite biodigester to reduce the amount of waste going to landfill.
They partnered with Owens-Illinois for Cradle to Cradle certified glass bottles.
They work with Terrapass to offset carbon emissions. This organization plants trees, installs innovative renewable energy, and captures methane from landfill sites. And they get their sugar cane from a family-run cooperative in Louisiana with similarly stellar sustainable cred.
With a little help from sustainably-minded partners, Montanya are 100% wind-powered and plastic and carbon neutral.
They also do a great job assessing their progress and reporting transparently on where they're at on their sustainability journey.
Yogurt makers, Stonyfield Organic, are big picture guys.
While they do a huge amount for sustainability on home turf — working only with organic farmers, offsetting emissions, installing an onsite wastewater treatment system, and creating yogurt cups made from plants — they look way beyond their own company.
As well as lobbying the government to improve sustainability legislation, they've partnered with software developers at OpenTEAM.
Stonyfield acknowledges that agriculture is responsible for around 20% of all greenhouse gases. But also that reducing emissions from farms can be tricky.
Each farm is unique — with its own weather, soil type, and production practices — but farmers can actually help take CO2 out of the atmosphere by improving soil health.
The software from OpenTEAM, rolled out to Stonyfield's partner farms, offers accurate and actionable insights on how to improve soil health and convert it into a carbon sink.
This has led to more sustainable farming and a more sustainable supply chain for Stonyfield.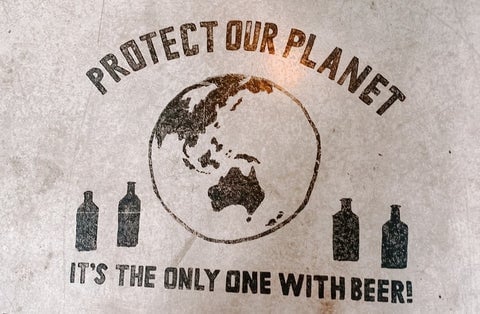 Danish brew, Carlsberg, has long claimed to be "probably the best beer in the world". It may now be one of the most sustainable, too.
The brand is currently working on the world's first paper beer bottle prototype. Made from sustainably sourced wood fibers, the bottle will be 100% bio-based and fully recyclable.
While paper bottles aren't currently available on retail shelves, Carlsberg has made significant progress in its Together Towards Zero sustainability initiative.
The company now uses recycled shrink film and more environmentally friendly label ink. It has also introduced the Snap Pack — an ingenious alternative to standard plastic six-pack rings.
By developing a new type of glue to hold beer cans together, Carlsberg will save 1,200 tonnes of plastic every year.
Big multinationals have a lot of ground to cover when it comes to sustainability. But Danone North America is a CPG leading the way in terms of sustainability.
The brand has set a number of ambitious targets. The company will be carbon neutral by 2050. But they're not just talking about their owned operations. This pledge includes the 58,000 farms where Danone sources ingredients and even the facilities that process discarded packaging from Danone products.
Danone is also committed to regenerative agriculture, water conservation, and a circular packaging model.
Doing all of this on such a scale, across the whole of a supply chain, is an impressive feat for one of the biggest food and drink companies in the US.
Alter Eco claims to sell the cleanest, greenest chocolate on the market. They sell truffles and quinoa too — the majority of which is grown in Central and South America.
They've made huge progress on their packaging, making wrappers, bags, and stickers not just industrial compostable but backyard compostable. But this sustainable CPG brand is passionate about rebuilding and regenerating the environment, not just sustaining it.
That's why they've set up the Alter Eco Foundation. This charitable arm of the business gives farmers the funding, training, and resources to transition from monoculture farming to dynamic agroforestry.
This means creating cocoa forests that don't just crow cocoa. Instead, a variety of plants and trees coexist. This helps to improve the land, reduce the need for water and fertilizers, and give the farmers themselves a diverse set of crops to sell.
Alter Eco's charitable actions are good for people and the planet but make total business sense too. Equatorial crops like cocoa are already disproportionately affected by global warming and, without them, Alter Eco doesn't have a product to sell.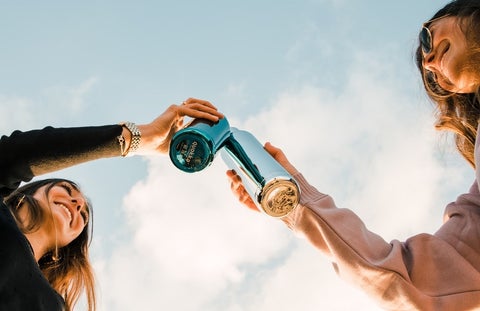 King Arthur Baking is a centuries-old, supplier of flour, baking mixes, cookbooks, and baked treats. But this is a CPG brand with a focus very much on the future.
As well as reimbursing employees for greening their commutes by carpooling, and installing its own onsite solar panels, King Arthur Baking does its best to avoid waste.
Leftover food from the café and baking classes are donated to local hunger relief efforts. Smaller and less appetizing food scraps are sent to local farms. When it comes to packaging, flour bags and boxes are 100% recyclable.
The team at King Arthur believe wholeheartedly that one person can make a difference. That's why they're committed to empowering the King Arthur community and their employee-owners to reduce their impact on the planet.
For many CPG brands, single-use packaging is a huge sustainability problem.
Even when packaging is recyclable, brands can't guarantee that consumers won't simply throw empty wrappers in the trash when they're done with them.
That's why PepsiCo — an otherwise huge conglomerate with a long list of unsustainable practices — has partnered with Loop. Founded by waste management company Terracycle, Loop gives CPG brands ownership of durable, reusable food and drink packaging.
PepsiCo has been selling Quaker Oats in steel canisters and Tropicana in glass bottles — all from the Loop website.
Products are delivered to consumers who leave reusable containers on the doorstep once they're empty. Loop then collects the containers, cleans them, and returns them to PepsiCo where they will be reused.
It's a system that cuts down on waste dramatically. With the help of Loop, PepsiCo is rebooting the old milkman model for the 21st century and helping to solve the problem of single-use packaging.
The takeaway....
Sustainability has never been more important for CPG brands. When you rely on what is grown in the ground to create your products, sustainability has to sit at the core of your business practice.
CPG companies who truly commit to environmentally friendly operations raise brand awareness. And respond positively to consumer demand.
But they also demonstrate a long-term commitment to both the health of the planet and their bottom line.
Get up to speed with the latest news on organic goods, regenerative agriculture, alternative proteins, and forward-thinking CPG brands over at the Buffalo Market blog.