How Direct Store Delivery Food Distributors Prevent Out-of-Stocks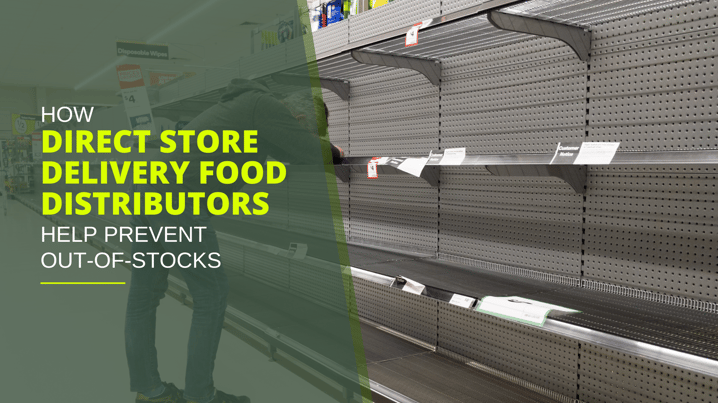 We've all been there. You step into your favorite grocery store, shopping list in hand. You scan the aisles to pick up a necessary ingredient but then, oh no, it's not there. Is there another in the back? Nope, it's out of stock.
In this article, we'll look at how stock-outs happen, what they mean for your brand, and how to prevent them by making efficiency upgrades to your supply chain, such as using a direct store delivery distributor.
Why being

out-of-

stock
can put you out of
business
What's the most likely consequence of an item being out of stock? The shopper has a few options to choose from:
They can ask when the item will be restocked and make a note to return to the same store later to buy it as originally planned. This is a partial win for the out-of-stock CPG… but it's far less ideal for the customer and only really works if there's no pressing need for the item.


They can leave the store to find the item in another location — this leaves the grocery store minus one customer, but the CPG brand gains a sale elsewhere (hopefully!).


They can choose an alternative in the same store and buy that instead. In this scenario, the shopper gets what they want when they want it, and the grocery store retains the customer, but it's the CPG that misses out.
All of these options leave one party frustrated. A stockout means wasted time, wasted opportunity, and damaged future customer/business transactions.
If the item was part of a promotion, the customer may feel cheated — robbed of the opportunity to profit from the discount — and that could create negative brand equity for the store and the CPG.
The financial impact of out-of-stock CPGs
Stockouts are a problem for any business, big or small. Walmart fe
ll victim to a particularly bad case of stock-out in 2011, resulting in a $3 billion loss.
In more recent years, supply chain issues compounded with unpredictable shopper behavior as the coronavirus pandemic began — and continued. Research from NielsenIQ found that out-of-stock issues hit supermarkets across the US as a consequence of two months of panic-buying and ongoing supply issues.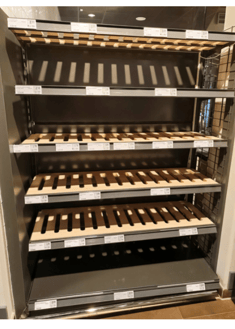 The situation got even worse as the holiday season rolled in. On-shelf availability dropped to 93.5% during the last ~three months of 2021. In terms of financials, retailers lost out on 7.4% of potential sales, costing the industry $82 billion across the year!
Missed-value sales — purchases lost because customers couldn't find what they wanted in-store — finish with 30% of shoppers going to new stores when they couldn't find what they wanted, and 70% of shoppers would buy another brand.
And that's an end result that's hard to come back from for a CPG.
What causes out-of-stocks?
Okay, so now we know how much you want to avoid being out of stock, how does it happen?
Anything from inventory inaccuracies, deliveries taking longer than predicted, and poor forecasts of demand can all lead to out-of-stock situations.
Other triggers include poor shelf and order placement monitoring and unseasonal, or unpredicted, high demand such as that of the first two months of Covid.
The pandemic's role in CPG out-of-stocks
When asked, 72% of senior leaders said their business's supply chain had been negatively impacted by the pandemic — 17% of this group reported a significant negative effect.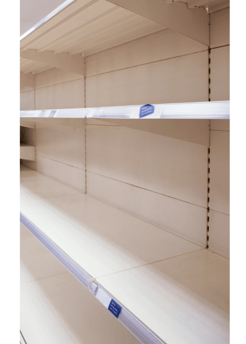 What's interesting, though, is that when faced with the challenges of Covid, many underlying supply chain vulnerabilities suddenly became much worse. Staff shortages and losses could be attributed to the crisis. But other issues, such as poor visibility along the chain and a lack of local sites, have always been a risk.
Supply and demand fluctuations are expected to vary — that's just supply chain management 101. And yet, as cases subside and vaccine take-up increases, shopping confidence is returning, with more and more customers going back into stores.
This means that accurate forecasting is even more essential to make sure customers can always get what they want from your CPG.



How to avoid out-of-stocks in CPG
Upgrade your systems
Real-time data is a must for the management of CPG inventories. Distributors, suppliers, and retailers are turning their backs more and more on manual data entry — using software designed to record sales and gain better visibility of stocks, instead.
Technology like this gives CPGs the opportunity to react quickly and efficiently to changing supply and demand. Automatically monitoring the speed of stock level flow can avoid out-of-stocks and reduce the risk of a bad customer experience. Brands can also set alerts for when a product is nearly selling out.
Track your stock-out trends
P&G found that out-of-stocks "tend to form patterns such as day of week". It's here that technology comes in, too, by regularly auditing your inventory and recording all the instances of stock-outs over time, you can spot peaks and troughs before they happen.
Finetune your forecasting
Putting a renewed focus on supply chain forecasting is also time well spent. Detailed insight into the movement of stock will give a better forecast for the demand for your products — and improve the execution of orders, building better relationships with retailers.
Detailed forecasting can be quantitative — using historical data to predict future sales — or qualitative, using expert opinions such as outside analysis or market research. Undertaking a little peer-to-peer investigation can also give businesses a better understanding of how competitor brands are doing.
Use Direct Store Delivery (DSD) to prevent out-of-stocks
Not all CPG distributors are created equal. Some have the capability (and care!) to move large volumes and meet increased demand. The best CPG distributors will also have their own sets of tools to avoid adverse events on the supply chain and give more accurate predictions.
Direct Store Delivery distribution bypasses transporting and storing goods in warehouses and instead brings them directly from the CPG manufacturer to the retailer. This saves transit time, storage costs, and labor and helps ensure that your product is never missing from store shelves.
Buffalo Market is set up to absorb delays along the supply chain thanks to fast direct store delivery (DSD). As the leading distributor of planet-friendly food and beverage brands, we're proud to say we increased one CPG's sales by 38% after they switched to our distribution!
We make it our mission to deliver quickly and reliably to mainstream and small retailers alike, giving CPG, retailers, and customers the best result.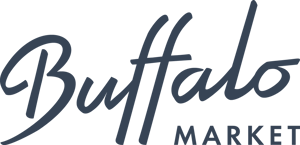 Cut out stock-outs for good
Stockouts should not be a fly in the ointment of customer trust — and it is essential to keep on top of accurate supply to build customer loyalty. The more focused your forecasting, the more smooth the running of delivery to retailers' shelves, then the better the foundation of customer satisfaction.
Optimize your supply chain and become one of the many CPG brands choosing Buffalo Market. With us, you can deliver premium frozen, refrigerated, and dry products to retailers in across the United States 7 days a week — and feel confident that you're taking an important step in your battle against stock-outs.
Get in touch with us today!