How To Improve Engagement with your CPG on Social Media
Putting a ton of effort into your brand socials? But not getting a whole lot of CPG social media engagement in return?
It's a common problem, particularly for smaller CPG brands. But it's a problem you have to do something about. We see it all the time, and it can even lead to customers seeing your inactive profiles and not being interested in following.
If you're trying to grow your brand awareness in-store, it all starts online.
Why is CPG social media engagement so important?
Engagement is good for your brand. It offers social proof by showing new visitors to your page that you already have a bunch of engaged, happy customers. And it boosts brand awareness too. This is particularly important in the new DTC climate we find ourselves in.
Increase Sales
You've probably heard of these, but social media engagement can equal sales if the strategy is right. Whether it's building brand awareness for when a customer goes to a store, or setting it up so they can buy directly from you, this is a key step.
With successful social media campaigns, you can follow your users through the sales funnel to see where some get stopped, and how some make it all the way. This is where your website analytics will come in handy, and you can use this information to optimize your funnels.
Build a strong audience
Good CPG social media engagement improves the reach of posts. When people interact with a post, social media algorithms ensure more people see that post, which means there's greater potential for engagement. It has an impressive snowball effect.
This is great for utilizing "discover" features across different platforms, but they key of this is to build a strong audience who always engage with your posts and are coming for the value you provide.
How can you find consistent followers on social media? Ask your followers where they are from! and really start learning about them. If your social media team can connect with your audience as humans, there's a good chance they'll keep supporting your content and your brand as you keep developing.
Search engines
There's also some evidence to suggest that Google uses social media engagement as one of its SEO ranking factors. So social buzz feeds into the performance of your website too.
Simply having a CPG social media presence isn't enough. So how do you get the likes, shares, comments and clicks that really benefit your brand? Here are a few CPG social media tips for upping your engagement.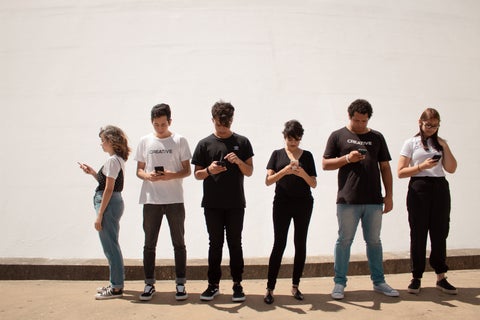 6 ways to improve your CPG social media engagement
Tailor posts to your audience
Social isn't just a space to show off your CPG products. Of course, you will use your social media pages to highlight your range. But being focused solely on sales is a huge turn-off for your audience.
Understand your audience
Start by getting to know what makes your audience tick – their interests, their needs, their pain points. Remember that your audience persona may shift slightly depending upon the social media platform you're posting to.
Be funny!
It's not a secret that humor is one of the ways to succeed on social media. It can be a fine line because humor can attract a lot of users who have no interest in your brand. On the other hand, if your humor is relevant for your customers, you can keep them coming back everyday for that next funny piece of content, or just to see what you might do next.
This kind of intrigue is exactly what helps CPG brands stand out on social media.
Create posts that add value for your audience
Once you have a clear idea of your audience, you can start to create better posts – putting people (rather than your products) at the center of the story. It can help to think of a few topics you associate with your brand, your product and your values – and then build social media content around these pillars.
Depending on your product, you might like to offer recipes or meal time hacks, product how-to reels or information about your latest community projects. Games and polls are also super engaging because they make your audience an active part of the conversation.
Intersperse these types of posts with more sales focused CTAs and you'll strike the right balance – encouraging audience engagement whilst boosting brand awareness and promoting your products.
Develop the voice of your CPG
Social media breaks down the barriers between brands and their customers. People come to CPG social media platforms for the conversation. So you can't just schedule your posts and forget all about them. Much like developing your CPG story,

Respond to your followers
The best brand pages are interactive. They have lots of two-way chat – and not just when a customer has a problem or a query. Beyond that, ask your audience questions about themselves. If you see them eating and buying your product, why not engage with them further and connect?
Keep your eyes peeled (and do lots of social listening) to find user comments that you can start a conversation from – both on your own pages and across the platform.
Develop a consistent tone of voice
When you write your comments, keep your tone of voice in mind. A consistent brand voice is important. You might aim for irreverent and offbeat, or helpful and compassionate. It all depends upon your brand image and your audience.
Whatever tone you go for, be authentic and don't be afraid to show a little personality. Letting followers know that there's an actual real life human behind your brand helps people to connect and engage. It makes your posts more memorable, as well as encouraging brand advocacy and loyalty.
Get visual
Whichever social media platform you're posting to, visuals are important. We're talking photography, video, animation, illustration and infographics – the stuff that really catches a user's eye and encourages them to interact with your post.
How professional these visuals have to be will depend upon the social media platform and function you're using. For example, Instagram feed images tend to be super slick. But you can get away with a more amateurish photo or video if you're posting an Instagram Story.
Here are a few CPG social media tips for getting the most from your visuals:
Blurry or low resolution photos

are a huge no-no. Work with a professional stylist, photographer and/or videographer to capture your CPG products in their best light.

Supplement photo shoot images with free stock photography from sites like

Unsplash

.

Canva

is a great graphic design tool – allowing you to layer images, text, illustration and graphics without the help of an in-house graphic designer.

Get your followers to do some of the hard work for you by making the most of user-generated images and videos.

Check out

these great tips

on representation, copyright and optimizing visuals for SEO.

Never – and we mean

never

– post on social media without including some form of engaging visual element.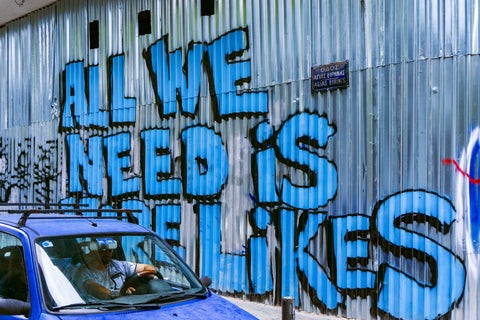 Work with micro influencers
Gone are the days when influencers would promote your brand in exchange for a few freebies. These days the biggest influencers command huge sums for collaborations – and this may put them out of your league.
But that's not necessarily such a bad thing. Micro-influencers (influencers with between 1,000 and 100,000 followers) charge less than big social media hitters and may offer a better ROI too.
That's because they have a small but highly engaged group of followers. Micro influencers are still real people rather than celebrities – so their endorsement of a brand carries a lot of weight with their fans.
Find micro influencers who are aligned with your brand and its values – and then work with them on a social post or two. By reaching out to new audiences with the help of a known and trusted voice, you can really jumpstart the social conversation around your brand.
Launch giveaways and contests
Sometimes an audience needs a little push to hit the like button or leave a comment. That's where giveaways and contests come into play.
By incentivizing your followers with the promise of a competition entry, you can prompt them to boost your post's engagement stats.
You could ask your audience to:
Like and/or comment

Tag a friend

Share or retweet

Create a photo caption

Join in with a hashtag challenge
Just remember to stick to the contest rules of each individual social media platform. HubSpot gives a good overview here. And make sure the prize is something your followers would actually be excited to receive.
Analyze
As with any marketing strategy, you need to regularly assess what is working and what isn't. Luckily, it's pretty easy to get your hands on the stats.
Most social media platforms provide engagement analytics for business accounts as standard. This means you can track your engagement success over time – identifying posts that perform well and trying to work out what your followers like about them.
The text and visuals you include with your post – as well as things like the time of day you post – can all affect engagement. By analyzing your posts and your performance you can start to confidently create posts you know will resonate with your audience.
And – as we discussed earlier – once you get a little engagement on your pages, it can soon snowball. With good CPG social media engagement, your brand could get just the boost it needs.
Want more CPG social media tips and industry inspiration? Visit the Buffalo Market blog for the latest.