Is Your CPG Plant-Based or Vegan? Getting Your Terminology Right
What's the difference between plant-based and vegan foods? The two buzzwords are certainly growing in popularity as the world realizes the environmental and health benefits of avoiding meat.
The terms are often confused or used interchangeably, but alas, they are not the same thing.
Cousin Amy may be forgiven for using the wrong term as she declines a serving of turkey this Thanksgiving, but a consumer-packaged goods (CPG) brand needs to get it exactly right.
Shall we kick off with some definitions? Then later we'll take a look at how some brands are using these terms.
Plant-based vs. Vegan products: what's the difference?
Here is how Oxford Languages defines the two terms:
Vegan (adj): eating, using, or containing no food or other products derived from animals.
Plant-based (adj): (of food or a diet) consisting largely or solely of vegetables, grains, pulses, or other foods derived from plants, rather than animal products.
It's interesting to note that these are adjectives. Oxford Languages did also offer up the definition of vegan as a noun; 'a person who does not eat any food derived from animals and who typically does not use other animal products.' No equivalent was offered for a person eating a mainly plant-based diet.
Vegan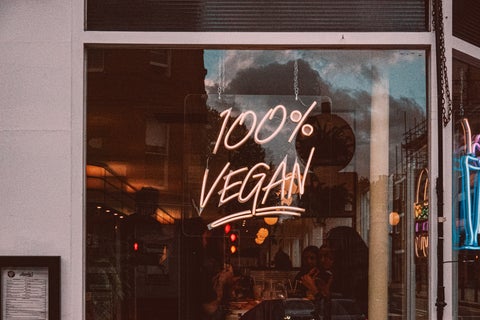 'Vegan' has become an almost politicized term. It's considered more of a label than plant-based descriptors. For example, "I am vegan" is more of a statement than "I have a plant-based diet."
In fact, 39% of consumers in the U.S. are including more plant-based foods while only 3% describe themselves as vegan.
The term 'vegan' was coined in 1944 by the Founder of the Vegan Society, Donald Watson. A vegan diet excludes any foods that come from an animal, extending beyond meat to dairy, eggs, and even honey.
The decision to adopt a vegan diet tends to be driven by ethical or moral reasons. It can often extend beyond the diet to the lifestyle to avoid any forms of animal exploitation or cruelty related to the fashion and beauty industries.
Many people mistakenly assume that a vegan diet is super healthy, but that's not necessarily true. It could be of course, but many processed foods are actually vegan.
Did you know that Oreos are vegan? Though delicious, these cookies are not exactly one of your nourishing "five a day" recommended servings of fruits and vegetables.
Plant-based
The term 'plant-based' was coined in the 1980s by biochemist Dr. T. Colin Campbell.
This type of diet is not so much about the ethical or moral reasons as it is about health. The plant-based diet is low-fat, high-fiber and populated mostly with vegetables.
It doesn't always mean that a diet is completely plant-based. For instance, someone following a plant-based diet might eat a veggie burger at a barbecue, but still smother it in egg-based mayonnaise.
Many consumers prefer to use 'plant-based' to describe their diet if they don't identify with the term 'vegan.'
Here's where the confusion lies. 'Plant-based' is now often used to describe vegan products and people will use the term to describe their diets consisting 100% of plant products.
Vegan vs. plant-based labeling
We've investigated use of the terms when it comes to entire diets, but do the same labels apply to specific products?
A vegan product can be any food item that doesn't include an animal product. Like we mentioned earlier, Oreos could be classed as a vegan product as they don't include any dairy, eggs, meat or other animal by-products.
On the other hand, a plant-based product refers to something that provides a direct alternative to a meat, dairy or egg product. You can almost imagine it like the plant world's equivalent of a product replacement.
A CPG would need to label their plant-based or vegan products to help customers find their products more easily to match up with their lifestyle choices.
The 'Certified Plant-Based' label is only granted to products that are independently verified by NSF International. It can be applied to products that contain a maximum of 5% non-plant-based additives. Interestingly, vegan products don't actually require independent verification to be able to use the label.
Many CPGs are hopping on the plant-based trend. Who can blame them when it appeals to a much wider audience?
When it comes to labeling, they're shouldn't be any ambiguity. So, which brands are opting for which label? Let's take a look.
CPGs: plant-based vs vegan
Plant-based CPGs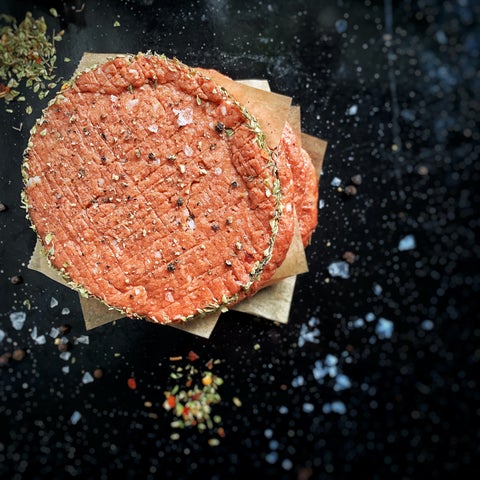 Ripple makes a plant-based milk, with pea as their hero ingredient. Their products are plant-based certified as an alternative to dairy milk.
Their packaging boasts 8 grams of plant-based protein. They play on the health benefits, stating how their product has half the sugar of flavored milk and 50% more calcium than milk.
Their website clearly communicates their environmental values: "We don't claim that making plant‑based foods will save the world…but we think it can help."
This brand describes their product as "just really delicious eggs made from plants." They don't plaster one ingredient over the website, preferring instead to just use the term 'plant.'
They appear to want consumers to perceive them as being just as good as eggs, rather than a lesser-than alternative. Singling out an ingredient could have that effect.
After some digging, it turns out that their key ingredients are mung beans and turmeric – to achieve the yellow color.
In all fairness, 'just egg' does sound a lot more appetizing than 'mung bean' to someone who's just making the substitution to be healthier.
Their marketing does verge on vegan values, especially when they state "no industrial chicken farms" but the actual term 'vegan' is nowhere to be found.
This is another plant-based egg alternative product. However, Evo positions themselves as a more friendly, approachable brand than JUST egg.
Their bright colors and smiling cartoon eggs do a good job of this, but they also literally describe their product as "the friendliest egg in town.".
What an interesting concept to think of an egg as friendly!
Perhaps this is why they chose the route of plant-based over vegan, as it has a wider reach and less politicized connotations. However, they do describe themselves as "vegan friendly."
Plantible is on a mission to "revolutionize the food industry" with their hero ingredient – lemna.
Lemna is a leafy aquatic herb that grows on the surface of water. Plantible claims that it is 100 times more protein-efficient than soybeans, 400 times more than peas and 50,000 times more than beef.
They're striving to manufacture the world's most sustainable plant-based proteins.
They actually supply to plant-based CPGs rather than consumers, but interestingly they still don't use the term 'vegan' anywhere.
Vegan CPGs
Partake is here for all things related to vegan baking. They label all their products as 'vegan and gluten-free' as they contain no animal or animal-derived products.
They mainly sell cookie mixes and pizza bases, but all of their ingredients are plants. As they don't manufacture a direct alternative to meat, dairy or eggs, they're not plant-based verified.
Nevertheless, it's still interesting that despite an all-plant lineup, the term plant-based is nowhere to be found on their landing page.
This brand delivers 'complete' smoothies and meals to homes. Again, this brand appears to be following protocol by not referring to themselves or their products as 'plant-based' as although their products are made up entirely of plants.
They display vegan, no added sugar and gluten-free labels below their product images.
The founders' profile page appears to use the terms interchangeably, when describing how they went from vegetarian to "completely plant-based" before going on to talk about being vegan.
This brand is super interesting for us to take a look at. The term 'veggie' in their brand name tends to refer to someone who doesn't eat animal products, but would eat animal-derived products.
Some of their products state that they're plant-based, but not all.
When digging into the benefits of their meat-alternative deli products, vegan is present on the list, yet plant-based wasn't listed.
A great example to round off with is Emborg. They are a brand that produces more products than just plant-based or vegan.
Plant-based is the term splashed in large text across their packaging but they also have the vegan label.
Their website states, "Whether you are vegan, vegetarian, flexitarian or you just want to try something new, Emborg Plant-based is something for you!". They therefore appear to describe their products as plant-based, while appealing to the vegan market.
Do you own a plant-based or vegan CPG?
Hopefully this article has helped you to get a better understanding of the difference between the two, but Buffalo Market is interested in working with both!
We're the leading distributor of foods that are good for people and the planet and we love brands that are making organic products, protein alternatives and regenerative agriculture.
We can help you to get your products into the perfect retailers, in front of your ideal customers.