Mi Rancho: All About California's Best Family-Owned Tortilla Maker

Mi Rancho, a family history
The history of Mi Rancho dates back to 1939, when the business opened its grocery store location on 7th Street in Oakland, California. It was the first Mexican-American grocery store in the area. Shoppers jumped at the opportunity to buy staples for preparing Mexican cuisine, as well as the store's handmade fresh tortillas, hot food, and bakery items.
In 1954, Mi Rancho was purchased by Robert Berber Sr. and Robert Berber Jr. The father and son duo glimpsed the success of the grocery store and its popular line of tortillas and saw an opportunity for expansion. The Berber men, along with the family matriarch Mama Ofi, invested their time and passion in the business, helping to solidify Mi Rancho as a pillar in the local community and surrounding areas.
The next several decades saw Mi Rancho expand into the food service industry, dispensing tortillas and chips to Bay Area restaurants and making a name for itself beyond its grocery location on 7th Street. In 1992, control of the business was passed down to Manuel Berber, who continues to serve as the owner and president today.
Under Manuel's leadership, the Mi Rancho brand broke into national and international markets. Known for its authentic taste and handmade recipes, the 100% family-owned tortilla maker still produces the best tortillas on the market. Their offering of corn and flour tortillas has grown to include a wide variety of organic, non-GMO, low-carb, and gluten-free labels, all still made by hand in California.
Read on to learn more about what makes each item in its lineup unique and discover why Mi Rancho products are simply the best tortillas money can buy.

Mi Rancho Tortillas
Mi Rancho Organic Corn Tortillas
Mi Rancho Organic Corn Tortillas start with whole kernel organic corn grown in the Sacramento Valley of California. After harvesting, the corn is cooked in a solution of water and slaked lime in a process called nixtamalization.
During nixtamalization, the alkalinity of mineral lime breaks down the glutinous components of the corn kernels, releasing nutrients and softening the hulls to form nixtamal. The fresh nixtamal is then ground with hand-carved lava stones into masa. Few other retail tortilla brands use fresh nixtamal in their recipes, which is the basis for truly flavorful, flexible corn tortillas.
Mi Rancho organic corn tortillas are non-GMO, USDA- and QAI-certified organic, gluten-free, and come in three sizes: traditional, extra thin "THINcredibles," and mini "Taco Sliders."
Mi Rancho Flour Tortillas


The tortilla that started it all! Based on Mama Ofi's original recipe, these soft, pliable tortillas boast grill marks and toast spots—signs of their handmade authenticity.
Mama's Burrito Flour Tortillas are slow-baked, giving them a rich golden color and especially soft texture. Try Mi Rancho Organic Whole Wheat Flour Tortillas for an even more nutritious option.
Mi Rancho Flour Tortillas come in several other sizes: soft taco, fajita, and street taco.
Luckily for many, Mi Rancho makes specialty variations of its delicious tortillas for those with dietary restrictions or preferences!
Gluten-Free Tortillas


All but one of the Mi Rancho Corn Tortillas are certified gluten-free, and even though wheat flour tortillas naturally contain gluten, they've made sure gluten intolerant folks can enjoy the chewy, handmade goodness of Mama Ofi's flour tortillas.
Mi Rancho Simply Nourished Gluten-Free Tortillas use rice flour, tapioca, and oat flour to make flour tortillas that are every bit as soft and pliable as their original recipe, sans gluten.
Low-Carb Tortillas


For those on a carb-conscious diet, high carbohydrate foods like tortillas can be challenging, particularly if you (like most people) prefer them to taste good. That's why Mi Rancho makes a low-carb version of their famous flour tortillas.
Mi Rancho Simply Nourished Low-Carb Flour Tortillas swap out some of the higher-carb wheat flour in the original recipe with lower-carb oat flour.
Organic Ancient Grains Tortillas


Whether you're a health fanatic or just prefer the earthy, nutty taste of whole grains, Mi Rancho Organic Ancient Grains Tortillas are a delicious, wholesome way to enjoy a handmade tortilla.
These soft, nutrient-dense wraps are made with organic whole wheat, flax, amaranth, millet, brown rice, and quinoa and are high in both fiber and protein.
Non-GMO Tortillas


When it comes to obtaining certifications, it can be complicated to check all of the boxes. That's why, while all Mi Rancho tortillas are made from high-quality ingredients, not all of them are certified non-GMO.
Luckily, those who shop for products with non-GMO certification can enjoy Mi Rancho Non-GMO White Corn Tortillas or Mi Rancho Non-GMO "Cornflowers" Corn & Wheat Flour Tortillas.
Organic Flour Tortillas


If you prefer your flour tortillas to be USDA-Certified Organic, then Mi Rancho Organic Burrito Flour Tortillas or Mi Rancho Organic Soft Taco Flour Tortillas were made just for you!
Mi Rancho Tortilla Chips

An homage to its original 7th Street and Broadway location in Oakland, Mi Rancho 7th Street Tortilla Chips are made with just five ingredients: organic white corn, organic sunflower oil, water, sea salt, trace of lime (from nixtamalization).
These chips come in two varieties: Mi Rancho 7th Street Original Tortilla Chips and Mi Rancho 7th Street Thin Tortilla Chips. Both are made with the same organic recipe, but the Thins are a lighter, crispier chip.
Mi Rancho Organic Salsa

Each of Mi Rancho's three organic salsa varieties are based on one of Mama Ofi's original recipes, and all are non-GMO certified, gluten-free, organic, and made in California.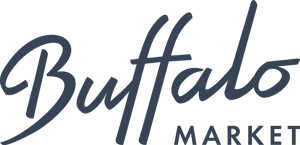 Buffalo Market Food Distribution
As a food distributor specializing in mission-driven brands, Buffalo Market takes pride in partnering with companies that create high-quality products which are good for you and good for the planet. It's our pleasure and privilege to introduce this incredible brand to railers across the United States.
If you're a retailer and interested in stocking your shelves with the best tortilla products on the market, contact us about getting distribution for Mi Rancho tortillas today!

Find Mi Rancho at these retailers, among others: