What Are The Best Traditional Marketing Strategies For CPGs?
What if the key to the future of your business actually lies in the past?
Digital marketing is so all-encompassing that many companies focus solely on digital channels almost by default. Paid search and social, display, native, and content marketing are all go-to marketing channels – but are they really the best option?

Let's turn back time and consider traditional marketing
Traditional marketing methods for a CPG, like those you see in the real world, (yep, it's still out there), may seem a little passé in a digital-first world. Most brands invest a substantial amount of time and money online, and with good reason, it works. But, with things like banner blindness and oversaturated digital channels becoming the norm, more traditional marketing strategies might just be the key to success in CPG.
With that in mind, let's get a bit more specific. We've picked out 3 big traditional marketing opportunities which modern CPG brands might be overlooking. We'll talk about how you can best leverage them and discuss how they can be used to complement a digital marketing campaign.
There's no reason for your multi-channel marketing to be just one thing or the other, so blending both the real and digital worlds can really pay off.
Here's how.
Strategy 1: Outdoor advertising
Brand awareness is really at the core of any successful CPG marketing strategy.
After all, if a customer doesn't know your product exists, why would they decide to pick it up? Beyond that, even if you're able to catch their attention as they're browsing the shelves, how can you be sure your product stands out against the sea of competitors?
The retail shelves are a dog-eat-dog world, and your marketing strategy needs to reflect that. For this reason, when you're considering traditional real-world marketing channels, you should turn your attention to outdoor advertising.
There is still a place for digital
Sure, while digital has encroached on this space with burgeoning Digital Out of Home (DOOH) technologies, the conventional approach leveraging printed media still works incredibly well – and probably always will.
So what do we mean when we talk about outdoor advertising, specifically? Here are a few examples:
Billboards

Posters (e.g. in bus stops)

Banners on the side of vehicles

Point-of-sale (e.g. on gas pumps)
There are plenty more, of course, with the only limit being your imagination.
The key with CPG brands is that your target customer will often already be outside when they're buying your products. Decisions are made in a split-second from a store shelf, so any brand awareness you've done in the build-up to this moment can be crucial.
Consider locations
It's what you should keep in mind more than anything else when working with outdoor advertising as a medium. To better inform your strategy around placement of your outdoor ad creatives, ask yourself questions such as:
Where does my target audience spend their time?
How many times are they likely to be exposed to this ad, poster, or billboard?
Is it likely that existing customers would see the ad in this location? Can you re-engage or remind them of your brand?
What are my competitors doing in this location already?
How compelling is the offer I'm providing?
There's no question that shoppers are driven by deals, which is why great discounts will almost always deliver results, but remember there's a balance to be struck. CPG brands live and die on moment-to-moment decision-making, so being in the right place, at the right time, with the right messaging, can make all the difference.
Strategy 2: In-store advertising for CPGs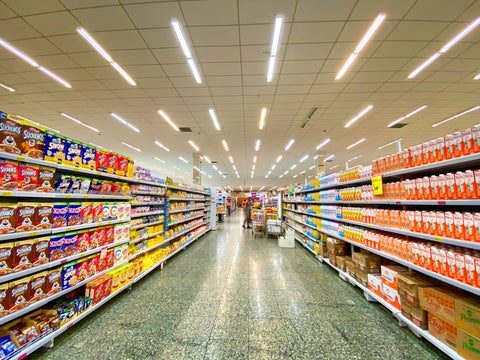 Next, let's take a step into the store with a look at a different type of non-digital CPG marketing strategy.
The world of in-store advertising is the domain of CPG brands. It's where you'll find the greatest opportunity, but it's also where you'll find the fiercest competition. If you're new to these more traditional marketing channels, there's plenty to learn when you head in-store, so bear that in mind.
Consider paid placements
These can be advertisements within the store, on posters, banners, kiosks, maps, and anywhere else which offers a solid location for an ad. With this type of approach, you'll be able to build a picture of your CPG in your target customer's mind before they see it there on the shelf.
To take your in-store CPG advertising to the next level, consider something a little more creative. Here are a few ideas of in-store advertising tactics which could amplify your sales:
In-store tasting sessions
Everybody loves free samples, right? Right. And if your product is irresistible enough, why not let it do the advertising for you? Free samples are a great way to help your target customer get a taste of what they're missing… literally.
Social media synergy
Because traditional and digital channels now operate almost in tandem with one another, it's a good idea to try to capitalize on this. For example, asking people who try your samples to also follow you on social channels like Instagram. You could even incentivize follows with some sort of voucher or discount code.
Partner up with complementary CPG brands
Marketing your brand alone is always going to be an uphill battle, so why not get some help? It's always possible to share promotional activity with fellow CPG brands via in-store cross-promotions. You wouldn't want to do this with a direct competitor, of course, so think of things that are better together – like wine and cheese or hot cocoa and marshmallows.
Entertain your audience as they shop
In-store experiences or events sponsored by your CPG brand are a great way to boost brand awareness as shoppers do their thing. This could be anything from a live music performance to face painting for the kids – anything which stands out and is simpatico with your brand and its values.
Remember: the in-store environment is packed with opportunity, because it's quite literally a canned audience of potential buyers. Bear that in mind as you develop your traditional in-store marketing strategies and you're sure to do well.
Strategy 3: Paper and printed ads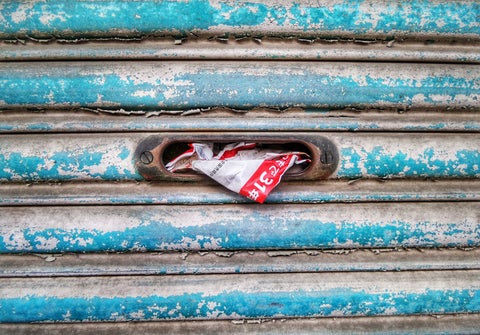 Hey, remember paper? Remember printed ads in magazines? Or flyers?
They may seem to some like a distant memory, but paper and printed ads are still here – and they're still delivering results, especially in the CPG space.
The point of developing coverage across printed media is that you're building a multi-layered marketing strategy which ensures brand awareness is maximized everywhere. That means your target customer will see your brand wherever they might spend their time: scrolling through Facebook, on their favorite website via display advertising, and, yes, even in the local newspaper they pick up every morning.
Don't neglect printed media
Of all traditional marketing channels, CPGs tend to shy away from this one the most, but that doesn't mean it doesn't work – quite the opposite, in fact. The statistics bear this out, too, with 82% of US internet users stating in an INMA study that they would trust a printed ad when making purchase decisions.
So what's so compelling about paper and printed media, you ask?
First, there's that trust factor we just covered. Printed media is simply seen as more believable and trustworthy than its online equivalent. Whether this is because of the lower barrier to entry (i.e. almost anybody can publish anything), but in any case, there's no doubt that publishing your ads in a local paper or magazine is sure to be more effective than a scattershot online approach.
Next up, consider the local angle.
Depending on where you live, you may or may not have local papers and magazines which are distributed, usually for free, to local residents. Depending on your CPG brand, taking this local angle can be a great way to secure income streams in key geographies. Failing that, there's always the national press, but cost will naturally be on a different scale.
Finally, let's think about attention span.
When was the last time you really studied an online ad? Heck, can you even remember the last online ad you saw?
With phenomena like banner blindness in full effect these days, printed media can be far more effective than online when it comes to retention of information.
On top of that, intent has a lot to do with it, too. People generally sit down with a paper or magazine with the intention of spending time consuming that media. With the internet, when they might have two minutes to spare for browsing… not so much.
Want more tasty tidbits about CPG brand marketing?
Here at Buffalo Market, we have a passion for planet earth, offering mission-driven distribution services to food and beverage brands across the California and Las Vegas regions.
But we're also passionate about helping CPG brands maximize their results, especially in a world which is obsessed with all things digital. It's our belief that high-quality, real-world CPG brands can keep winning customers in the aisles with the right marketing strategies, which is why we share tips and advice all the time on the Buffalo Market blog.
Join us on the blog today for more expert guidance, or get in touch to learn more about how our distribution services could help get your SKUs on the right shelves.