What's the Difference Between a Food Broker and Food Distributor?
If there's one thing we're sure of, it's that CPG isn't the easy sector to break into. There's a whole new language to learn — and fast!
There's nothing worse than being caught out by the jargon, so we're here to break it down for you. In this blog we'll simplify the differences between a food distributor and a food broker, giving you all the details to know which is best for your company's needs.
What is a food distributor?
Food distribution is an age-old industry –– how do you get food from its source to the people who need it? And now that we're used to eating Australian bananas in winter and fresh Maine lobster in the Midwest, food distribution is a massive industry.
Put simply, a food distributor acts as a middle man between a producer and a vendor. A food distributor collects food from a producer (whether that be a farmer or a CPG), stores it in a warehouse, then distributes it to grocery stores and restaurants.
Some distribution companies will focus on a specialized product type such as seafood, frozen goods, or fruits and vegetables.
For example, at Buffalo Market, we specialize in purpose-driven brands: foods like alternative proteins, organic goods, and regenerative agriculture, that will become an increasing part of our world.
We work with CPGs to bring their food and beverage products to mainstream and upstart retailers, as well as food service establishments.
Distribution isn't just about shipping and storage, though. Working with the right distributor can open a lot of doors, and help you get your products stocked in many more locations.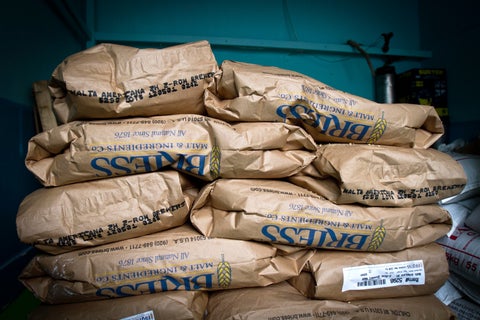 What is a food broker?
A food broker falls more on the marketing and communication side of running a CPG. Food brokers help a food producer or manufacturer get their products marketed and stocked in stores.
They'll usually have a mix of different clientele, from big grocery stores to small independent shops and online markets. Food brokers are a great place to get started if you have no idea how to get your CPG off the ground.
The best thing about employing a food broker to get your product out there is that you'll then have much more time to focus on running your business. The monthly commission rates and fees associated can sometimes be steep, but it's a worthy investment if you're struggling to bring in new customers.
Plus, it's more cost-effective to hire a single broker rather than invest a lot of money into a communications and sales team.
As a CPG, if you contract a food broker, you'll likely be matched with a representative who covers your geographical area and works with other food producers in the region. They'll get to know your brand and your products, and be like your hype man.
Brokers are established within the industry and will have relationships with buyers and store managers that they can leverage to get your products stocked on shelves.
Food distributor versus food broker — which do I need?
There are two main differences between food distributors and brokers that you'll have to consider.
1. A distributor will take ownership of your product, taking it from you and delivering it to stores. A broker just is the middleman, leaving you to do the actual distribution work.
2. A distributor will work with multiple brands that could overlap, meaning they could represent you and also your competition. For the most part, brokers won't work with outright competitors.
At the end of the day, you have to think about what is going to be best for your business.
If you're finding it hard to keep track of all the moving pieces of your CPG, a distributor will take a lot of work off your plate.
They purchase your products up front and resell them to retailers, meaning they also: stock inventory, take orders from retailers, manage the inventory on the shelf, service the retailer's needs, introduce new products into retail, deliver the products to the stores, handle the returns, and normally assist in any product recalls.
That's a lot of stuff that you don't have to worry about!
While having all that taken off your plate is certainly appealing, some brand owners might feel uncomfortable relinquishing control of so much of their business. Think about how you like to do business –– is it important for you to build a relationship with your buyers?
Cost is also going to be a huge factor when deciding whether to go with a distributor or broker for your CPG. Usually, brokers are much less expensive, as their list of duties is smaller than that of a distributor.
Most distributors take a margin of around 20%-30% of your sales. This seems high, for sure. But remember that they're doing a lot of heavy lifting for your business. They're not just getting your product in front of customers, they're doing all the hard work to take your stock from the manufacturer to the store.
Whether you work with a broker or a distribution company, be sure they share the same values as you. Both are in charge of conveying your brand's message to potential buyers, so it's essential that they place importance on the same things as you do.
That doesn't just mean being across your ingredients, organic status, and price point, but also understanding the ethos and story behind your brand.
That's why we're so transparent when we work with CPGs. We know that you've poured your heart and soul (and probably a sizable amount of money) into your brand, so we need you to know that you're in safe hands.
Our message is clear: we're all about sustainability, organic production, and nourishing our bodies. As a society, it's up to us to protect and nourish the planet, and changing the way we eat and drink is the first step.
Sounds like a perfect fit for your CPG? Get in touch today and see how we can work together to get your products in front of people who will buy them.