Aug 24, 2022
How Inked Bread Co. Keeps it Real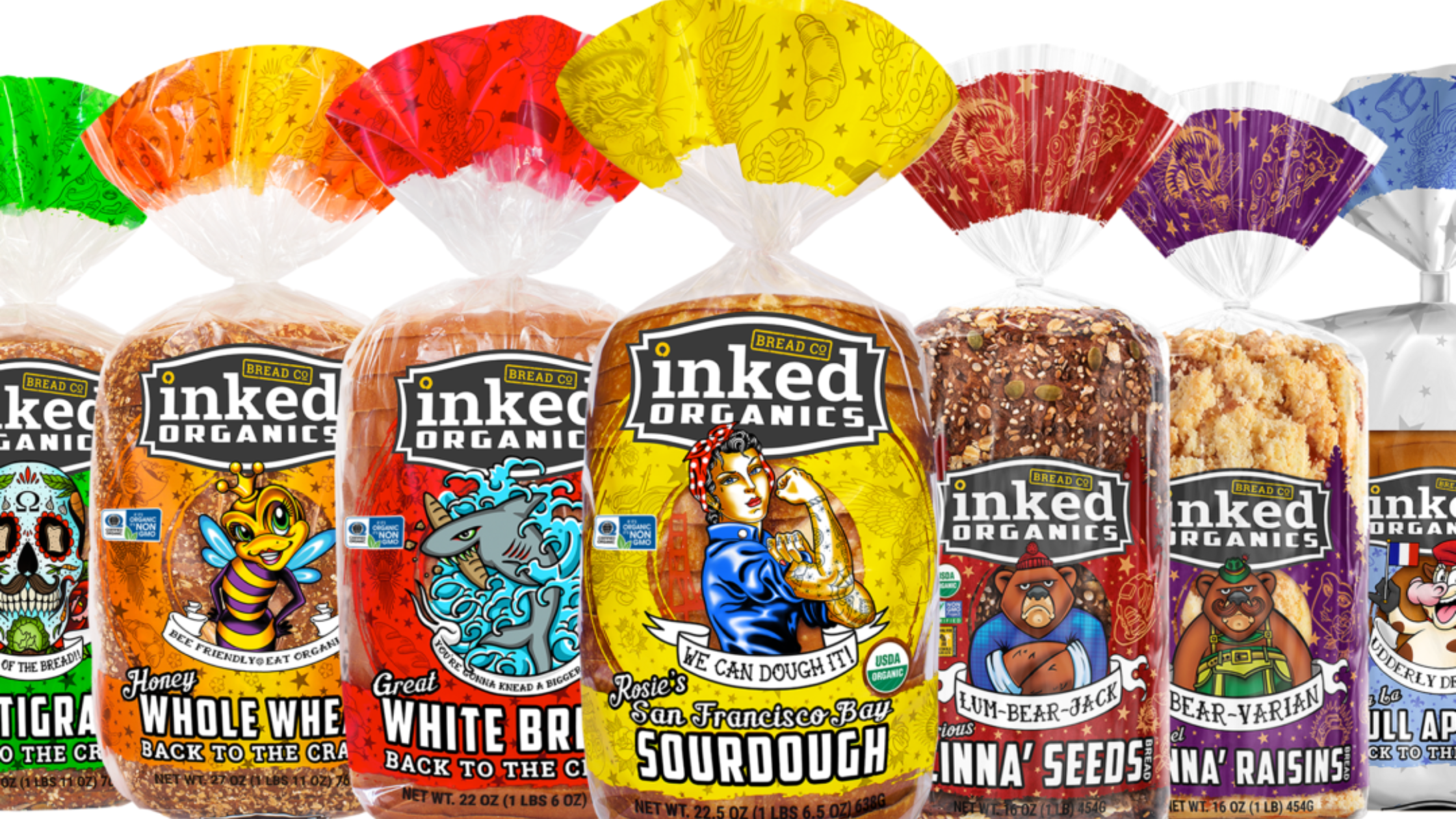 To say that people love bread is an understatement. You can find some form of bread in just about every culture. It comes in thousands of varieties and is made in thousands of different ways. It's no surprise, then, that the bread aisle of a grocery store can be somewhat daunting.
White, wheat, French, oat, potato, pita, keto, rye…the list goes on and on—and many of those options are mass-produced and full of ingredients that you'd rather not try to pronounce.
That's why we love Inked Bread.
Inked Bread Co. bakes incredible bread from real ingredients. Their entire production process is invested in superb quality, starting with how and which grains are grown, all the way down to their eye-catching packaging.
It's Inked's adherence to time-tested techniques and its bold, forward-looking ethos that makes this bread brand stand out from all the others.
What makes Inked Bread better?
With an emphasis on using all-natural, organic ingredients whenever possible, refusing shortcuts, and supporting local farmers and bakeries, Inked Bread Co. is a one-of-a-kind bread brand that believes in keeping it real.

The company attributes the exceptional quality of its bread to three simple elements deeply rooted in tradition: its farmers, millers, and bakers.
Farmers
You can't make good bread from lousy wheat. That's why Inked Bread works with farmers that are as passionate about the quality of their work as they are. These farmers grow heirloom grains in rich, fertile soil without the aid of chemical fertilizers and pesticides.
Just as any good farmer has a close relationship with their land, any good baker has a close relationship with their farmers. Inked Bread Co. prides itself on the connection it fosters with its farmers, all of whom are known by name.
Inked's farmers rely on agricultural traditions that have been passed down for generations. Each grain of wheat is the product of historical wisdom.
Millers
Millers are tasked with separating the usable, nutritious parts of wheat from the fibrous, indigestible husk and grinding it into fine powder to be cooked or baked. Milling is a centuries-old craft that requires great attention to detail and care to do properly.
Inked Bread Co.'s milling partners grind their wheat slowly and methodically, unlike most high-production, commercial mills that operate at higher speeds, which generates nutrient-destroying heat from friction.
The resulting product is left as-is without further processing or artificial enrichment. That's why the ingredients list on Inked Bread loaves doesn't take a degree in molecular biology to pronounce!
Bakers
After milling, the freshly ground wheat is transported to Inked Bread bakery partners, who turn the flour into bread within just a couple of days from the day it was ground. Conventional, big-box bakeries might store flour for weeks or months before using it.
The Inked Bread bakery isn't a centralized facility churning thousands of loaves off a production line but rather a network of smaller bakeries around the country staffed with bakers that share the company's passion for authentic breadmaking.
Like its farmers and millers, Inked Bread considers its relationship with its bakers a partnership, all working together toward to goal of making exceptionally delicious bread.
Bold Branding
The bread aisle of a grocery store isn't particularly known for its pizazz. You might notice more brightly-colored labels or interesting iconography these days, but historically speaking, shopping for bread has been a relatively dull affair.
One company that's a cut above the rest when it comes to its branding is, of course, Inked Bread Co.
Each signature loaf features a striking color motif that helps shoppers easily identify the different varieties. Each one even has a fun, creative name and its own mascot-like character styled in the design of a traditional tattoo.
"Why tattoos? Why 'inked' at all?" you might ask. Here's what Inked has to say about the bold choice:
"The Inked Bread brand is built around the idea that art and craft are involved in the most enjoyable things in life and we believe that using tattoo art helps us communicate this idea. Tattoos stand for self-expression and individual freedom— we like that. That's why we created our breads to be unique, making each bag of Inked Bread a tasty reflection of the person who enjoys it."
What products does Inked Bread Co. make?
Inked Bread places each of its products into one of two categories: organic and keto.
Organic Bread
Great White Bread - The classic sandwich bread. Great White is soft, chewy, and perfect for sinking your teeth into.


Rosie's SF Bay Sourdough - Tangy and airy on the inside with a perfectly golden crust. A true San Francisco sourdough that's as riveting as its mascot.


Honey Whole Wheat - Made with real honey, this subtly sweet whole wheat is the bee's knees as toast slathered with butter and jam.


Mighty Multigrain - Nutty, nutritious, and robust, this whole wheat loaf proves the might of multigrain.


Agave Super Seeds - Hemp and chia make this naturally-sweetened bread super seedy, superwholesome, and super tasty.


Streusel Cinna' Raisins Bread - A decadent loaf packed with plump raisins, swirled with cinnamon and topped with buttery streusel.


Serious Cinna Seeds - Nutty whole wheat bread with warm cinnamon and crunchy seeds throughout.
Winter Wolf Keto White - Soft, versatile bread with all the delicious flavor of white bread and just 1 net carb.


Timber Wolf Keto Seeds - Sunflower, sesame, and flax seeds give this keto bread a nutty flavor and irresistibly crunchy texture.

Buffalo Market Food Distribution
As a food distributor of mission-driven brands, Buffalo Market takes pride in partnering with companies that create high-quality products which are good for you and good for the planet. It's our pleasure and privilege to introduce this incredible brand to railers across the United States.
Our direct store delivery service ensures your bread aisle is always freshly stocked and looking its best.
If you're a retailer and interested in stocking your shelves with the best bakery products on the market, contact us about getting distribution for Inked Bread Co. today!