Black Label Minetta Burger AKA The $33 Burger (but less when you make it)
This burger has been featured in Bon Appetit, Food and Wine, and just about every travel guide to NYC. It was recreated by chefs Lee Hanson and Riad Nasr of Minetta Tavern, who revolutionized wine via Terroir.
Ingredients
2 tablespoons unsalted butter
1 large yellow onion, halved and thinly sliced
Kosher salt and freshly ground pepper
2 pounds ground beef (if available Piedmontese beef, otherwise use extra lean to be a beef-forward burger)
1 tablespoon vegetable oil
5 ounces sharp cheddar cheese, thinly sliced
4 brioche buns, split and toasted. We often use Pretzel buns because they offer the perfect cushion to nearly every burger; Nasr likes the sesame nuttiness on some hamburger buns.
Lettuce, tomato slices and pickles, for serving
Some insights ahead of cooking.
Sauté your onion ahead of time.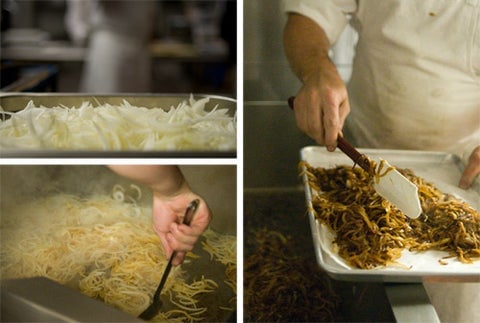 Use 8oz of lean beef and don't over work your meat.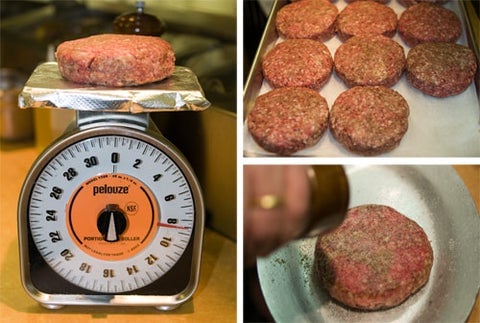 Piedmontese, or a lean ground beef, cooks differently from other blends and produces such a thick crust that it can be difficult to achieve even a rare internal temperature without completely burning the outside when cooking on high heat. Use a high smoke point oil (avocado or grapeseed, not extra virgin olive oil), and cook on a griddle not the barbeque. You might drizzle with butter toward finish (or clarified butter specifically which doesn't burn as easily throughout, but try without).
Cook until well crusted, then flip. Act like you're handling a delicate piece of fish, not too much is holding this baby together before it gets to the bun and your mouth.
The grilled meat juices are a shame to waste so you can take your grilled onions and soak them up...but feel free to skip this step too.
How to Make It
Step 1
In a large skillet, melt the butter. Add the onion and cook over moderate heat, stirring occasionally, until deep golden, about 40 minutes. Add the water and scrape up any browned bits. Cook until the liquid evaporates, about 5 minutes. Season the caramelized onion with salt and pepper; keep warm.
Step 2
Gently shape the ground beef into four 1-inch-thick patties. Season generously with salt and pepper. In a large cast-iron skillet, heat the oil. Cook the burgers over moderately high heat until deep brown outside and medium-rare within, about 6 minutes per side. During the last 2 minutes, top the burgers with the cheese and cover loosely with foil so the cheese melts. Transfer the burgers to the buns, top with the caramelized onion and serve with a side of lettuce, tomato and pickles.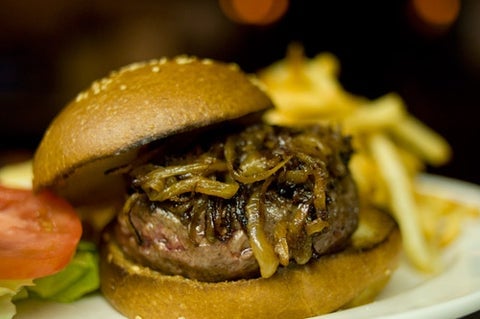 It's one thing to enjoy a great burger at a restaurant; it's quite another to master it at home. While I often enjoy a perfect burger out and about, there is something extra special of having one at home. We'll get you some great grass fed beef to make this for a fraction of the price.