How to Make Frozen Vegetables Taste Just as Good as Fresh
California is packed with crops and produce. Although we have long production seasons in spring and summer, it's always good to take advantage of our farm to table and fresh grocery store offerings, sometimes the frozen veggies still come in handy for last-minute dinner convenience. Given that frozen vegetables are harvested during peak season, they often have more nutrients than even fresh. To see which is better fresh or frozen vegetables you can read more. Frozen vegetables can be a nutritious and convenient addition to a balanced diet.
How Long Does it Take to Cook Frozen Vegetables?
The cooking time for frozen vegetables depends on the method you're using to cook them. While some cooking styles, like roasting, might take longer, they also gives your veggies a different flavor profile that is likely worth the extra time. But for busy nights, there are simple ways to get vegetables on the dinner table in less than 10 minutes. Here's a basic comparison of cooking time based upon cooking method – keep in mind this may vary based upon the vegetable and how small or large it has been cut:
Sautéed frozen vegetables: typically take 5-7 minutes
Steamed frozen vegetables: can take anywhere from 2-10 minutes, depending on the vegetable
Roasted frozen vegetables: typically takes 20-25 minutes with a flip halfway through
Grilled frozen vegetables: the time varies based on vegetables, but typically takes between 5 and 10 minutes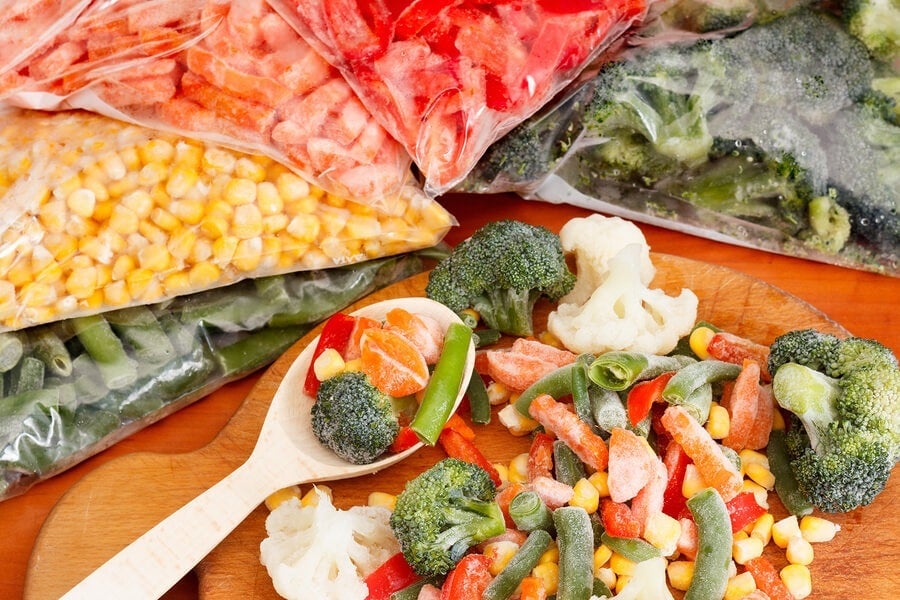 Can You Defrost Frozen Vegetables Before Cooking?
Typically, the best practice when cooking frozen vegetables is to not defrost first. Frozen vegetables shouldn't be defrosted because they can lose their crunchy texture. Additionally, defrosting frozen vegetables can cause them to lose the flavor and nutrients that are sealed in from their freezing process, especially if you defrost them a day or two prior to cooking.
The bottom line: DON'T defrost frozen vegetables before you prepare them and add them to your meals.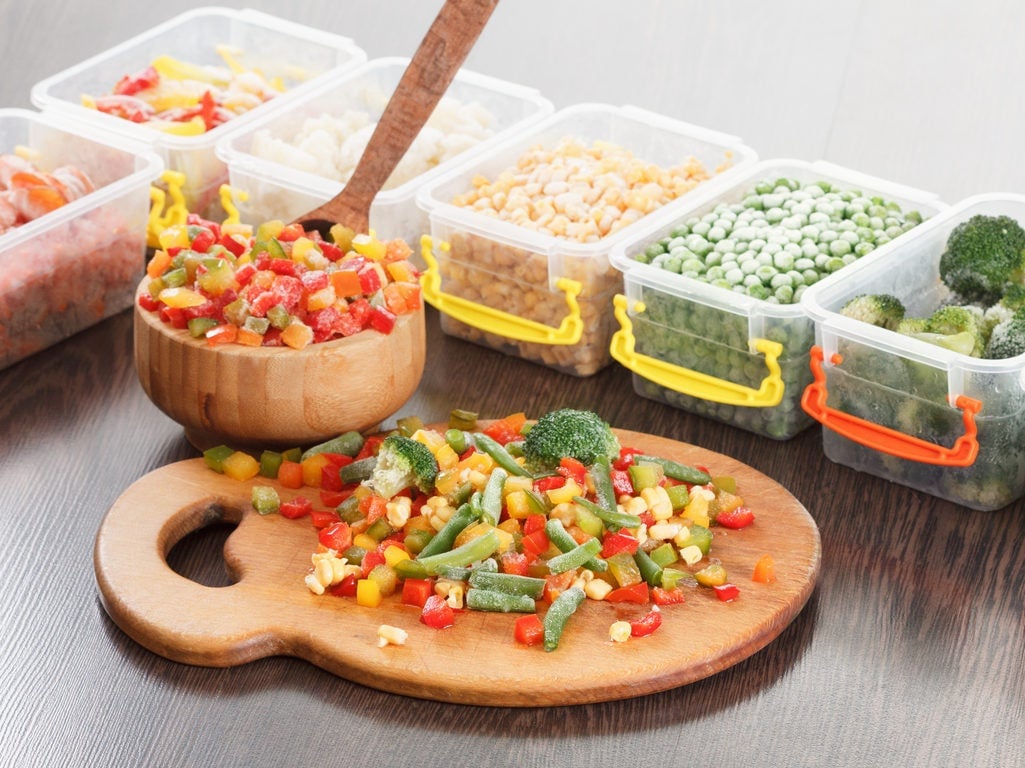 What Is the Best Way to Cook Frozen Vegetables?
While there's not one way that everyone loves best for cooking frozen veggies, we recommend cooking them on the stovetop as the "best" method of cooking. Sauteing frozen vegetables on the stove top guarantees the best texture and flavor. As a secondary option, you could roast them in the oven or even cook them on the grill. All three of these options are going to result in better tasting veggies than if you boil, steam or microwave them.
QUICK HOW-TO SAUTÉ FROZEN VEGETABLES
Cooking vegetables in a skillet is a great way to prepare them quickly, and maintain the great taste, texture, and nutrients that your veggies deserve. To sauté your vegetables here's what to do:
Pour your bag of frozen vegetables into a skillet over medium-high heat
Add one tablespoon of olive oil (or cooking oil of your choice) to the pan and stir
Cook, uncovered, for 5-7 minutes, until heated through, stirring occasionally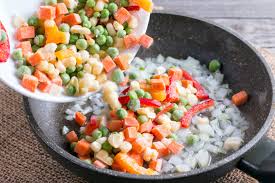 QUICK HOW-TO GRILL FROZEN VEGETABLES
Grilling vegetables is perfect for backyard barbecues or family dinners during Summer vacation. What's even better, there's no mess to clean up in the kitchen! For tasty grilled veggies, here's what you should do:
Pop your frozen veggies into some tin foil or a vegetable basket with a little bit of olive oil
Place them on the grill and cook on a medium to medium-high heat
Stir or flip the vegetables throughout cooking to avoid sticking or charring
QUICK HOW-TO BAKE OR ROAST FROZEN VEGETABLES?
Baking or roasting your frozen vegetables is another option for easily prepared additions to any meal. Here's how to roast your frozen vegetables in the oven:
Pre-heat your oven between 400 and 450 degrees Fahrenheit
Coat your roasting pan with a thin layer of olive oil, and put it in the oven while it heats up (having a hot pan helps the veggies defrost and cook more easily!)
Toss your veggies in a bit of olive oil or coconut oil, and then add them in a single layer to your roasting pan
Cook for 20-25 minutes, flipping halfway through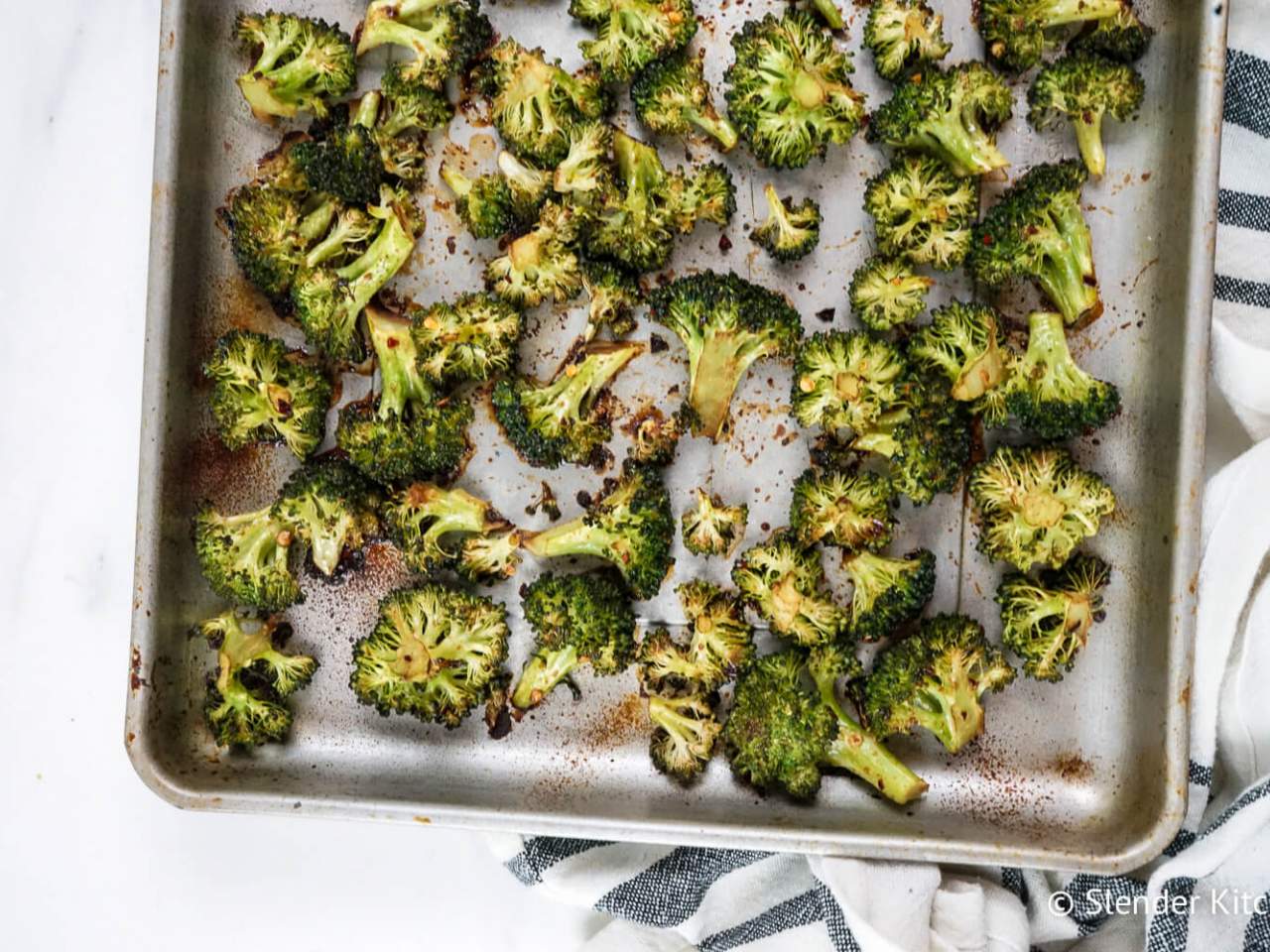 How Do You Steam Frozen Vegetables?
We're the first to say, if you're steaming frozen vegetables, you're doing it wrong, but we know that lots of people still want to know how to steam frozen veggies. It's one of the top questions asked on Google! So if you are planning to steam frozen veggies, here's how to ensure they come out best:
STEAM ON THE STOVETOP
Place just two or three inches of water at the very bottom of your pot or pan
Once the water has come to a boil, place a steaming basket or sieve over the water – making sure that the basket is above the boiling water. If necessary, remove a bit of the water.
Once your basket or sieve is in place, add your frozen vegetables and then cover the pot or pan with a lid.
Watch your veggies closely – the may cook faster than you expect and nobody likes army green broccoli!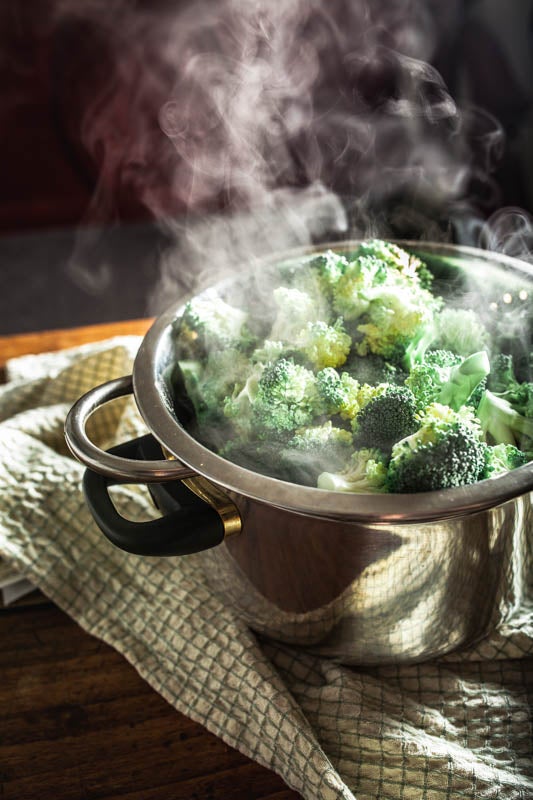 Cooking times for steaming on the stovetop will vary, so here's a chart with some veggies and their optimal steaming times:
| | |
| --- | --- |
| Vegetable | Time to Steam |
| Asparagus | 5-10 Minutes |
| Artichokes | 25-35 Minutes |
| Beats | 15-20 minutes |
| Bok Choy | 5-7 Minutes |
| Broccoli | 5-8 Minutes |
| Brussel Sprouts | 8-15 Minutes |
| Cabbage | 6-10 Minutes |
| Corn on Cob | 10-15 Minutes |
| Green Beans | 6-10 Minutes |
| Carrots 7-10 Minutes | 7-10 Minutes |
| Cauliflower | 5-10 Minutes |
| Kale | 4-7 Minutes |
| Leaks | 5-8 Minutes |
| Peas | 2-4 Minutes |
| Spinach | 3-5 Minutes |
| Sugar Snap Peas | 3-5 minutes |
| Sweet potatoes | 8-12 Minutes |
| Swiss Chard | 3-5 Minutes |
| Tomatoes Whole | 3 Minutes |
| Zucchini | 5-6 minutes |
See all of our local fresh produce and frozen vegetables options for dinner.