Peach Cobbler Ice Cream Sundaes
Organic peaches, local ice cream, and a brown sugar crumble are made to go together. This delicious Peach Cobbler is made using almond flour that gives the topping a rich and nutty flavor! You can also skip the almond flour if you've run out, and just use all-purpose.
You can make the peaches and crumble topping way ahead of time, so all you need to do to serve is add scoops of ice cream.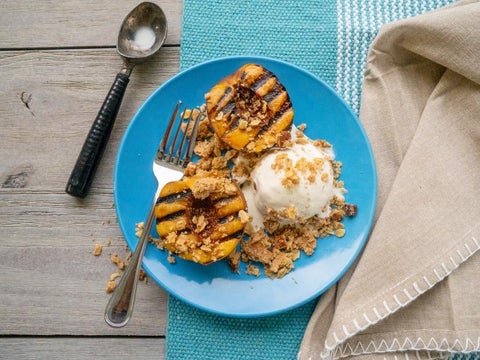 INGREDIENTS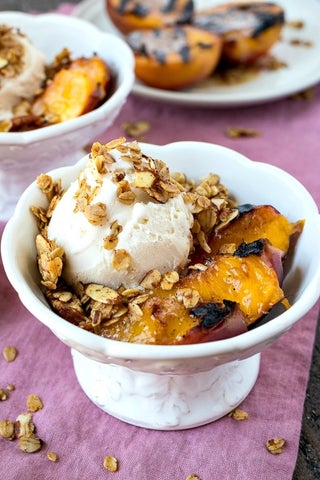 INSTRUCTIONS
Heat oven to 325F. Combine the dry ingredients (flour, sugar, and salt) in a medium bowl. Pour in the melted butter. Using a fork, mix the crumbles. Fingers make a great tool for assembling crumbles!

Sprinkle the crumbles onto a cookie sheet and bake until just golden brown. Let them cool.

Cut your peaches in half and remove the pits. Heat up a grill or grill pan on medium-high.

Brush the open flesh of the peaches with a touch of vegetable oil. Grill them face down until smoky, then flip to the other side. (You can also add grilled peaches to a salad, who knew!)

Place the peaches flesh-side up on plates or bowls. Scoop ice cream over the peaches and crumble the topping over them. Serve immediately.
Cobblers are early American colonial cuisine that was developed to replace earlier dishes from the United Kingdom, with fresh fruits replacing suet. We're certainly happy about that substitution!
Grilled peaches are a great twist, adding a meatiness that goes well with sweet toppings like honey or ice cream. Alternatively, because of that savory quality, you can use them in a salad to add variety to leafy greens. We like the stovetop method for grilling peaches, but you can also use your BBQ to add decorative lines.
If you have alternative methods or additions to this dish you want to share, please add them to the comments!