Plant-Based Meats Are on the Rise in Restaurants
Reducing our carbon footprint at the same time as lowering the risk of cardiovascular disease, plant-based meats aren't just beneficial for the environment but our physical wellbeing, too. As an added bonus, they taste just as good as the real thing – if not better – and many restaurants have begun offering plant-based burgers on their meus.
The major sources of protein used in most plant-based meats – such as peas, nuts, tofu, and a variety of beans – not only have textures that successfully replicate those of traditional beef or chicken burgers, they are also provide carbon footprints lower than those of even the most ecologically-sourced dairy and livestock products.
When considering the environmental impacts between meat burgers and their greener counterparts, there really is no comparison. Beef burgers require far more water, use almost 45% more energy, and generate 90% more greenhouse gas emissions than their plant-based alternatives when making a typical four-ounce patty. With almost one sixth of all greenhouse gases produced around the world each year being attributed to the effects of rearing livestock, there are plenty of other damaging impacts to consider.
The methane alone excreted by cows is a significant accelerant of climate change, as the gas absorbs the sun's heat and heightens the surrounding temperature. Meanwhile, the deforestation required to provide those cows with grassland to graze on leaves far fewer trees to absorb the atmosphere's carbon dioxide. As it stands, 65% of that sixth of greenhouse emissions is generated by cattle, so the solution to preventing climate change can be as simple as changing your diet.
It is for this reason that many restaurants and fast-food chains are making the move toward plant-based meats as an eco-friendly (and delicious) alternative. Here's a rundown of some of the most interesting and unusual examples, some of which may even be on sale in a restaurant near you.
Cheesecake Factory "Impossible" Burger
You'd be forgiven for taking the name of a company like Cheesecake Factory at face value, but it turns out there's a whole lot more on offer here than just, well, cheesecake. When customers can find deep-fried mac 'n' cheese balls and even shrimp and bacon club sandwiches on the menu of a cakeshop, adding a burger to the line-up might not seem such a bold leap. The one sold by Cheesecake Factory comes with a patty made by food tech company Impossible, renowned for giving customers the taste and texture of grade-A red meat only without, you know, any actual meat.
Made with a load of vegan-friendly ingredients, such as coconut oil, potato protein, and wheat protein, the Impossible burger even contains an element – soy leghemoglobin – that makes the patty 'bleed' just like a real burger. Diners in the Cheesecake Factory can expect their meat-free burgers to be served on a brioche bun with standard burger fillings (pickle, tomato, lettuce), albeit with a non-vegan "special sauce" that can either be removed or rectified in select locations with a vegan bun.
Chronic Tacos' Beyond Beef Crumbles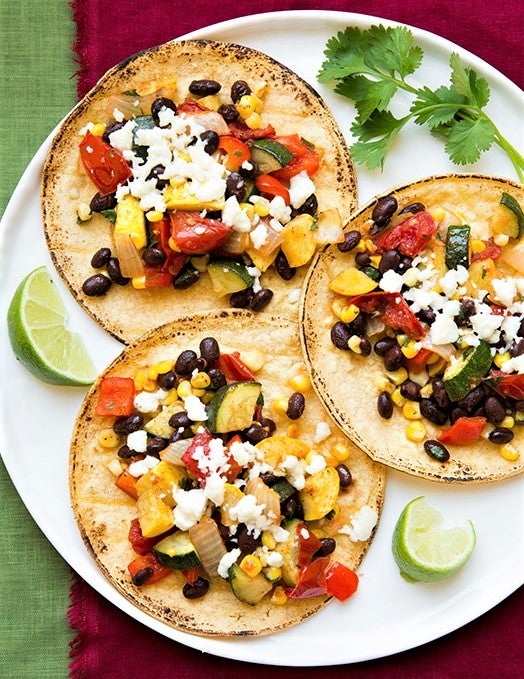 Following their partnership in 2019, Mexican food chain Chronic Tacos began offering customers a Beyond Meat meat-free alternative - the Beyond Beef Crumble - in a range of their products, including burritos, nachos, salads, tacos. This plant-based, high-protein option brings plenty of hyphenated benefits thanks to its soy-free, gluten-free, and vegan-friendly properties. Beyond that, Beyond Beef Crumbles contain just 3g of fat per serving, as well as 13g of protein, to be found in every one of Chronic Tacos' 50+ stores nationwide.
Founded in Los Angeles twelve years ago, Beyond Meat is one of the most fashionable meat-free providers in the US, with a star-studded roster of sponsors and ambassadors featuring Snoop Dogg, Shaun White, Kyrie Irving, and one Mr. Leonardo DiCaprio. Just as impressive is the brand's eco-friendly outreach, with their protein-loaded products found in over 35,000 retail outlets and food service hubs across the US.
Burger King Impossible Whopper
Very much the mainstream pick of the bunch, international fast food chain Burger King's foray into plant-based meat products came courtesy, once again, of Impossible. Comprised of potato protein, coconut oil, soy protein, salt, yeast, and sunflower oil, customers certainly got a mouthful with the Impossible Whopper. In terms of taste, it's virtually identical to a standard Whopper, but it still offers the same number of calories, so meat-free doesn't exactly equal low-fat.
Burger King's trial run of meat-free products extends to another, far more unconventional item on their menu: the Impossible Croissan'wich, a meat-free burger patty topped with cheese and wedged inside a croissant. An odd concoction, it does at least demonstrate some innovation within the near-70-year-old company's line up – even if its disclaimer that the patties were cooked in the same oil as meat and cheese products did stoke the ire of many vegan customers on Twitter…
Benefits of plant-based meats
Just about the only thing stopping you from neglecting plant-based meat could be the lack of availability, as this is still a trend on the rise. Organic patties taste just as good as the meat-based burgers on which they're based, only they are much better for the planet! Requiring far fewer difficult-to-replenish resources such as land space and clean water, increasing your consumption of plant-based meats can markedly offset the impacts of climate change.
There are plenty of health benefits to be found in plant-based meats as well, on account of their lower saturated fat content and heightened traces of fiber and vitamins. All of these elements lead to lowered risks of cancer, diabetes, and heart disease – and that can only be a good thing.
Offering so many positives, plant-based meats are likely to trickle down from larger chains to independent eateries near you. With a great taste that won't harm the environment, ask for the option to go meat-free at your next burger bar: your conscience will be clean, and your appetite will be satiated.