10 Food and Beverage Brands Using Social Media to Boost Wholesale
CPG brands are mastering the art of social media. Long gone are the days of functional, empty ads that merely inform you of a product's existence.
Social media marketing is a huge opportunity for B2B and wholesale brands. It's a great tool for market research in terms of catching trends, developing products as well as relationships. If you can score popularity points on social media, wholesalers will find you and will want to sell you!
Each social media platform has its own demographic, trends, and culture. Here are some user statistics:
Facebook
Monthly active users: 2.7 billion

Typical user age: 25 - 34

Gender split: 44% female - 56% male
Instagram
Monthly active users: 1 billion

Typical user age: 25 - 34

Gender split: 57% female - 43% male
Monthly active users: 353 million

Typical user age: 30 - 49

Gender split: 32% female - 68% male
TikTok
Monthly active users: 100 million

Typical user age: 18 - 24

Gender split: 59% female - 41% male
YouTube
Monthly active users: 2 billion

Typical user age: 15-25

Gender split:

44% female - 56% male
Here are 10 global CPG brands dominating social media to drive sales
#1 Little Moons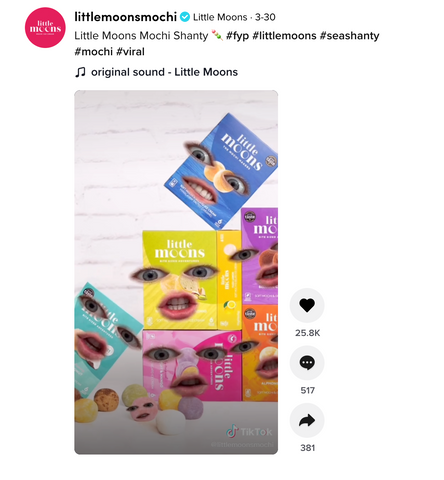 Platform: TikTok
The strategy: Little Moons didn't reinvent the wheel (or mochi, for that matter). But they brought their product to a whole new audience who had never heard of the dessert. They observed trends and began to create fun content — with their products at the center of every well-timed video.
British TikTokers were intrigued by the Asian dessert and so it became a trend to taste and rate Little Moons. It's been about a year since this CPG blew up and it remains difficult to find them in stores because they're always sold out! Ain't that the dream!
Your takeaways:
You don't need a huge marketing budget to sell your products. Little Moons don't hire out a studio or videographer. Their account appears to be managed by a single person, making videos from home.

You don't always need a campaign. Sit back, observe the trends, note what works, then jump in when you're ready.
#2 Oatly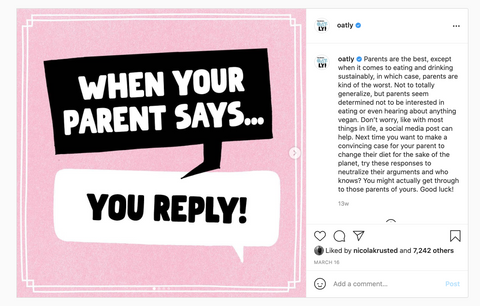 Platform: Instagram
The strategy: Oatly's social media marketing isn't just about why you should drink their oat milk. It's about why you shouldn't drink cow's milk. They've thought outside the carton (pardon the pun) and incorporated veganism, animal rights, and plant-based discourse into their social media content.
When the EU discussed imposing laws that would restrict the marketing of dairy alternatives, Oatly took to Instagram to raise awareness and ask their loyal community to sign a petition to #StopPlantBasedCensorship. The video received 10 times the amount of plays than their standard.
Oatly has built a community that'z passionate about the brand and about oat milk. These loyal followers will no doubt religiously buy into this CPG brand and convert their social circles.
Your takeaways:
Your brand's message, mission, and values can be just as important as the product itself, driving customer loyalty as well as sales.

How can you incorporate that into your content?
#3 Ben and Jerry's
Platforms: Instagram
The strategy: If there is one CPG brand that knows how to be an activist, it's Ben and Jerry's. They're known for their strong political stances and their fearless content has won over the hearts of millions. They often go viral for simplifying complex political issues into easily digestible graphics.
Beyond political activism, the brand is continuously innovating its offerings. They weren't just one of the first CPG brands to release vegan ice cream. In fact, when their customers were talking about picking through their ice cream specifically for the cookie chunks, what do you think they did? They released a bag of just cookie dough chunks, of course!
Your takeaways:
Don't be afraid to do good with your brand. Conscious consumers are voting with their wallets.

Pay attention to what your customers are saying about your products on social media. They might just be giving you new sell-out product ideas!
#4 Innocent drinks

Platform: Twitter
The strategy: Innocent drinks constantly joke about not having a social media marketing strategy. But in reality, pretending like they don't have one might just be the most clever strategy of all.
The relaxed, off-handish nature of their Twitter account compels you to feel like it's a friend, rather than an extremely large corporation. In the example below, they even nod towards how the true intention behind all of this is to increase sales.
Lest we forget the green blue/drink campaign. We're sure that half of the customers bought it just to determine the color for themselves.
Your takeaways:
Have some fun with your social media. Your customers will love you for it! They might just reward you with a purchase, so that your boss doesn't get mad at you.
#5 Oreo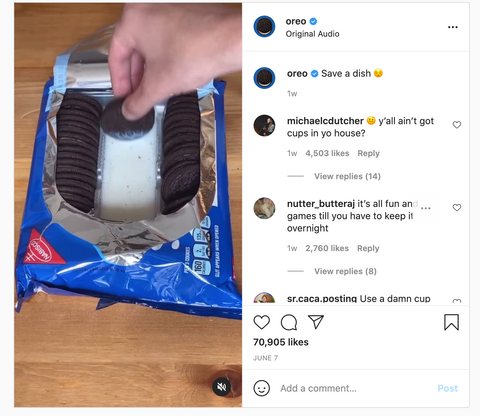 Platform: Instagram
The strategy: Oreo doesn't need to convince you to try them, they know you probably already have. They focus more on the product variation as well as resales. In other words, how can they excite their followers and trigger those all too familiar cravings which send you running to the store?
They show you their product in endless, mouth-watering, and often comical scenarios. Or is it normal to pour milk into your biscuit packet?
They're nailing the memes. The ultimate form of shareable content. You see it. You laugh. You tag a friend. Boom. Now you're both craving Oreos. Boom. Oreos sales increase.
Your takeaways:
Track viral content of how people are using your product, or even a competitor's product. Then, either share the user-generated content or recreate it yourselves.

Seen a meme that makes you laugh? Apply it to your product.
#6 Heinz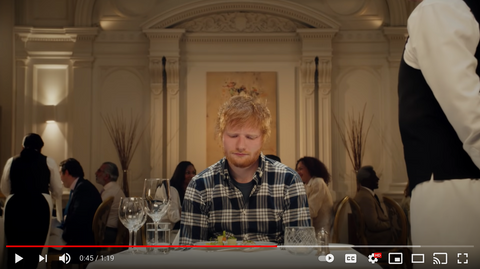 Platform: YouTube
The strategy: When Ed Sheeran collaborated with Heinz on an ad, people couldn't get enough of it. With Ed being one of the most down-to-earth celebrities, it made perfect sense for him to be talking about ketchup — the sauce that can ground any dish.
The video scored well over 6.5 million views. The shock of his random celebrity appearance paired with the comedy of the short clip was clearly a recipe for success.
Perhaps it drove up sales for tomato ketchup in fancy restaurants.
Your takeaways:
Never apologize for what your product lacks. Instead, create humorous content celebrating it for what it is. Bonus points if you can score Ed Sheeran.
#7 Percy Pigs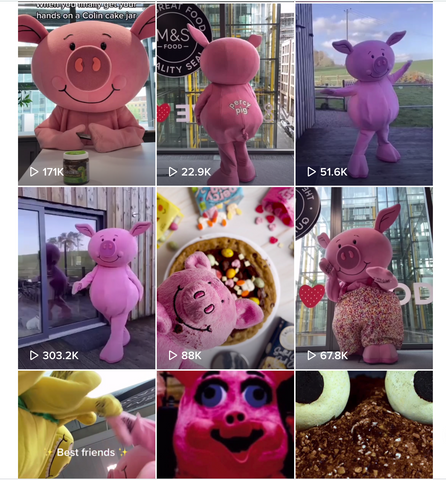 Platform: TikTok
The strategy: If you took a look at the British brand Marks and Spencer's TikTok page, you'd think that all they sold were Percy Pigs. In fact, the sweet is only one out of hundreds of unique products. So why do they only promote Percy Pigs?
It's because they're tailoring their content to the platform, and rightly so. As you can see from the statistics above, TikTok has a younger user demographic than other social media.
Children may not be the customers, but you can bet they'll be bugging their parents 'til they pick up a packet for them.
Your takeaways:
Ensure that the type of content you're creating suits the platform's culture.

Don't worry about being repetitive. You're just hammering that message home, to ensure that the sales come home too!
#8 Coca-Cola
Platform: YouTube
The strategy: Coca-Cola are the pioneers of ASMR for products. Each cinematic masterpiece contains the following;
The clink of the bottles

The popping of the cap

The fizz of the soda

The glug of drinking

The gasp of refreshment
With this framework in mind, Coca-Cola has been able to produce endless creative masterpieces. This formula has worked for years and no doubt almost every shop and restaurant is stocking this iconic drink — unless they favor Pepsi...
Your takeaways:
YouTube is the best platform to put on real video production.

While the context can change, a powerful product can remain the same.
#9 Moonpie
Platform: Twitter
The strategy: Witty comebacks and good banter is a favorite amongst major CPG brands on Twitter. Take this retaliation from Moonpie when Hostess Snacks tweeted that they had the official snack of the eclipse.
That simple 'Lol ok' racked up almost half a million likes. It probably took 5 seconds between seeing the tweet, typing it up, and hitting send.
Scoring those popularity points may just be the difference between a customer choosing between you and your competitor's snacks when they're browsing the shelves.
Your takeaways:
Don't be afraid to interact with other accounts, especially competitors. As long as you play it right, you might just go viral.
#10 Kraft Dinner

Platform: Twitter
The Strategy: Don't just join the discussion when you could prompt it. Kraft dinner exemplified this perfectly when they asked who puts hot dogs in their product.
Pineapple on pizza is one of the oldest yet prevailing debates on social media. Likening it to their own product prompted customers to reply with their own opinions.
This may have resulted in a cohort of shoppers who went out to sample this new dish. Or, it may open the door to a whole new product for the brand!
Your takeaways:
Start conversations with your customers on social media. It could prompt some sales, if not, it's still fantastic market research!
Now you've seen an array of examples of food and beverage brands utilizing their social media to boost wholesale revenue. Whether it's for promoting new products, reinforcing brand values, building communities, or more — it's here to stay.
Let Buffalo Market help you drive up your wholesale sales
If you're looking for help in boosting your B2B sales, then we're here to help. We can distribute your product into the top stores and restaurants right across the US.
We specialize in CPGs that will become an increasing part of our world, such as alternative proteins, regenerative agriculture, organic goods, good for you, and good for the earth. If that sounds like you, then we'd love to say hello. So
get in touch today
.