10 Vegan and Plant-based CPG Brands that are Thriving
More and more consumers are switching to plant-based diets. The uptake is so strong that 6% of consumers in the U.S. now describe themselves as vegan.
That's a whopping 500% increase since 2014, when only 1% claimed to be vegan.
From those statistics, it's clear that plant-based living is going nowhere.
There are several motivations to opt for plant-based living, including health reasons, efforts to combat climate change as well as interest in animal welfare. And with unlimited business opportunities unfolding within the industry, now is a great time to pursue that vegan or plant-based CPG venture you may have been thinking of...
We've curated a list of CPG brands who are nailing the plant-based market, and what sets them apart. Grab your notebook because there's a lot to learn here.
Ready? Let's dive in.
10 vegan and plant-based food and beverage brands to put on your watchlist
1. Bissy
This natural energy drink owes its buzz to the kola nut fruit. There's 160mg of caffeine in each Bissy beverage — the equivalent of a Monster energy drink and slightly more than you'd find in the average cup of coffee.
The brand name plays on the word 'busy' with a nod to the Nigerian accent, as the kola nut is native to Nigeria.
What Bissy does well
Energy drinks have a bad reputation for being unhealthy, but with one champion fruit as their natural source of energy, Bissy puts health-conscious consumers' minds at ease.
Bissy have prioritized holistic well-being at every step of the value chain, from the farm, to the local tribe and their packaging. They've even registered as a public benefits corporation and formed partnerships with their farmers.
For this brand, social and environmental responsibility isn't a marketing ploy. It runs through their very roots and they've proved it from the very start.
2. 12 Tides
The founder of 12 Tides once worked in the seafood industry, witnessing all the harm that we do to our oceans. Overfishing, pollution and coastline destruction are among the top offenders to marine life.
Because of this, he sought to create a CPG brand that could benefit both people and the oceans - landing on kelp snacks.
What 12 Tides does well
It turns out kelp is great for the environment, absorbing carbon from the atmosphere 20 times more efficiently than land crops. It doesn't require any harmful chemicals like pesticides and is super low maintenance.
12 Tides partner with farmers who grow and farm kelp sustainably. They state that when you purchase their snacks, you're helping to restore the oceans.
For extra brownie points, they use compostable packaging. This way, consumers don't have to fret about inadvertently contributing to any more plastic ocean pollution.
3. VINA
We've all read that apple cider vinegar is ridiculously good for us. But have you ever tried to drink the stuff?! No matter how much you dilute it never tasted good… until now.
VINA is a sparkling beverage that contains 100% organic apple cider vinegar, no artificial sweeteners, and comes in a variety of yummy fruity flavors.
What VINA does well
The great thing about this brand is that it plays off the widespread knowledge that apple cider vinegar is incredibly good for you. The problem was that vinegar alone tasted pretty bad, so VINA fixed that.
Their website lists a whole load of ways that the plant-based beverage benefits, including boosting your immune system, increasing your metabolism, improving skin, lowering cholesterol and risk of heart disease, relieving acid reflux and regulating insulin levels. The list goes on...
ACV is no longer just a smelly shot in the morning, though. VINA is marketed as a taste of the Mediterranean, boasting flavors like orange, lemon and honey — a delicious drink that you can enjoy every day or for special occasions.
In fact, they encourage you to drink VINA as a mixer with gin! We can't be too healthy all the time.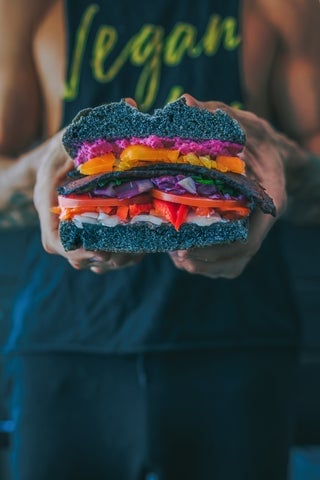 4. ReGrained
This snack is so good that it has racked up a waitlist! ReGrained are a low-cal, sustainably sourced alternative to chips.
They're made using organic ingredients, are jam-packed with fiber and probiotics. But that's not even the best part — it's the way that they're made.
What ReGrained does well
This CPG snack brand upcycles grains that are leftover from the beer-making process. When beer is made, the sugars from the grain are extracted, leaving behind the protein, prebiotics and micronutrients.
Rather than letting all this goodness go to waste, the founders of ReGrained decided to mill the grain into a nutrient-dense flour, which is their hero ingredient.
This way, they're delivering top nutrition through irresistible crunchy puffs while minimizing food waste from other industries. Plus they go really well with a cold beer.
It's a win-win.
5. Saint Ivy
There aren't too many beverage alternatives for those who don't drink alcohol on a night out. Of those that are available, they're usually full of sugar or they stand out as a non-alcoholic beverage.
Saint Ivy delivers non-alcoholic cocktail alternatives for gin & tonics and Moscow mules.
They have all the flavor of the cocktail with none of the alcohol, sugar and calories.
What Saint Ivy does well
They've kept it really simple. This plant-based drink isn't a crazily different drink alternative to alcohol. It's just the same cocktail but without the alcohol.
It also comes in super elegant bottles so customers can also enjoy their chosen drink.
6. Renewal Mill
Similar to ReGrained, mentioned above, Renewal Mill upcycles quality ingredients.
These guys take the by-products of plant-based milk manufacturing, like soybean pulp, oat pulp and almond pulp, and turn them into new ingredients, such as oat milk flour.
What Renewal Mill does well
They work within industries that are already doing good for the planet, like plant-based milk, and are making them even more sustainable by upcycling their waste.
In other words, they're seeing other CPG brands' sustainability measures and raising them.
Then they're producing delicious products that haven't really been disrupted yet. When's the last time you saw upcycled, gluten-free, non-GMO, vegan oat chocolate chip cookie mix?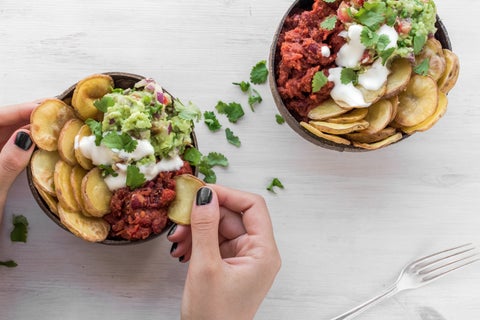 7. Jack & Friends
Beef jerky, spare the beef. Jack & Friends' plant-based snack will have all the gym-goers ecstatic!
Made using jackfruit and pea protein, this protein alternative mimics the look and feel of real meat.
Each 'friendship duo' represents a different flavor. For instance, 'Jack & Tom' has a tomato and peppery flavor, while 'Jack & Teri' tastes like teriyaki. Clever, right?
What Jack & Friends does well
Aside from their fun branding and their ingenious use of jackfruit, they've developed a product that can appeal to a really specific niche.
Many gym-goers consume a lot of meat because they believe it's the only way they can get enough protein. With around 15 grams of protein in each pack, they've finally got a great meaty snack alternative.
8. Sabor Mexicano
Sabor Mexicano delivers comfort food without compromise. They make tortilla chips, kettle papitas, salsas and quesos — all plant-based and designed to be good for you and the environment.
The CPG brandishes 'Homemade' across all of their products to communicate the love that goes into each and every one.
What Sabor Mexicano does well
This brand's strengths lie within its authentic backstory. Founder Jorge Saldana describes how his mother would cook for his family back in Mexico, with only the freshest local ingredients.
He has carried this passion for fresh, homemade cooking into his growing brand.
What's more, Saldana's farm grows all of the ingredients for Sabor Mexicano on protected land, without the use of pesticides or GMOs.
9. Amy's Kitchen
Amy's Kitchen was started by the Berliner family, a quality that continues to radiate from the brand to this day.
They make home-cooked meals for on-the-go situations. Now, those who are in a rush or just prefer quick and easy convenience can still choose organic products that are better for the environment.
What Amy's Kitchen does well
Microwave dinners aren't famed for being healthy, but this brand is here to change that perception.
They've made various good quality instant meals, from vegetable kormas to bean & rice burritos.
They're all jam-packed with nutrition, so that convenience no longer has to compromise health.
10. Follow Your Heart
The popularity of plant-based diets may have only just boomed in the last few years, but this CPG brand has been around for over half a century.
Follow Your Heart sells plant-based sauces, cheeses and spreads, and are the manufacturers of the original vegenaise — an egg-free mayonnaise alternative.
What Follow Your Heart does well
Despite being such an established brand, newness and innovation still lie at their core.
Our personal favorite has to be the egg alternative, purely because of the way it's packaged! It comes in an egg carton rather than the usual box you might find in stores. Serve them up with some of their Rocket Cakes pancake batter and follow the flavor.
And there you have it!
Ten vegan and plant-based CPG brands that are all doing unique things within the industry. Hopefully, you've gained some inspiration for your own food or beverage brand. We see vegan CPGs as another hot sub sector within the plant-based movement.
The one thing they all have in common is superior product distribution.
If you're looking for a specialist distributor who deals in products that are good for you and even better for the earth, rest easy, you've found us.
We particularly love working with brands that offer protein alternatives and organic goods.
Get in touch with Buffalo Market to find out more!