9 of the best CPGs website templates
One of the most important things you'll need when selling consumer packaged goods (CPGs) online is a show-stopping website.
Sure, back in the day it would've cost you a fortune to set up a website that looked professional.
Thankfully, in this digital age, entrepreneurs don't need millions of dollars to start a business with a fancy website. If you have a few minutes on your hand (yes, minutes) and a laptop, you can launch the perfect website to sell CPGs from the comfort of your own home.
There are thousands of templates available from various sources that make creating a website ridiculously easy.
We've dug through some of the top website-builders to find the best templates for CPG brands to start selling online.
Squarespace
Favored by the savvier tech lovers among us, Squarespace is a popular destination for creating a professional website.
They offer a 14 day free trial, so that you can test the waters if you wish. After that, for your site to remain up, you'll have to pay the price.
The good news is that it's not expensive. The plans begin at a reasonable $12 per month, increasing to only $40 a month for the full 'advanced' package. It's a bit extra if you would prefer to pay on a monthly basis, but it won't break the bank.
Hester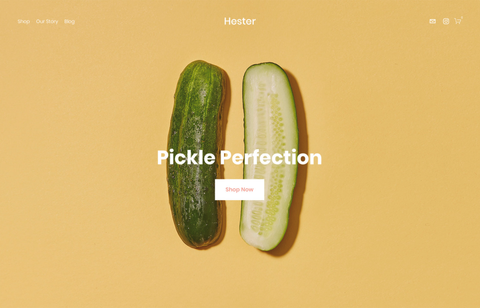 A picture says a thousand words. Hester lets the product photos do the talking, with minimal accompanying text.
Clicking the 'shop now' button takes you to a page to browse all products, which are displayed in clean, spacious rows of 3. Hovering over images gives you the chance to showcase your product from another point of view, to further encourage your customers to click.
Once you do get them on that product page, they'll be able to scroll down to see products which they 'might also like'. Super handy!
Crosby
Similarly to Hester, Crosby features a hero picture, along with a prominent 'Shop now' call to action button. However, this darker design is sure to set you apart from the rest.
Scrolling down will take you to a 'fan favorites' section, so that you can showcase your best-selling CPG products, arranging them into easy-to-browse categories.
On the shop page, products are arranged in rows of 4. This might be preferable for CPG brands with plenty of products, so that you can fit as much onto the page at once - without it looking crowded.
There's even a 'journal' aka blog section, so that you can provide as much value to potential customers as possible, driving more traffic and conversions with that all important SEO tool.
Stanton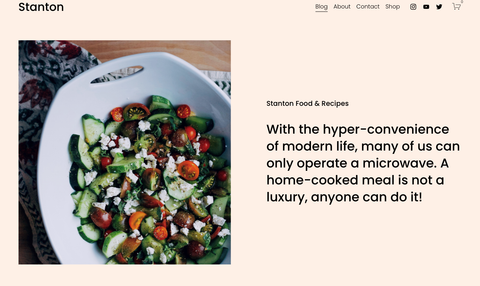 Got fewer products but plenty of content? Then Stanton may just be the website for you. This template gives you more of an opportunity to use your words. As you can see from the navigation bar, the shop is the last thing you come across on this site, but that's not necessarily a bad thing.
With fewer products, you'll want to capture consumers' attention for as long as possible, so showing them content about your products before showing them the products is the way to do it.
Selling food or beverages? Why not showcase some recipes which incorporate your product? Maybe you could write some articles about the health benefits, or how your brand is helping to tackle environmental issues?
This way, when consumers are searching around these topics, your blogs - and therefore your products - will be the first to pop up.
Wix
Wix began by marketing themselves as the easiest to use website-builder. They've had well-known celebrities endorse their site, including supermodel Karlie Kloss!
This might seem random, but these days everyone does need a website, and why shouldn't she use Wix?
Nowadays, they're focused on persuading techies that Wix isn't just a cookie-cutter website builder. As easy as it is to use, it's capable of much more. That's good news for anyone who's looking to scale.
Wix has plenty of free website options, though you'll have to display the Wix name in your URL as well as their logo on your site.
The premium sites are very affordable, ranging from as little as $14 per month.
Subscription Box Company
If you offer subscription based food or beverage products, Wix has just the website template for you. Subscription Box Company opens onto half an image, which encourages visitors to keep scrolling down.
You then come to a simple 3 step guide:
Select the contents of your box

Select the plan

Enjoy the product
Keeping it super simple like this makes it a much smoother experience for the customer. The guide is framed by a video background to make it even more of a compelling sell.
Overlapping sections reveal themselves in a unique way as you scroll, making this template unforgettable.
Snack Bar Company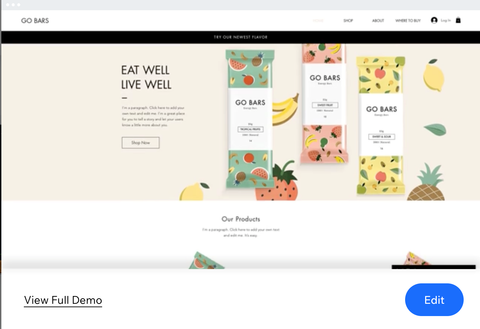 The best part about Wix is that if you're entirely unsure about design, you can just pick the template that matches what you're selling and run with it. This Snack Bar Company template is perfect for - you guessed it - snack bars. But if you love this template so much that you want to swap in another food or drink CPG product, go for it!
One of the first things you'll notice about this site is the moving banner at the top. Text automatically moves horizontally, making it perfect for you to include any discount codes, promotions or major selling points - like free delivery.
In the bottom right corner, there's a chatbot for customers to ask for help. This is great for helping to make the customer journey as smooth as possible and deliver excellent customer service.
If you're looking to link your Instagram, look no further. At the bottom of this scrumptious template, there's a gallery full of your recent uploads. That's a great opportunity to showcase user generated content.
Juice Shop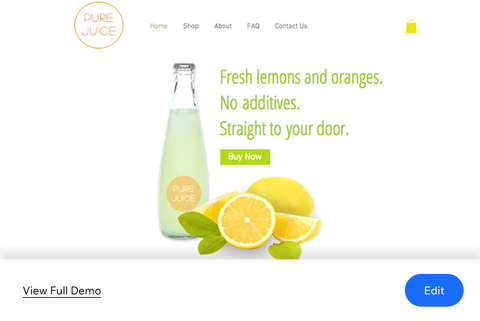 There's no scrolling once you hit the landing page of this Juice Shop template. But that's just what we love about it. No confusion. Just the juice. Drink it in.
The great thing about this template is that you can add multiple products to your basket at a time. Want 3 grapefruit juices, 2 lemon juices and 1 orange juice? Hit the + or - to get the quantity you want. Or if the customer wants to save even more time, they can buy a set bundle of juices.
If the consumer is thirsty to know more, they can hit the about or the FAQ pages at the top. Just like the Snack Bar Company, there is also the option to use the chat function.
Wordpress
With 42% of the web built on Wordpress, it is the most well-known website builder. Most likely because it's been around for such a long time.
Due to its fame and popularity, there are thousands of supporting plugins available, making it even more customizable for your brand.
Like Wix, as long as you have 'Wordpress' in your URL you can have the domain for free. Then, you can choose a free website plan or opt for premium at a range of $4-$45.
Natural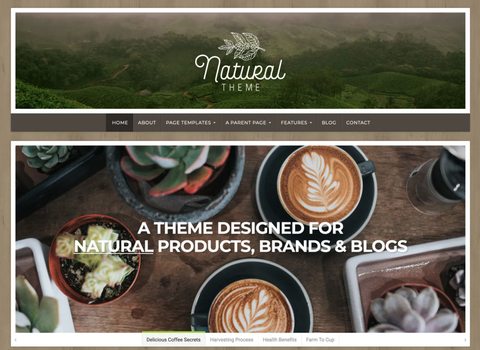 If you have a product that's good for people or good for the planet, Natural might just be your perfect template choice. Filled with earthy brown and green tones, it gets across the essence of your brand instantly.
You can use any photos for the slideshow which pops up as soon as you enter the website. We'd recommend showcasing the absolute best images of your products.
If you're keen on running a blog for your brand, this template would be a great option for you. It allows you to categorize posts, plus people can leave comments to let you know how good they are!
Barnsbury
Barnsbury is another fantastic website template for food or beverage CPGs. If you're all about health, organic or local produce then step right this way. This website allows you to display beautiful photography of your products, to draw customers in.
It's got a section for you to exhibit numbers - a particularly wonderful opportunity to show how many tonnes of carbon your brand saves, how many trees you've planted, how much money you've raised for charity and so on.
There's also a section for reviews, so don't forget to ask your customers to say nice things for you to share!
Luxury
Looking to take over that high-end food and beverage market? Luxury can help you there.
Designed with elegance in mind, this website will assure customers that they'll only be getting the top quality products from your site.
On this theme, your logo will sit top and center of the page, with the navigation menu spanning either side.
Whether you'd prefer to display your classy photos in 1, 2, 3 or 4 columns is entirely up to you. The custom widgets enable you to play around with the display until you find the right look for your brand.
We hope you were able to find your dream template in this mix!
Once you've got your website sorted, it might be time for you to look for a distributor. Buffalo Market is the leading distributor for CPG brands that are good for you and for the planet.
Get in touch
and we'll get you stocked in no time.