Food Distributors and Helium: How Buffalo Market Uses Blockchain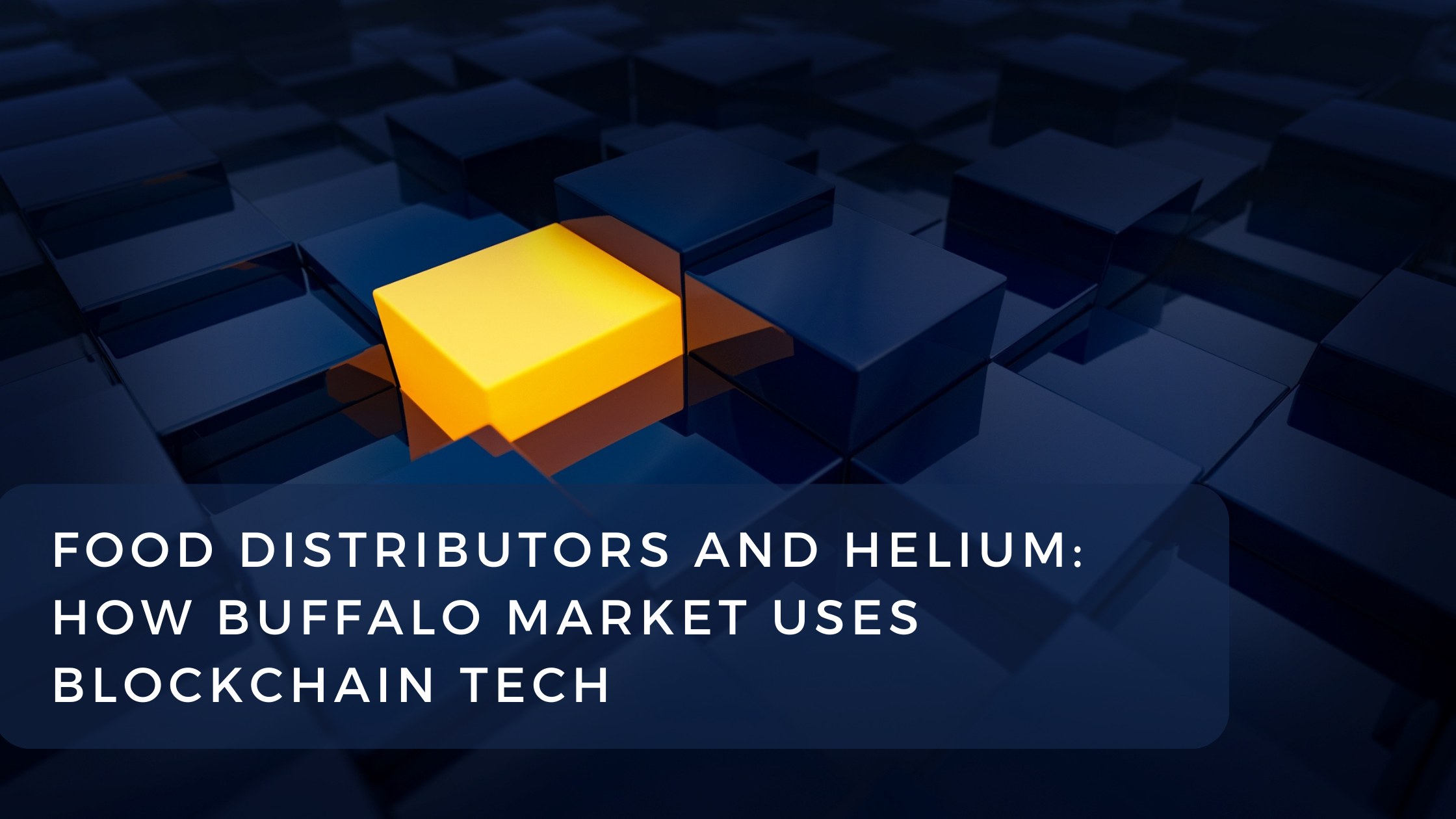 Large freight trucks full of food crisscross this country every single day, traveling great distances and sometimes between several drastically different climates. Those long distances create two clear and present challenges when it comes to food: time and temperature.

How about a hypothetical? Let's say you own a small grocery store, and you expected a shipment of frozen chicken to arrive this morning from your distributor. It's now three in the afternoon, and you only just now see the truck pull into the loading dock. It's not the usual driver, but they extend their apologies for the delay, deliver the pallet of chicken, and are on their merry way.

What you don't know, though, is that this shipment was thawing on a broken-down truck for three hours earlier that day before being absentmindedly moved onto a new one and delivered to your store refrozen. Perhaps your distributor kept a meticulous record of where that shipment was, for how long, and at what temperature, but there's no guarantee that they'd ever share it with you.
That's where Buffalo Market and the Helium Network come in.
The Helium Network
Simply put, the Helium Network (a.k.a. "The People's Network") is a decentralized, blockchain-based wireless network that provides internet connectivity to small, low-power devices. The connection is broadcast through a network of Helium hotspots, purchased and installed by individual users around the globe who are rewarded for providing coverage in Helium's proprietary cryptocurrency.
What sets Helium hotspots apart from, say, the wifi router under your desk, is their ability to send small packets of data back and forth over long distances. This makes them ideal for IoT (Internet of Things) devices like security sensors, rideshare scooters, and many other devices in countless applications.
Because of its decentralized structure, the Helium Network enables connected devices to transfer data in real-time without relying on a singular wifi router or a satellite connection. Better still, Helium connections are low-cost and consume very little energy. Because users are financially incentivized to install and maintain hotspots, the network's coverage is continually growing, adding thousands of new hotspots every single day
Helium for Food Distributors
As mentioned earlier, there are countless applications for Helium in just about every field you can think of: manufacturing, scientific research, civic infrastructure, and, of course, logistics and food distribution.
In the food distribution industry, there are considerable moving parts with parties on all sides of the process depending on the reliable transfer of information. Origin sourcing, time, location, temperature, and inventory are critical data points.
Helium tech provides the infrastructure to collect and relay those data points in real time to all parties involved. Helium-enabled sensors can tell where goods came from, how long they were in transit, and at what temperature they were when they arrived, all without relying on a centralized network.
Moreover, thanks to blockchain technology, all of these data points can be made publicly available down the food supply chain, providing a previously unheard-of opportunity for commercial transparency, benefiting producers, distributors, retailers, and consumers alike.

Buffalo Market and the Helium Network
As a food distributor, Buffalo Market is keenly aware of the historical lack of transparency in the industry and how it leads to frustration and disappointment. That's why one of the primary tenets of Buffalo Market's business philosophy is to be as transparent as possible, both internally with our team members and externally with our retail and CPG partners.
To that end, our fleet of delivery trucks is outfitted with Helium-enabled sensors. These sensors allow us to collect and openly share data with our customers. If a store receives a delivery of frozen chicken, they can trust that our delivery driver kept the product at temperature the entire time it was in transit. How? Because they're able to freely access the data collected from onboard temperature and humidity sensors on the blockchain.
Using Helium sensors and blockchain technology, Buffalo Market helps foster trust between ourselves and our clients and provides better service based on reliability and accountability.
Helium Blockchain for Community
Buffalo Market bases its operations out of Visalia, a city located in California's San Joaquin Valley. Owing to smog, neighboring agricultural operations, and its geographical situation in the valley, Visalia is consistently rated as one of the United States' most polluted cities.
Monitoring real-time air quality can save lives when protecting the health of communities that rank poorly on the Air Quality Index (AQI). Buffalo Market plans to install Helium-enabled AQI sensors around local schools and other buildings. These sensors will upload data about the nearby air quality, contribute to environmental scientists' understanding of pollutants in Visalia's air, and raise a flag for sensitive groups when the AQI reaches unsafe levels.
Additionally, due to its location in the arid heat of the Central Valley, this area is prone to extreme drought. Water is rare enough in California, but it's particularly precious for the farmers in this region and those who depend on the crops they grow.
Buffalo Market intends to work with farms to install Helium sensors that monitor irrigation levels and soil health, which will help growers more efficiently water and care for crops, resulting in less wasted resources, time, and money.
The Future of Helium Blockchain at Buffalo Market
The Helium Network represents many exciting opportunities on the horizon. We plan to explore even more applications of this new technology to increase our transparency and efficiency, as well as other ways we can use tech to help in our community.
Buffalo Market's tech-forward approach to doing business helps make us the most transparent and reliable food distributor in the business. To learn more about how Buffalo Market distribution can help your CPG or retail business succeed, reach out to us today!

See an interview between Buffalo Market co-founder Sean Howell and Helium's Jacob Swinn here!