How CPGs leverage delivery apps
Technology has transformed nearly every aspect of our lives and one of the areas this is most apparent is the widespread use and adoption of delivery apps. A mere decade ago, the idea of ordering products with a few taps on our smartphone was inconceivable.
But then the pandemic came along and delivery apps were no longer just a convenient option– they became crucial. With large numbers of consumers unwilling – or unable – to shop in retail stores, many became dependant on delivery services. As a result, the number of people using delivery apps soared.
This explosion in popularity is great news for savvy CPG manufacturers. Why? Because delivery apps offer a heap of advantages for reaching more consumers and scaling a business.
Want to know how you can leverage delivery apps to get more of your food and beverages CPGs out there? We've got you covered.
Benefits of CPG delivery apps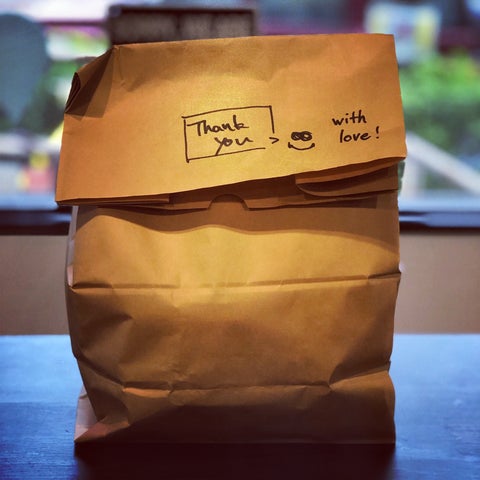 Let's kick things off by looking at the benefits CPG delivery apps can offer your business.
A (much) larger customer base
Without a doubt, the most significant benefit of delivery apps is their large pool of users.
Not only will you have access to more customers in your existing geographic area but you'll expand your reach – with the ability to deliver your products to more people than ever before.
An additional sales channel
With your CPGs available on delivery apps, you'll have another way to sell them to consumers. Better still, that additional sales channel is mobile – so you're moving in line with consumer trends and giving your target market the ability to purchase your products from anywhere and at any time.
Increased brand awareness
Even if a consumer doesn't buy one of your products, they'll still come into contact with your brand, driving up your brand recognition. You might not have got them this time but you increased the odds of getting them next time!
Customer data
Many CPG apps provide you with invaluable data on your customers. This includes their age, gender, location, purchasing frequency, product preferences and more.
This data is incredibly valuable. Armed with new knowledge, you can target your customers with tailored offers, improve your brand messaging, and provide them with the best shopping experience possible.
How to prepare your business for CPG delivery apps
Now that you have a better idea of what delivery apps can do for your CPG business, you're eager to get started with them asap, right? Well, let's hold up for a second. To get the most out of partnering with a CPG delivery app, it's best to get all your ducks in a row and make sure you're fully prepared.
Research
Before signing up with any CPG delivery apps, it pays to look into which of them are a good fit for your products.
Which delivery apps are best for your CPGs?
First and foremost, you'll want to decide which delivery apps you want to partner with. Some of your options include:
General CPG delivery apps
Amazon

Walmart

Instacart

Shipt (Target)

Boxed
CPG delivery apps that specialize in food and beverages
Thrive

Hungry Root

Drizly (For beverages)
It's also interesting to note that restaurant delivery apps, like Uber Eats, Doordash, and Grubhub are also getting in on the action and plan to add CPGs to their offering – with some already doing so in parts of the country.
Each of these delivery apps offers a different range of advantages, depending on your particular CPGs and how you do business. It's a good idea to do a little research on all the apps that you feel could work with your business, before doing a deeper dig into the ones that show the most promise.
Sign up conditions
Once you have a shortlist of the delivery apps you want to get your CPGs on, you need to find out if your business meets their criteria.
Price
How much is it going to cost to join each CPG delivery app? Also, as we'll look at more in the next section, how much will it cost you to prepare your business to be able to fulfil orders you receive through the app?
Competition
If some of your competitors have beaten you to punch and are already leveraging delivery apps, what can you learn from what they're doing? More importantly, what can you do better?
Plan
So, now you know the benefits that CPG delivery apps offer your business – but are you in a position to reap them? To paraphrase the late, great Uncle Ben from Spiderman, with more customers comes more responsibility. Let's look at some of the ways you might need to improve your business when you partner with a CPG delivery app.
Order processing
It sounds simple, but do you have a system in place for processing the order you receive through each delivery app? Do you have a way of tracking every order from when you receive it to when it's in the customer's hands?
This is something you have to consider all the more if you're used to selling your CPGs in bulk to wholesalers or distributors.
Making deliveries
Do you have a plan in place for how you'll deliver orders to customers? Will you take care of deliveries yourself or will you need to hire a company to take care of them for you?
Packaging
If you're catering to a wider geographic location, your CPGs will often have to travel further than they do at present? Is your existing packaging robust enough to cope with longer transit times? Will it get to customers in one piece and as intended?
Customer service
An increase in customers also means an increased chance of something going awry with one of your CPGs – and that won't always be in your control.
But what is within your control is how you handle it, which means having some kind of customer service presence. Whether a hotline, email address, or both, you're going to need someone to answer customer service queries – ideally as quickly as possible.
Staff
Do you already have a large enough team in place to handle the increased demand, or will you have to hire enough people?
Branding
To successfully sell your CPGs on delivery apps, they'll need to stand out digitally as well as on the shelf. Here are a few things to consider to have the best chance of holding your own against competing CPGs.
Images
Your product images have to be eye-catching to capture the attention of potential customers. This could mean ditching the product images that you currently use and getting new ones taken by a professional photographer – ideally one that specializes in shooting food and beverages. Remember: the first bite is always with the eye…
Product descriptions
The descriptions of your CPGs need to be both informative and discoverable. First, they need to effectively convey what your product is and why the consumer should purchase it.
Secondly, your descriptions need to contain relevant and specific keywords so consumers who are looking for the type of products you offer can find them.
CPG delivery apps are here to stay
As one of the leading distributors of healthy, purpose-driven food and beverages, Buffalo Market can develop the online side of your business. We can advise on the delivery apps that are the best fit for your CPGs and assist you in developing your processes and infrastructure so you're in the best position to grow and thrive.
Sound good? Drop us a line, we'd love to help.