How to Get Your CPG into Natural Food Stores
The natural food industry is booming. Consumers are more motivated than ever to understand exactly what they're putting into their bodies and how it can benefit their health and the environment.
They're adopting more 'functional' diets, which are tailored to their own needs. Whether it's for extra energy, to ramp up their immune systems or to improve their complexion — there is more thoughtfulness about what they're eating or drinking.
In 2020, sales of natural, functional and organic foods and beverages climbed to $186 billion — a 13% increase from the previous year. Immune-boosting ingredients, as well as those that are said to reduce anxiety or stress levels were among the best-sellers.
So, what does this cultural shift mean?
Consumers are increasingly turning to natural food stores to get their healthy fix. It's far easier to find good for you and good for the planet consumer packaged goods (CPGs) in these specialized supermarkets.
In a generic, national supermarket, the responsibility is more on the consumer to turn the product packaging over and scour the ingredients and nutritional information, to know whether or not it's good for you.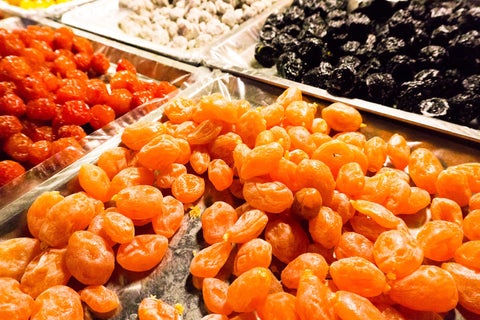 Why is a natural store different?
Customers can be more assured that the store itself has done its own due diligence into the brands, only stocking natural and healthier products.
That's why, as a natural CPG brand, you'll want to get yourself stocked into these types of stores. Your ideal customers are browsing these shelves, specifically looking for your kinds of products.
If you can win them over here, your brand will begin to gain a reputation amongst the most health and environmentally conscious consumers, who will back your products all the way into the mass market.
But how can you land your food and beverage products into the ideal natural food stores? We've got the tips and tricks to get your CPG stocked in no time.
How to sell your products in natural stores
Putting in the research beforehand and taking the right steps will give your CPG a much better chance of getting into natural stores.
Get to know the store's visions
As mentioned earlier, natural stores won't stock just any old product — your brand will need to be aligned with their own values. Natural stores usually stock brands that champion health and sustainability: two values which often go hand in hand.
The more natural a product is, the better it tends to be for people and for the planet. If your ideal retailer has a website, be sure to check out their 'about us' page and speak directly to their own vision.
Consider your packaging
You'll want your product to look the part, but also to stand out. It can be a tough balance to strike. Investigate what other natural CPG brands are doing with their branding as well as their packaging and take note.
You'll want to brag about your health and environmental benefits on the packaging — never assume that people automatically know anything, you must tell them for yourselves.
For instance, if your product is brimming with Vitamin A, you could mention that it's wonderful for eye health. If you'd like a deeper-dive into what to do with your vegan or plant-based product packaging, we've got just the article for you.

Prepare your pitch
Now it's time to sell. Sure, your product is excellent, but you can't just let it speak for itself. It's a competitive market out there and you'll need to present it as the best.
Natural store owners and staff tend to be passionate about the industry, so if you can make your product sound exciting and different to what's already out there, you're already halfway to getting stocked.
Unfortunately it can't be all pretty packaging and health benefits. You'll need to know your business' numbers inside out. It's okay if you don't know something, just be honest! Tell them that you can find out the answers later.
Smaller, natural stores all started out somewhere, so the owners are likely to be entrepreneurial minded and happy to listen to your story.
Market your brand
It wouldn't be a great idea to rely solely on getting into stores to sell your products. Sure, some customers might discover your brand by stumbling across you for the first time in store, but if they've seen your brand elsewhere beforehand, they'll be more likely to pick you up.
You don't have to invest a huge amount into marketing from the get go. If you can nail your organic content marketing through your website and social media, you'll be drawing in customers for free.
Testing paid ads is a good move
These days, you can hyper-target the exact types of customers that you're after — they would be more likely to make the purchase and give your products a go. You could even show ads for your product to those in your local region, or to those who usually shop with your competitor!
Another lucrative move would be to target influencers who are big on natural foods. They don't have to be celebrity-level. So long as they have an engaged audience who listen to them and try the things that they recommend, you'll get a decent amount of exposure that will lead to sales.
Go to the store
The wonderful thing about the internet is the incredible access and reach that it gives you. You can find your dream stores, research into them and even host virtual meetings or pitches online. But sometimes it can't compare to face to face, so pick up the phone and arrange it!
If you can make the effort to get down there in person, they'll appreciate it. You, your brand, your pitch and your products will be far more memorable to them than if you'd only met on a 10 minute Zoom call.
You can better gauge their reactions in person too. It's easier to read their body language and facial expressions and vice versa. You'll be able to convey your passion for your venture in a much stronger and more persuasive way!
Get a specialized distributor
Lastly, but probably most importantly, you should get a distributor that specializes in natural foods.
It's important that they specialize in this sector not only because they'll have the training to handle products with appropriate care, or even because they'll have the correct storage and transportation facilities, but also because they'll have the correct contacts.
Once you partner up with a distributor who's established in your niche, getting into the relevant stores will be much easier. The retailers will already trust their judgement, especially if they already source a few products from said distributor.
It will also help you further down the line
After your product has made it into the right stores. They'll help with the merchandising, marketing and stocking your products on the shelves too.
We've previously written an article that will help you to find the right distributor for your natural CPG. But before you give it a read, know that you may have already found the right one.
Buffalo Market is the leading distributor of CPGs that are good for people or good for the planet. Natural, organic, plant-based and vegan products are our calling! Get in touch with us today to start working with us to see how we can help you get your product in the right natural food stores.