How To Pick the Best Co-Packer for Your CPG Business
So you've already read our post on what a co-packer is, and you've decided that the time is right to embark on a co-packer partnership.
Firstly, congratulations! You've made a big decision – one that will help catapult your CPG business to increased production and greater growth.
But now it's time for another big, tricky decision
Picking the best co-packer for your CPG business.
When you contract a co-packer you're essentially delegating packaging and/or production of your CPG product to a third party.
It's a huge deal and something you need to think long and hard about.
Co-packers come in various shapes and sizes. They have different processes, different specialties and different certifications.
Finding out all you can about a co-packer will help you to determine whether they're the right fit for your brand and your product.
So without further ado, here are the things you should think about and the questions you should ask, when vetting potential co-packer partners.
What to look for in a co-packer
Location
Your co-packer doesn't have to be located on your doorstep. Even if the best team for the job is located in a different state, you can make it work.
Nevertheless, if you find a co-packer who ticks all the right boxes and has a facility close to your own business operations, you're onto a winner.
Having your co-packer nearby makes it easy for you to drop in for on-site visits. And if your co-packer is solely responsible for packaging, you drastically cut down the cost of transporting your product to them.
Experience with your product type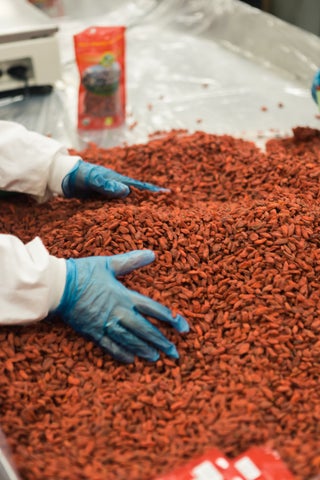 Different co-packers specialize in the manufacturing and packaging of different foods and beverages.
It makes sense to find a co-packer with experience with your particular product type.
They will understand the manufacturing process – no matter how complex or unusual it is. And they may already have certifications – such as gluten free, organic or non GMO project verification – to prove their working practices.
There's an added benefit too. CPG brands can gain a lot from co-packer expertise, especially when a co-packer is knowledgeable about your product niche.
Flexibility
Market demand for your product will inevitably go up and down. A co-packing partner should be flexible and adaptable to the changing needs of your business.
What are their start-up minimums? Can they offer quick turnaround times? What happens if you want to do a short run or to increase production with minimal lead time?
You should also check that if you want to bring a new product to market, a co-packer has the capacity to deliver.
Think long term. A co-packing partner should be able to scale with your brand. That way, you don't have to expend more valuable time and energy searching for someone else to do the job as your CPG brand grows.
Necessary equipment & tech
A co-packer needs to have the necessary onsite equipment to cope with your product and your packaging.
Sometimes tweaks are necessary. Maybe that machinery will need alternative parts to manufacture your food or beverage product.
In some cases, you may have to compromise on your packaging requirements if a co-packer you like can't deliver exactly to specification.
Find out exactly what a co-packer can deliver with their existing setup.
Also, ask a co-packer about any tech systems they're using. If your software can integrate with theirs, you'll ensure accurate reporting and information sharing.
Quality control
You're handing over production and packaging of your product to someone else. You have to be confident that quality isn't going to suffer.
Find out how your co-packing candidates handle quality control. What is their process for identifying quality issues? Are they up to speed with the latest quality control regulations?
You may also be able to take a look at previous SQF, GMP or FDA audits to get an official perspective on operations.
Accurate inventory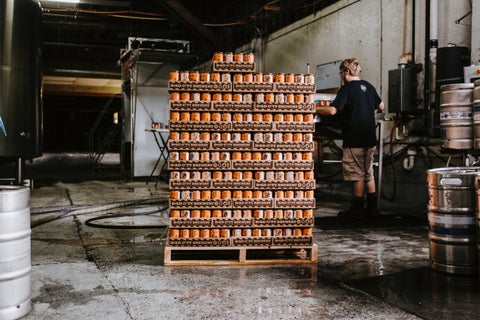 If a co-packer has good inventory control, that demonstrates that they have a good handle on their business and will be able to successfully complete your orders.
When it comes to inventory reporting, a digitized system is almost always superior to a manual one. You want to see that a co-packer has access to real-time inventory info.
Verifying their track record for meeting order requirements, on time and in full (OTIF) is another good indicator of inventory management and their ability to deliver what you expect.
What else should you do before signing a co-packing contract?
Seek out references
Ask a prospective co-packing partner for references. These should arise from previous CPG clients they've worked with.
Then follow up on those references to get a realistic picture of what working with this particular co-packer is like.
Conduct an on-site inspection
Whether they're located near or far, it's really important that you take a look around a co-packer's operations before taking them on as a partner.
When you see a place first hand, you get a real sense for how every team member goes about his or her work.
How much do they care about quality? Are they committed to continuous improvement? You need to know that your product is in safe and dedicated hands.
Go through the contract carefully
If this is your first co-packing partnership, get an industry lawyer to look over the paperwork before you sign on the dotted line. That way, there won't be any nasty surprises further down the line.
Co-packer? Check! Now how about a distributor?
Assembling a stellar team of collaborators around your CPG brand will help to grow your business.
A co-packer will support you in producing and packaging your product. An expert distributor will get that product onto retail shelves and into food service establishments.
The latter is exactly what we do at Buffalo Market. We specialize in the distribution of purpose-driven food and beverage brands – the kind of products that are good for us and good for the planet too.
Want to get your CPG products to more consumers in more places? We're the team for the job. Get in touch to find out more about our direct store delivery and merchandising services.