How to Sell Your Products to Walmart
As a retailer, obviously the main way to find success is by selling products and getting in front of new customers. Sure, you can do it through social media and your own online retail platform. But really, partnering with an existing retailer is your best bet for success.
There are plenty of options to choose from, but why not aim for the top? Walmart is the world's largest retailer, so selling your products with them is a great opportunity to get noticed!
Different ways you can sell with Walmart
Selling your products in Walmart doesn't only mean that they're on the shelves in stores around the country. Walmart has a number of shopping channels that are wildly popular with their customers –– all of which are great opportunities for you to boost your business.
As well as physical stores, you can sell through their website, on their massive third-party shopping platform Walmart Marketplace, and through their app. Let's take a look at some of the best options, particularly for smaller brands.
Selling on Walmart Marketplace
Rather than solely being an online version of their brick-and-mortar stores, Walmart Marketplace is a place where consumers can shop from a much larger range of products, from brands of all sizes.
Marketplace is filled with thousands of third-party sellers whose wares complement the products found in stores. Selling your products on Walmart Marketplace is a similar process to selling on eBay or Amazon, and the fee ranges between 6% and 15%. It's a great place to get started with Walmart, and they offer great incentives for eCommerce traders who list with them.
How to set up your brand on Walmart Marketplace
Request to sell by filling out an online

application

with some information about your business and products.



If you're approved, you'll be sent an invitation to set up your seller profile on Marketplace.

Here's where you'll have to be patient. Remember that Walmart is a huge corporation, so you might have to wait 4-8 weeks to hear anything back. Don't get disheartened!


Sign their Retailer Agreement contract with a Walmart representative


Register your brand on Marketplace, set up all your items for sale, and –– most importantly –– include your payment information!


Test out your profile, make sure all the links work, the product images look good, and all the prices and information are correct.



Request to launch your store –– Walmart will do a final review and then you can get started selling.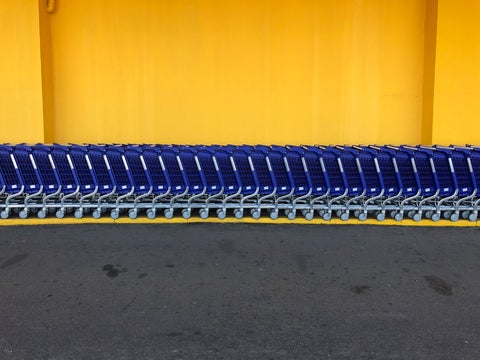 Applying to be a Walmart supplier
Each year, Walmart holds an Open Call event where people can pitch their products to be sold in stores. They've pledged to spend $350 billion on domestic products to help boost the economy and create jobs, and are looking to support US-owned and produced products.
Walmart suppliers can be any size, from a tiny mom-and-pop operation to a huge multi-billion dollar business. All you need to be considered as a supplier is to have an established customer base and a track record of products that have been successful with your consumers.
Walmart has shared a handy checklist for any companies that want to apply –– from tax info to food safety checks. Here are all the things you'll need to check off to be a Walmart supplier.
There are also different types of suppliers
Maybe you only want your product to sell in certain regions where you know it will do well. Or perhaps, if you've got a broad audience, you've got your sights set on being a national supplier in stores around the country.
You could even have your stock sold exclusively online at Walmart.com, and not in stores at all. This is different from Walmart Marketplace; suppliers for the online store must meet more stringent requirements.
Once you know what type of supplier you want to apply to be, head to the Walmart website and click the corresponding link. You will need a DUNS Number to start the application process. If you don't already have one, you can get one for free by calling 866-815-2749.
Checklist of things you'll need before becoming a Walmart supplier
Federal Tax ID Number:

(TIN) for US Suppliers or current W08 Tax Certificate for non-U.S. suppliers.

Dun & Bradstreet Registration:

Suppliers must have a rating of 6 or below and must be updated annually through Retail Link.

Responsible Sourcing Requirements and Expectations:

This can vary based on your category and product. The rules apply to all suppliers, factories, subcontractors, and packaging facilities involved with your product.

Certificate of Insurance:

The amount and type of insurance depends on which Walmart department your product falls under.

GTIN/UPC:

GTIN is a family of barcodes regulated by GS1 (a nonprofit organization that governs the use of barcodes). Your UPC must be distributed from GS1 to do business with Walmart.

GDSN:

Global Data Sync Network. All suppliers are required to have a Data Sync provider to create and set up items.
There's a lot of red tape to wade through, we know!
It doesn't have to be overwhelming, though. There's an easier way to apply to sell with Walmart and get all the help and guidance you need along the way. Buffalo Market are experts in distribution for food and drink brands, to major retailers. They can offer advice, support and help you manage the whole process –– get in touch for more info!
13 things to consider before selling products to Walmart
There are a number of things that food and beverage brands should keep in mind before starting the process to sell products to Walmart...
A great online presence is super important
You don't need to have hundreds of thousands of followers, but a solid, engaged audience will go a long way in showing the validity of your brand. Take time to work on your social media strategy, as it's often most peoples' first impression of your brand.
You'll need good packaging
If you've only sold online in the past, through your own eCommerce site, you probably haven't put that much thought into how your products are packaged.
But if you're aiming to have your product stocked on store shelves, it needs to be bright and eye-catching. Find the unique element of your product that will make people choose it over your competitors.
Keep all your business information in one handy place
There are a lot of forms to fill in to apply to sell in Walmart, so be prepped with everything you need before you jump in! And, make sure you can access it all the time
Use a descriptive product name, especially if you're selling online
Products are found on Walmart.com and on Walmart Marketplace through searches. The more descriptive your product is, and the more relevant keywords you use, the more likely it is to show up high in the results.
Invest in your product imaging if you're selling online or through Marketplace
In our experience at Buffalo Market, customers will see your products alongside all your competitors as they're scrolling through the site. So you really need to put your best foot forward.
Make sure your images are clear and well-lit –– it might even be worth hiring a professional for your product shots.
Your product descriptions need to be accurate and compelling
They don't need to be long, just a couple of sentences describing what the product does and highlighting why people should buy it.
Know the retailers' standards
These vary between in-store and online –– and make sure your products are a good fit. You don't want to waste all your time with applications if they're not suitable.
Keep in mind that Walmart has pledged to support women- and minority-owned businesses, and also to reduce emissions
If your brand aligns with these initiatives, make it known! This could give you a leg up in the application process.
Research your price points
Have a look at the pricing of competitor products at Walmart, and use those as a guide. You don't want to be too cheap, nor do you want to be overpriced.
If you want to sell products in-store, identify the exact aisle location where your product should appear
You should have a good knowledge of the store's layout, and what your stock will look like on shelves.
Be prepared to offer a steep discount for the first deliveries
This is a great way to get the ball rolling. We know that consumers are much more likely to buy a product if it's popular and has already been purchased a lot.
You could consider a virtual sampling program
Setting up this kind of program can be a super useful way to drive testing and purchases with potential customers.
Offer discounts for any customers who leave reviews about your products
After all, we know that a lot of consumers make purchasing decisions based on other customer reviews.
You don't have to do it alone
Running your own business is hard, there are a lot of things to juggle and boxes to be ticked.
For a smoother, expert process and a solid set-up for success, get in touch with
Buffalo Market
and let us help ease your workload.