How To Sell Your Products To Whole Foods
Are you thinking of selling your product in Whole Foods?
Well, you've made a good choice –– they've really become the holy grail of national retailers for mission-driven food and beverage. As you know, Whole Foods is all about keeping their offerings local, organic, and free from additives. It's a great retail option especially for ethically-minded and organic food and beverage brands.
So, how the heck do you get your products in the door at such a beloved retail brand?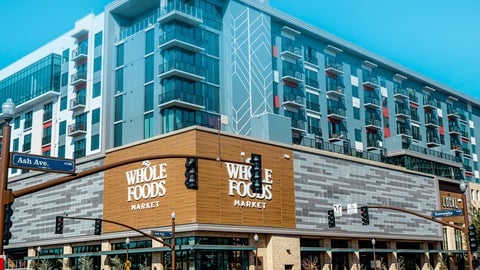 First, you need to understand how Whole Foods operates
If you're a frequent shopper at Whole Foods, then you'll know that they keep a real emphasis on local produce. Rather than operating at a national level like other American chain stores, Whole Foods has a decentralized network of regional buyers. There are 11 regions across the USA, and one in the UK. Each region is responsible for making their own independent purchasing decisions.
So, for example, a region on the west coast may choose to stock a certain item, but that doesn't mean it'll be available in stores on the east coast.
In addition to this, individual product decisions can be made at a store level, to help encourage the stocking of hyper-local products. When new brands begin selling their products in Whole Foods, it usually starts out at a small scale. Then, if your product has proven to be a successful seller at the local or regional level, it's possible that Whole Foods may pick it up to be distributed nationally.
How to become a Whole Foods supplier
Don't let the regional versus national set-up put you off. Here are the necessary steps you'll need to take to get stocked in Whole Foods…
Determine what category your product falls into
Whole Foods classifies its products into different categories, including grocery, whole body, prepared foods, and specialty foods. Figure out which one is best for your product(s), and then make sure they meet the standards for that category.
Ensure your products uphold Whole Foods ingredient standards
Whole Foods has committed to keeping its stores completely free from all artificial preservatives, colors, and flavors. You'll need to submit a detailed ingredient list for all your products, with information about their quality and organic status.
Here's a full list of the quality standards that Whole Foods require.
Set up a profile on RangeMe
Whole Foods uses a database called RangeMe to connect suppliers with buyers. If you haven't already, set up a profile for your company and list all your products on the portal.
Be sure to include detailed names and descriptions for all your items. It'd also be good to include:
A complete ingredients list

All relevant licensing and legal permits

Any organic certifications

Any extra info that explains why you think your product is an excellent fit for Whole Foods.
Once your profile is set up, Whole Foods buyers can contact you directly with questions about your products.
3 ways to get attention as a potential Whole Foods supplier
Of course, you shouldn't just set up a RangeMe account and wait around for something to happen –– it's all about being proactive!
Here are a number of things you can do to boost your brand's visibility by relevant Whole Foods buyers...
Attend trade shows
The perfect way to get attention from buyers for Whole Foods and other retail stores, trade shows allow you to showcase your products and increase brand awareness. Because they're done in person, rather than online like RangeMe, it's also a good way to introduce people to the human element behind your brand.
Set up a stall at farmers' markets
Not only are local farmers' markets a good place to sell your wares, but they're also a great way to create buzz around your brand.
Sure, produce markets aren't a direct line into Whole Foods. But you can build up a loyal customer base which will, in turn, make you a more attractive brand.
Partner with an expert distributor
It's sometimes hard to make waves as a small brand –– especially in the overly saturated market of CPG. But working with an experienced distributor, like Buffalo Market, can take some of the guesswork out of the process.
We can give you valuable insight into pitching your products to Whole Foods, and how to make your products stand out.
And just as a bonus… here's 4 extra tips for selling your products to Whole Foods!
Make sure your product is unique
The only way you're going to get the attention of Whole Foods buyers is by giving them something they haven't seen before. There's no use trying to sell something that's already a dime a dozen in retail stores.
Have a think about what makes your product unique: maybe it's the nutritional profile, maybe it's your brand identity, maybe it's the way it's produced. Identify that unique selling point and make it shine.
Know the requirements
As we said above, Whole Foods has a super-strict policy around the types of products they'll sell in stores. There are currently 79 ingredients that are banned, including artificial preservatives, benzoates, and partially hydrogenated oil.
It's a good idea to keep up to date on the latest news about clean and safe ingredients.
Invest in good packaging
If you've been inside Whole Foods, then you'll know that there's a lot going on in there. If you want to stand out on the shelves, you're going to need some seriously eye-catching packaging.
It's worth investing in a designer to help you out. Consider the kind of customer you want to attract and the message you want to send with your packaging.
Work on your social presence
For most of your customers, your social media channels are their first introduction to your brand –– and the same can be said for Whole Foods buyers. Make sure your social accounts are all up to date, your bio is relevant, and your content is fresh and eye-catching.
For more detailed info about getting your small business into big national retail chains, check out
our dedicated CPG
blog over at Buffalo Market. We're here to help you find your feet and provide support at every step of the process ––
get in touch today
to find out more!