In-Store Marketing Opportunities For CPG
In-store marketing was once a primary way for CPG brands to connect with customers. But times have changed. Online CPG shopping exploded in response to the COVID-19 pandemic, when many people chose to buy their groceries through an ecommerce platform for the very first time.
According to McKinsey research, 43% of consumers say they plan to buy at least some of their groceries online post-pandemic. Brands certainly can't afford to ignore the potential of online sales and marketing.
In-store is not dead
But, old habits die hard. According to a recent survey, a whopping 72% of consumers still prefer to shop in-store for their groceries. That same survey revealed that 66% of shoppers said they were more likely to try a new product when shopping in-store than when shopping online.
It's clear that in-store promotions are still an important part of any CPG marketing mix. That sensory, real store experience makes it easier for marketers to convince shoppers to switch brands, to try new products and to stick a few unplanned purchases in their shopping cart.
Nevertheless, it's not quite business as usual. The industry is changing – and marketing strategies are inevitably changing along with it. So what in-store marketing opportunities are there for CPG brands in the current climate?
Here are a few great ideas.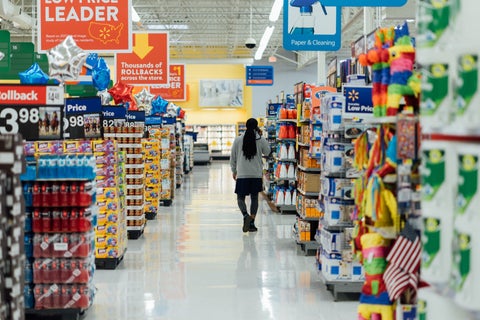 In-store marketing for CPGs in 2022
Let's start by taking a look at the in-store marketing tactics that continue to pack a punch in the post-pandemic world.
Traditional in-store displays
Traditional in-store displays draw a shopper's attention towards your products and away from those of your competitors.
Consider marketing opportunities such as:
End cap displays – where your products are showcased on branded shelving at the end of an aisle.

Free standing displays – essentially a standalone shelf of your products that can be placed anywhere in-store.

Floor graphics – floor stickers to promote your products.

Shelf talkers – also known as hang tags, this is a great way to catch the eye as a shopper views a product section.

Dump bins – branded boxes, placed in the middle of aisle floor-space and containing only your product.
All of these promotional methods help your products to stand out in-store. They also offer you the opportunity to highlight your product USPs along with any special offers as a shopper is actively making a purchase decision.
But think about taking things further.
Take a look at what chocolate brand Lindt has done in partnership with UK retailer, Sainsbury's. Their pick and mix chocolate stands combined a traditional in-store display with an interactive customer experience where shoppers got to personalize the product.
This type of interactivity takes your in-store marketing up a notch – but more on customer experiences in a moment.
Video
A moving image is much more likely to catch the attention of a shopper than a static display. And it gives you the chance to convey a lot of brand or product information in a very short space of time.
If your retail partners offer marketing space on in-store LED screens, be sure to take them up on this marketing opportunity. You can reach customers as they browse the store, or even while they're waiting in line to pay.
What's more, you can easily change up your video promotions, adapting quickly to brand developments or (as has been necessary in recent years) world events.
Audio
An in-store audio broadcast helps you to guide customers towards your product and create a positive experience with your brand.
You can communicate both brand promotion and useful information, like updates on the weather or local events. This helps you to create a meaningful connection with shoppers as they browse a store.
Experiences
Experiential retail is a trend that looks set to stay. Brands are keen to connect with their customers both on and offline. In-store experiences are just one of the ways they're differentiating and incentivizing in-person shopping.
Even smaller brands are getting in on the act. These pop-ups took place in a variety of locations, some within big CPG retail settings. They offered brands a chance to connect with customers, share their products and raise brand awareness.
Talk to your retail partners to discuss the possibility of an in-store popup, then set about crafting an engaging customer experience. An event like this will make your product and brand much more memorable than a traditional in-store ad.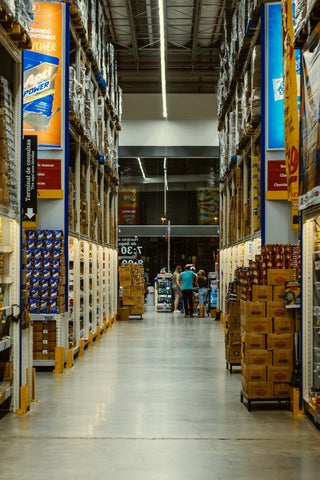 The importance of an omni-channel approach
These days, CPGs have to cover a lot of bases. Maximizing in-store marketing opportunities is no longer enough.
For brands who are selling and marketing online, as well as in-store, there's a new challenge – combining multiple physical and digital touchpoints into a cohesive customer experience.
So how do you get physical and digital marketing to work hand in hand? Take a look at these ideas.
Smart packaging
Stick a QR code on your product packaging and you provide an easy way for in-store customers to reach online marketing content. That little black and white square starts a conversation – and provides you with a load of really useful customer data too.
Your QR codes can direct shoppers to a landing page where you:
ask for feedback

offer a thank you gift

provide product reviews

direct them to your social channels

provide

transparent information

on ingredients, sustainability and supply chain

deliver a product video

encourage them to join your loyalty program
The customer data you get from this exchange can help to inform future marketing strategies and even future product lines. It also builds a meaningful connection between your brand and the people who buy it, encouraging loyalty and repurchase.
Use data to design coupons
Using the data you get from your digital channels, you can provide personalized coupons based upon a customer's shopping habits. If they haven't bought from your brand in a while, offer them a coupon to get money off a particular product.
Get them to use their coupon in-store and your physical marketing strategy comes into play. A shopper may have only come into the store to use their voucher, but now you have the chance to upsell and cross sell – with the help of multi-buy offers and great shelf placement.
Promotions via retail media
Whilst your own website and social media channels are a great way to reach customers with brand and product promotions, make use of retailers' digital space – not just their shop floor.
That might mean running marketing campaigns on retailer websites. Think in-app promotions, website banners and limited-time discount offers.
It also means checking in with a new player on the CPG retail scene – the delivery app. During the pandemic companies who had previously delivered takeout from restaurants expanded into the groceries market.
These delivery apps provide CPG brands with digital marketing opportunities, through app promotions and product placement. They also advertise in-store, promoting the CPG brands they work with as well as the service they themselves provide.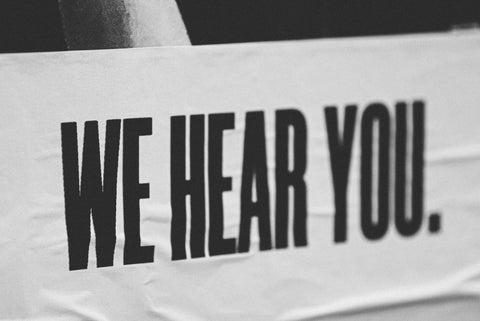 Want to get your products and promotions in the right places?
CPG brands have so many ways to get their products and promotions in front of consumers. But – as we've seen – in-store sales and marketing remain an important part of the bigger picture, even as many businesses develop their online strategy.
By stocking your products in the right retail settings you increase brand exposure and product sales.
This is something Buffalo Market can help with.
Buffalo Market is a leading distributor of purpose-driven food and beverage brands. We specialize in plant-based and organic goods – products that are good for us and for the planet.
Want to get your products to both mainstream and upstart retailers? Tell us a little about your brand and we'll be in touch soon.