Plant-based CPGs Are Thriving— How to Capitalize on the Trend
It'd be almost impossible for the surge of plant-based CPG to have passed you by.
After all, 47% of Americans bought, and consumed, more plant-based products last year. So if you haven't been sampling vegan food and drink for yourself, you probably know someone who has.
From a business perspective, this increased interest in plant-based products is an absolute no brainer, too. US sales of plant-based foods doubled in 2020, reaching $7 billion at year end — and the sector shows no signs of slowing down.
What's happening in plant-based CPG?
It's an exciting time for the food and drink industry, no doubt. More and more producers are shaking up the norm, and are constantly on the lookout for new and innovative ways to create delicious plant-based treats.
And while plant-based eating was once considered a trend, it's now firmly here to stay.
It's fantastic to see consumers making ethical choices for themselves. Shoppers are taking responsibility for their purchasing decisions — a shift that's as good for the environment as it is for business!
But which are the key products that shoppers are buying in droves?
The plant-based CPG sector is currently dominated by alternative milks and vegan versions of 'dairy' and 'meat' staples, the bulk of which are being created by a handful of big name brands. Make no mistake, though: there are still lots of exciting opportunities for innovative CPG.
Within this exciting and dynamic scene, there is fantastic scope for your brand to show its support for the plant-based movement and stake your claim in the market.
So how can you get started?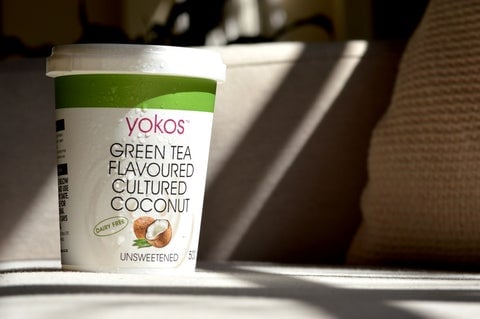 What are shoppers looking for with plant-based CPG?
Much like in any other sector, plant-based CPG products need a hook. You need to hone in on a customer want or pain-point, and then present it back in your brand and packaging.
Great examples of hooks you can explore include:
Plant-based foods that are

fun and out-there

(people will always want to try new things)

Products which offer an especially high level of

health benefits

. Lots of plant-based products offer fantastic health perks — each in their own right

Products that have invested in new research, in order to

replicate the flavors and textures

of non-plant-based foods more accurately. Meat and cheese substitutes in particular are great examples of this

Legumes that provide a great source of

protein

(like lentils, chickpeas and ground nuts)

Options that represent a

sustainable, eco-conscious, or health-conscious

choice...or, ideally,

all three

!
And if there's one golden rule in plant-based CPG it's this: the more natural your product can be, the better. Many shoppers are likely to be put off by plant-based products that are packed full of additives and E numbers. So, as you think about what your consumers are looking for, remember to bear that in mind.
Also, remember that this is not a short-term fad. While lots of consumers are still experimenting with events like Veganuary, just as many customers will be looking for options that they can rely on every single day. This means that they need satisfying, healthy and dependable options — ones that can slot right into their daily routine.
Regardless of whether or not a customer is strictly vegan (remember, flexitarian diets are also a very popular choice), modern day plant-based products should be made convenient, accessible and tempting, too.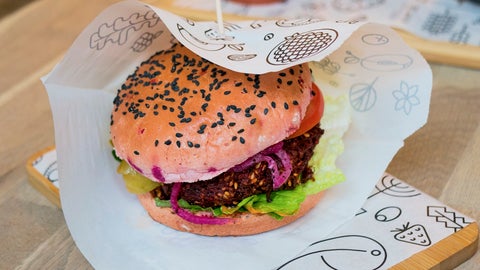 6 tips for successfully tapping into the plant-based CPG market
Ready to break into the plant-based market? You're making a wise (and lucrative!) choice.
To help you get started, we've pulled together 6 top tips to cement your idea, develop your range, and get yourself on the shelves...
Ethics extend beyond veganism
It's important to note that many consumers are looking for plant-based brands that adhere to other important principles — not just veganism alone.
These include, for example, the ethical sourcing of sustainable palm oil, supporting relevant charities, organic produce, minimal additives, limited mileage and a conscious carbon footprint.
So while you're at the drawing board, make sure to think about how you can align your plant-based product and branding to support these complementary values.
Take inspiration from innovative indies
Big-name plant-based brands, like Alpro, offer a masterclass in taking alternative eating mainstream. But don't forget to look at what the little guys are doing, too.
The plant-based food and drink scene is so vibrant because of the large number of small, indie brands who are also doing great things. Try searching #plantbased or #vegan on Instagram, Twitter and Facebook and see what you find.
You may just learn a thing or two about using existing ingredients in an innovative way, or how to nail your marketing message.
You don't need to start afresh
You may already have a non-plant-based food or drink brand up and running. And it may already be a big success. Tapping into the vegan, veggie or flexitarian market won't necessarily require a totally new business and a totally new brand — you can probably create a sub-brand or product range extension, to run alongside.
Ask yourself: how can my existing business cater to this demographic with what we currently have on offer? Can you swap out meat or dairy ingredients?
This is a great way to crack the market without spending a fortune.
Keep an eye on the latest trends
Although the rise of plant-based eating is certainly not a fad, there are a lot of trendsetting inventions at work in this ever-evolving industry.
Whether it's alt sausage rolls, vegan meal kits, dairy-free ice cream, or cacao pudding pots, as is true of the food and drink industry as a whole, there's always fun stuff going on. Keep looking for exciting F&B breakthroughs and tempt your plant-based target with something out of the ordinary.
Remember, not all plant-based eaters are vegan
We've hinted at this insight several times throughout this guide, but it's worth repeating clearly.
While the lines may have been drawn between meat-eaters and non-meat-eaters in the past, today that's not the case.
A flexitarian diet ticks a lot of eco-conscious boxes and, because of its flexibility (the clue's in the name, eh!), is quickly going mainstream. Flexitarianism means making a conscious effort to cut down on your meat intake, and opt for veggie options more regularly and consistently.
And, if we're honest, this is probably the future of plant-based CPG.
We'll probably see a long-term behavior change of shoppers going flexi for years and years to come. While putting your money wholly into vegan food could pay off, a flexitarian product range is always going to pay dividends.
Connect with your community
With so much hype and interest around plant-based eating, social media influencers are a solid marketing approach. Send them a sample of your new product range and then, if they like it, they can showcase it to the rest of the vegan/flexi community.
Building on this idea, vegan magazines, websites and publications are great places to send press releases to. Shout out about your new products, and tell the world about your plant-based ethos.
Lastly, getting stocked in the right stores is essential for plant-based CPG success. Dedicated retailers, like Whole Foods, are a one-stop-shop for consumers searching for ethical, sustainable brands. But don't skip out on the flexis either, who are more likely to shop in mass-market stores like Walmart and Target.
Plant-based CPG is going nowhere — will you be part of its future?
At Buffalo Market, we specialize in supplying the foods and drinks that hope to make a difference. These include products that feature alternative proteins, regenerative agriculture, organic production, health-consciousness, and a totally sustainable focus.
We can help you get stocked in mainstream and upstart retailers, to capture the plant-based and flexi market.
If you want in on the growing interest for alternative CPG, then we're ready to help you get it right.
Drop us a message today
.