Retail Merchandising at Speed: All About Buffalo Market Ninjas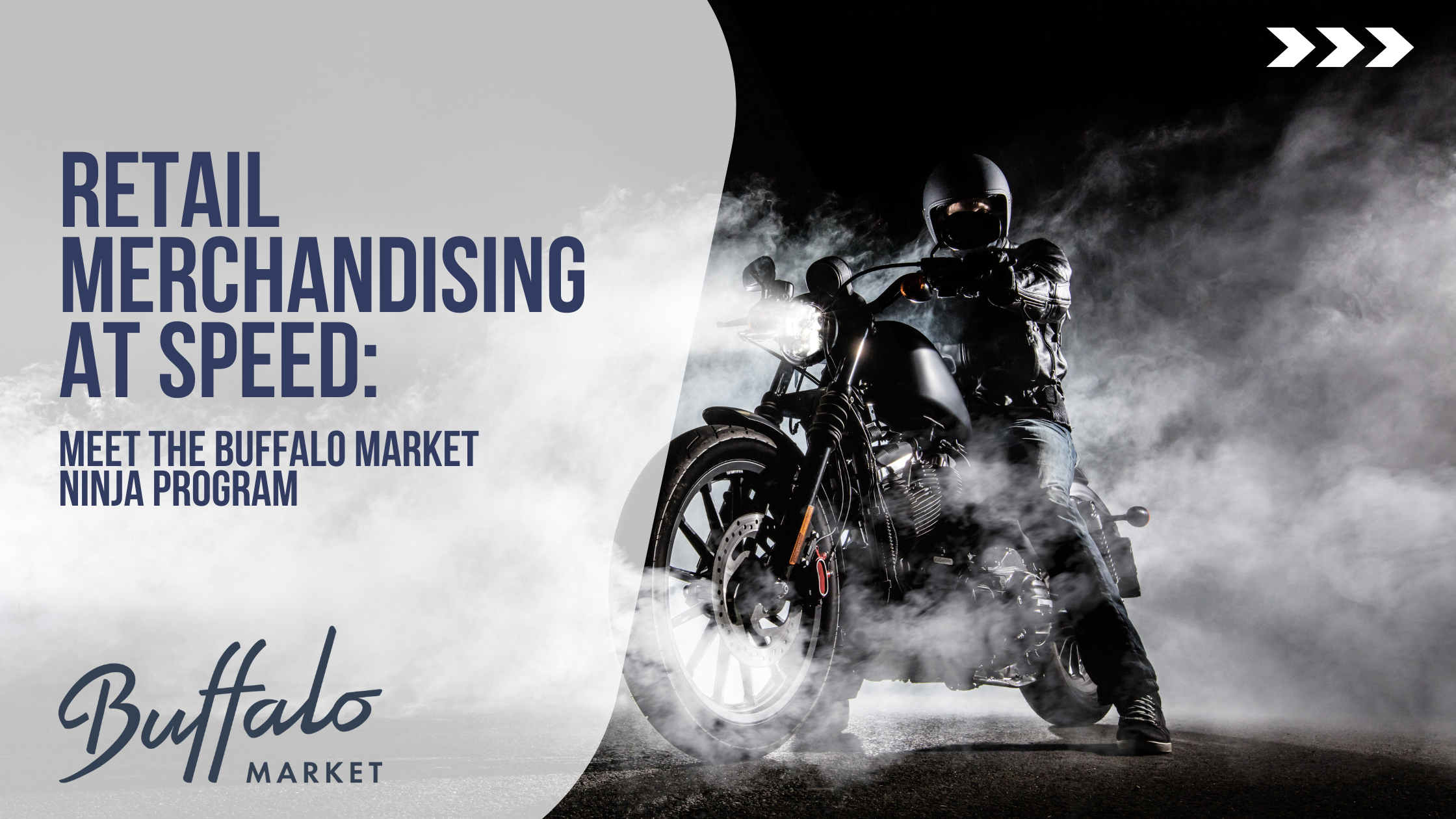 Most food distribution companies aren't particularly well-known for their agility and responsiveness. Between cumbersome corporate structure, supply chain issues, and slow-moving trucks (subject to traffic jams), some food distributors may be unable to service an account as quickly as one would like.
That's why Buffalo Market launched our Ninja program. Our team of motorcycle-riding merchandisers can visit and tend to stores at a speed that simply isn't possible for a large truck or cargo van. Speed is one of the core tenets of Buffalo Market's business philosophy and promise to our partners.
Read on to learn more about the importance of retail merchandising and how Buffalo Market deploys its Ninja team as part of our innovative, tech-driven approach to direct store delivery (DSD) food distribution for fast-moving brands.
Retail merchandising is the stocking, restocking, and visual presentation of any retail display.
The goal of merchandising is to ensure that adequate quantities of products are available for purchase and visually organized in a way that appeals to customers and entices them to buy.
Merchandising is critical to the success of any consumer packaged goods (CPG) business—suppliers and retailers alike.
How do stock-outs hurt business?
When shelf space is un-merchandised, you risk items running out of stock.
You might think that selling out must mean a product is popular and that the store should count that as a success, but to businesses, empty shelves indicate that they could have sold more units to more customers if only they had been available.
Not only that, but when a customer finds an item they want to purchase is out of stock, they're likely to turn to a competitor as a second choice, and they may never care to return to the original brand.
The biggest reason stockouts are considered a nightmare in the CPG world? In 2021, retailers lost out on 7.4% of total sales (the equivalent of $82 billion) in revenue from out-of-stock merchandise.
How does visual merchandising help business?
Having products ready to sell is one thing, but it's entirely another to make those items look like something a customer would be interested in buying.
Retail stores are crowded places, and brands are directly competing with one another, even as they share shelf space. That's why making your brand easy to find and presented well is essential.
At its most basic, good visual merchandising has the products lined up neatly with no gaps, labels the right way up, and (ideally) shelved at customer eye level. More advanced visual merchandising might involve intricate endcap displays, eye-catching cardboard standups, props, samples, and more.
All of these retail merchandising techniques give brands a competitive edge over others. If done well, retail merchandising can build customer loyalty and support a brand's bottom line.
What does a Buffalo Market Ninja do?
A Buffalo Market Ninja is a retail merchandiser on a motorcycle. Motorcycles are easier to park and near-impervious to traffic conditions, which allows our Ninjas to zoom from store to store and inspect our brands' shelf space as frequently as needed.
If any inventory is running low, they can refill gaps of product from backstock or place an order with the supplier. If items have been reshelved indelicately, they can tidy them up on the spot. Just about any issue that a supplier or retailer needs to be resolved with boots on the ground can be handled by a Buffalo Market Ninja at lightning speed.
Watch the video below and see for yourself how it works!

Buffalo Market: food distributors on the cutting edge
Our Ninja program is just one of many ways that Buffalo Market demonstrates its position as the leading food distributor of fast-moving brands.
Our proprietary tech gives suppliers and retailers access to their data in real time, making us the most efficient, transparent, and brand-friendly distributor on the market.
To learn more about how our faster, smarter approach to food distribution can help your business, contact one of our experts today for a demo.