The CPG Market: Los Angeles
When you start out in the CPG industry, it really helps to know a lot about the field you're diving into. From competitors in the local area to food trends that consumers are following – and the best distribution companies to partner with. Doing your research will really pay off!
Here's our quick and dirty guide for anyone who wants a bit of background info on the CPG market in Los Angeles and SoCal.
Successful CPGs based in LA
Let's take a look at some CPGs based in the Los Angeles area who have already made waves in the industry.
Misha's Kind Foods
Launched at a Los Angeles farmers' market in 2018, Misha's is a plant-based company that produces a variety of dairy-alternative cheeses.
They're passionate about our health and our planet, using locally-sourced herbs and vegetables. Many Angelenos have declared Misha's the best vegan cheese on the market –– and once you try it, you may agree!
Misha's also runs charitable initiatives, including the "Feed Our Family" program, which provides families in need with health-conscious groceries.
Fourth and Heart
This brand is all about ghee, a butter alternative that originated in ancient India. It's made by skimming the milk solids out of melted butter –– and it's much better for you.
Fourth and Heart sells small-batch, New Zealand grass-fed, Keto-certified ghee that's suitable for lactose intolerances…and tastes delicious!
Regrocery
This package-free grocery store in Los Angeles is setting the bar extremely high for zero-waste shopping. Regrocery stocks everything from oils, pasta and grains to chocolate, cleaning products and personal-care items.
It's a bulk store, where customers can fill up paper bags or reusable containers, then pay by weight. They also sell their goods online!
Moku Foods
Moku makes plant-based jerky out of mushrooms that tastes even better than the real thing. They're focused on creating food options that are healthier for their customers and a much more sustainable option for the planet.
They're passionate about serving vegans and meat-eaters alike, while showing just how easy it is to make good environmental choices.
One percent of every online order is donated to a nonprofit organization of the customers' choosing.
Beyond Meat
Surely one of the most famous plant-based CPGs, Beyond Meat was born in Los Angeles and has swept the globe.
One of the pioneers of the vegan meat industry, Beyond's products actually taste, look and cook like real meat. You've probably seen Beyond in your supermarket and even at your favorite fast-food joint.
They're truly a wonderful success story of an ecologically-minded company making a huge impact in mainstream culture.
Consumer food and beverage trends in LA
Los Angeles definitely has a bit of a stereotype associated with the city, when it comes to food and beverage trends. And that's not necessarily a bad thing!
Angelenos are known for being health-conscious, caring about the planet and celebrating whole foods. More and more people are thinking twice about what's on their plate and that's reflected in food trends.
In the U.S., natural, organic and functional food and beverage sales hit $186 billion in 2020, up 13% from the previous year.
So, what are the exact trends that customers are loving in this space?
Plant-based foods
For the past five years, the plant-based industry has been taking off worldwide, with Los Angeles definitely leading the charge.
The plant-based food industry saw record sales of $7 billion in 2020. Many of the big companies pioneering the "fake meat" innovations are based in LA –– Beyond Meat, Thrive Market Inc. and Daring Foods Inc.
Of all the cities in the U.S., Los Angeles is the most vegetarian-friendly based on the affordability of plant-based protein products and the number of vegetarian eateries.
Healthy-ish cocktails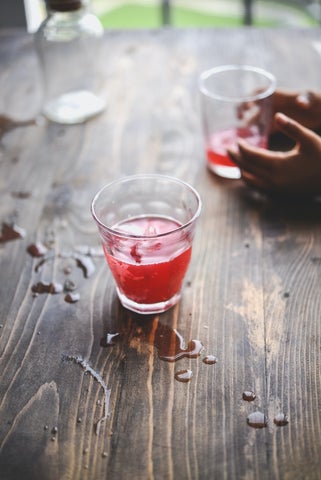 After hard seltzers had their time in the sun for the past few years, consumers are now seeking out other "healthy" alcoholic options. On Instacart, hard kombucha searches are up 320% from last year and non-alcoholic spirit sales have doubled year-on-year.
After millions of people became home baristas in 2020, we're still using our newfound skills to whip up fun beverages within the comfort of our own kitchens.
Immune-boosting foods
During and following the peak of the pandemic, Americans were looking for ways to safely boost their immunity. Though some armchair experts came up with a wide range of nonsense claims, many companies have found success through manufacturing immune-boosting food and beverages.
It's definitely something that people are interested in, with experts predicting a huge rise in demand for products that use specific ingredients to achieve individualized goals –– e.g., high in vitamin C, magnesium or zinc.
Hemp
An excellent source of protein, hemp already has a small but devoted following in Los Angeles.
By this time next year, it will have exploded in popularity. It's a great vegan option for anyone with a soy intolerance, which can be used in smoothies or baking, sprinkled on salads or cereal, as a milk substitute…the list is endless!
Best CPG distributors based in L.A.
If you want a bit more in-depth info about the best distributors in the LA area, check out our blog post that's jam-packed with details. For a condensed version, here are some of our top picks.
Distributing frozen, fresh and packaged foods across California and Nevada, Buffalo Market takes a sustainable approach to their work. The company works with ethically-minded brands and specializes in food with a purpose, e.g., alternative proteins and items that spur regenerative agriculture. They're a great distributor to partner with if you share the same passion for purpose!
This nationwide distribution company ships all types of CPG products across the country. US Foods serves 300,000 restaurants and retailers, delivering everything from meats and ingredients to beverages and ground coffee.
Serving LA and Orange County, this company is in the market of healthy snacks and beverages. They work with small brands and independent retailers. They are super selective about only working with the best companies who share their values.
Ready to get started?
Buffalo Market is the leading distributor of purpose-driven brands in Los Angeles, and we can't wait to hear all about your brand's mission.