The Ultimate Beginner's Guide to Last-Mile Delivery
Fast, unfailing (and preferably free!) delivery is essential for e-commerce these days.
Customers no longer see delivery as an additional bonus. It's an integral part of the shopping experience. In the aftermath of the COVID-19 pandemic and ever-growing digitization, consumer behavior has changed for good – and online delivery is here to stay.
To keep customers happy, great last-mile delivery is vital for CPG brands. But what exactly is "last-mile" delivery?
In this ultimate beginner's guide, we explain what this crucial logistics stage involves and why it's so important for CPG brands.
We'll also explore some of the main challenges and business solutions to ensure your last-mile process delivers when it matters.
What is last-mile delivery?
First things first, we should explain that last-mile delivery is only one part of the delivery ecosystem. There are three main legs, including:
First-mile delivery

– the stage when goods are moved from manufacturers or retailers to a distribution partner's hub.

Middle-mile delivery

– the shipment of goods from distribution centers to retail outlets and facilities.

Last-mile delivery

– the final stage of the delivery process, involving the movement of goods from sales hubs to their final destination – usually the customer's doorstep!
Because last-mile delivery involves the shipment of goods directly to consumers, it's a critical aspect to get right. Last-mile delivery needs to be affordable and efficient, with those final miles covered at lightning-fast speed.
If you think last-mile delivery is something only retail channels need to worry about, think again. To stay relevant and delight consumers in the world of e-commerce, it's a vital part of modern business that CPG brands can't afford to ignore.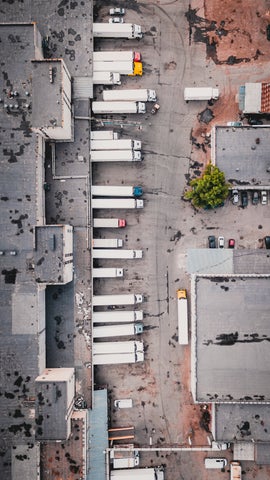 Why last-mile delivery is vital for CPG brands
There are three main reasons why last-mile delivery is vital for CPG brands: customer experience, retailer relationships, and business profitability.
Let's unpack each in turn.
Customer experience
When it comes to online sales, logistics is the only real point of contact between consumers and brands. Timely delivery isn't just an aspiration; it's a necessity for business growth in a highly competitive industry.
If delivery is disorganized or delayed, customers will have a negative perception of your brand before they've even tried your goods – and this is something any CPG brand wants to avoid!
Retailer relationships
With increasing attention paid to out-of-stocks and retailer penalties for non-compliant deliveries, poor delivery planning can seriously impact your bottom line.
Retailers want to work with reliable brands. When making buying decisions, most will look at your logistics track record when making a decision on who to stock and who not to.
Business profitability
As well as customer experience and retailer relationships, last-mile delivery directly impacts your profits. It's the most expensive stage of the supply chain, estimated to account for 40 to 50% of logistics spending.
With numbers that high, efficient processes are crucial for long-term sustainability.
What's involved in the last-mile delivery process?
Once consumers place an online order, an app or website will communicate with a retailer's e-commerce server. On confirmation of payment, a request will be sent to the warehouse to start the dispatch process.
An agent will then pick up the item(s) from the warehouse and deliver these to a transportation hub. From the hub, packages will be sorted and delivered to customers' doorsteps.
Each of these steps is a vital aspect of last-mile delivery. If just one stage goes wrong, then the entire chain is impacted.
Here are the five key elements, broken down step-by-step:
1. Order processing
Once the order is confirmed, it's registered on a centralized system where stock will be checked and pick-up confirmed. Order confirmation and tracking links are sent to consumers.
2. Delivery
Once the items are ready for transport, a delivery planner will assign routes and drivers.
3. Dispatching
With all orders routed, the delivery schedule and task lists are shared with drivers – who'll leave with the packages.
4. Picking and Scanning
On delivery to a transportation hub, orders are sorted, scanned, and loaded onto vehicles for the final leg of the journey. Digital systems are updated to allow customers to track their package along this "last mile."
5. Order arrival
The order arrives at the final location and the delivery status is updated, completing the last-mile delivery process!
What are the problems with last-mile delivery?
With so many interlinked steps, it's no wonder businesses are keen to avoid even small hiccups in the last-mile delivery process. Despite this, more than 61% of logistics companies rate last-mile delivery as the most inefficient process in the entire supply chain!
One study has found that 56% of shoppers won't buy from a brand again if they aren't happy with the shipping service. In such a competitive marketplace, CPG brands can't afford to disappoint.
So what are some of the main challenges?
High costs
It's been estimated that last-mile shipping accounts for up to half of all delivery costs, with CPGs typically footing the bill for up to 60% of this amount!
In the aftermath of the pandemic, online delivery is a massive growth area for CPG brands. increased orders though come with increased risks for inefficiencies that start eating into profits.
There are many issues that make the process more expensive, including increased demand for same-day delivery, storage, poor IT systems, inadequate logistics visibility, and poor communication.
Poor communication and visibility
Communication is key to last-mile delivery. This covers every aspect from manufacturers to distribution hubs, delivery drivers, and consumers. Issues with "proof of delivery" not being registered are common, as are picking and packing mistakes and lost orders.
These issues often stem from a lack of automated reporting, meaning that the process isn't being tracked, analyzed, and improved consistently. A lack of overall logistics visibility further results in poor planning and inefficient working practices.
The need for fast, flexible delivery
Speedy, same-day delivery can prove a large challenge for smaller CPG brands – often resulting in increased costs. Manual processes compound this problem with little room for alterations (i.e. change of address or delivery time) after orders are placed.
All this runs the risk of failing to meet consumers' "on-demand" expectations.
Inefficient route planning
Particularly in congested cities or unfamiliar rural areas, time and money are wasted on unclear and inefficient routes.
The delivery planning stage is often completed by a single individual, increasing the potential for human error and time-consuming decision-making.
Route inefficiency means gas usage and emissions are increased. The logistics industry currently accounts for more than 17% of the world's greenhouse gas emissions.
As sustainability becomes more and more important to brands and consumers alike (with many consumers now demanding carbon-neutral delivery), this is a problem no CPG can ignore.

Let's talk solutions
For last-mile delivery solutions, automation should be number one on your list.
In good news for CPG brands, the last-mile delivery market is full of innovative software solutions that allow for the digital management of order requests, warehouse inventory, planning routes and dispatching drivers, collecting proof of delivery, managing customer relationships, and more.
All this makes your last-mile delivery more affordable, scalable, and successful. Here are some of the key solutions that automation allows:
Dynamic routing
We've already seen the challenges inefficient route planning can present. With dedicated last-mile delivery software, dynamic routing enables managers to track their delivery fleet in real-time – recommending the most efficient routes.
SMS alerts are triggered if there are any prolonged delays or changes to delivery urgency, with drives also updated based on the latest information.
Optimizing routes improves the speed of delivery (allowing for same-day delivery), cuts fuel consumption and emissions, and accurately predicts completion times – thus improving the customer experience.
What's more, auto-dispatch features further remove a time-consuming aspect of manual delivery planning.
Flexible proof of delivery
Customers demand both efficiency and transparency in the delivery process.
Proof of delivery is just one aspect that can be integrated into a mobile app for drivers. With digitization, customers can also sign receipts remotely – facilitating both social distancing and efficient auditing.
Automated tools further allow for flexible deliveries, empowering customers to change location or delivery times on the go.
Crowdsourcing deliveries
Whilst crowdsourcing and the gig economy aren't new concepts, they've recently revolutionized supply chain logistics.
Instead of hiring permanent members of staff, crowdsourced delivery utilizes a massive network of local couriers to deliver packages direct to consumers. This is especially useful for smaller CPG brands looking to cut costs per delivery and improve efficiency.
Specialized last-mile logistics software is often built with crowdsourcing in mind (onboarding drivers with costs, delivery urgency, and proximity all taken into account), allowing you to quickly scale your delivery operations.
As the leading distributor of purpose-driven food and beverage brands, we know a thing or two about logistics! Improving your CPG brand's last-mile delivery is not only vital for consumer loyalty but also for retailer relationships and profitability.
Buffalo Market specializes in bringing a CPG's food and drink to mainstream and upstart retailers, as well as food service establishments. If you're looking to grow your business and increase your sales – get in touch today to find out how our friendly, expert team can help.