What Does 'Certified Plant-Based', 'Fairtrade', & 'Organic' Mean for a CPG? What You Need to Know About Important CPG Certifications
Plant-based products aren't just for vegetarians and vegans. Concern about health and climate change has led a growing number of flexitarians and omnivores to browse a supermarket's plant-based section.
This spells big business for plant-based CPGs. In fact, the plant-based food market is expected to grow at a CAGR of 11.9% from 2020 to 2027.
In six years, it will be worth a whopping $74.2 billion.
There's clearly a huge market for plant-based food and beverage products. But how do you ensure your products catch the eye of a consumer?
Hint. Packaging has a big part to play.
Why are product certifications so important?
Some consumers will take the time to research your products and to assess the transparency of your ingredients list before they make a purchase. But, it pays to offer shoppers a shortcut.
That's where certification comes in. Stick a third-party verified plant-based certification logo on your product packaging and shoppers can see product attributes and brand values in an instant.
When we consider that 40% of all consumers are purpose-driven – meaning they look for products that align with their values – you want to give them as many reasons as possible to put your product in their basket.
Your packaging should tell them about all the sustainable, ethical and social benefits of the product within. Which means you may choose to use a plant-based certification – and a few others too.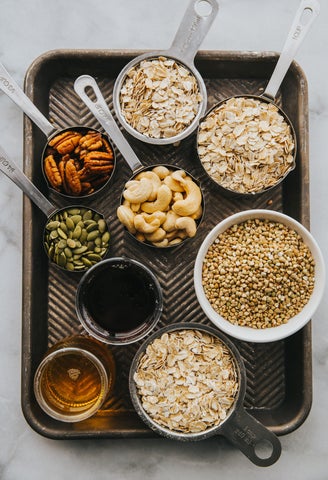 Some certifications you may want to consider.
Gluten-free
You'll see two different types of gluten-free labels on food products. One will read simply "gluten-free". The other states "certified gluten-free".
According to the FDA, food manufacturers can label their products as gluten-free when they contain less than 20 parts per million of gluten.
A certified gluten-free label shows that a CPG brand has gone one step further. You can only become certified gluten-free if you get approval from a third-party company. These include NSF, GFCO and BRCGS.
Each company has their own rules for certification but they tend to be more stringent than those of the FDA. For example, GFCO will only certify foods that contain 10 parts per million of gluten or less.
Vegan
There's no federal certification for vegan products. CPG brands can simply choose to slap a vegan symbol on their product packaging without any third party involvement. This can leave consumers in the dark as to what exactly a vegan product does or doesn't include.
NFC, along with organizations like The Vegan Society and Vegan Action, aim to offer a little more certainty to consumers.
Shoppers buying an NFC certified product can be confident that it doesn't contain any animal, fish, milk, egg or insect products or by-products. These foods are also carefully produced to avoid cross-contamination.
Vegan Action goes further. Manufacturers can't use animal products in the production process. For example, they can't use bone char to filter sugar. Products cannot be tested on animals. And they can't contain any animal-derived GMOs.
Plant-based
Plant-based products are usually vegan. But importantly, they are also made to resemble foods and beverages that are traditionally made with animal products. Plant-based products include dairy, meat, fish and egg alternatives.
In 2018, the Plant-Based Foods Association (PBFA) and NSF launched a Certified Plant-Based program. In order to have a product certified by this program, brands have to provide a number of details:
Their product formula.

Information on the source of their ingredients.

Proof that products haven't been cross-contaminated with animal-derived products during the manufacturing process.
Once all these boxes have been ticked (and in some cases once an audit has been completed) CPG brands can use the official Certified Plant-Based logo on their product packaging.
Certified organic
The USDA Certified Organic label is one of the few product symbols overseen at a government level. Products with this label have met USDA's standards on soil quality, animal care practices, pest and weed control and use of additives.
For soil to meet the requirements, farmers should not have used prohibited substances on the soil – including most synthetic fertilizers and pesticides – for at least the past three years.
To be USDA Organic certified, farmers have to provide documents and undergo an inspection every year. And USDA aims to trace organic ingredients through every step of the supply chain.

Fairtrade
The Fairtrade Mark is issued by Fairtrade International – a non-profit organization. Fairtrade aims to make everything fairer for farmers in the developing world and to help consumers make more informed choices.
For a product to carry the Fairtrade Mark, there has to have been an ethical supply chain:
Workers will have been treated well and paid fairly.

They support environmentally-friendly practices.

They don't certify products that have been grown from GMO seeds or using harmful pesticides.
Simple, right? Unfortunately not. As with other certifications, Fairtrade isn't always as straight-forward as it seems.
Some retailers are choosing to by-pass Fairtrade regulations and put their own brand of fair trade label on products. Whilst Fairtrade is trademarked, terms like fair trade or fairly traded aren't. This again means that retailers can self-certify – meaning definitions of fair trade vary across the consumer landscape.
Considering certification?
There are pros and cons to certification.
Certification can be costly for smaller CPG brands. The fact that there are so many different certifying bodies and certification requirements also complicates things for both brands and consumers.
However, if you choose to certify your product with a well-recognized third party, there are lots of benefits too.
A simple logo is all it takes to communicate your product USPs, your brand values and a commitment to transparency. Certification shows customers that you meet their requirements and it helps you to stand out from the competition too.
Want a distribution partner who shares your values?
Here at Buffalo Market we specialize in the distribution of purpose-driven food and beverage products. Tell us a little about your brand to find out how we can grow your market and increase your sales.