What to Cook with Ground Beef
As one of the most versatile forms of meat out there, found in everything from lasagnes to burritos, ground beef has a lot to say for itself. A natural way to build lean muscle and quicken your metabolism, it also contains a variety of different minerals and nutrients such as iron, zinc, vitamins B and E, and selenium.
What that all means is that ground beef doesn't just bulk up your Bolognese but also aids functionality of your brain and nervous system, as well as supporting blood formulation. With so many benefits of eating it, here a couple of recipe ideas to get more ground beef into your diet.
Slow-cooked taco meat
While taco meat can be cooked at any time with a skillet and a handful of spices, the key to an intensely flavorsome and aromatic taco filling is to slow-cook it. This allows the meat to really absorb the tomatoes and herbs you'll be mixing together, and this recipe has just three key ingredients for this recipe:
1 lbs of ground beef (90% lean / 10% fat mixture)
12 oz tub of red salsa
If you're feeling a little more adventurous you can make your own salsa, with just five large tomatoes, a handful of cilantro, a finely chopped red onion, the juice of half a lime, a diced jalapeno pepper, and a sprinkling of salt and pepper.
You can prepare a DIY taco seasoning, too, with sea salt, cumin, smoked paprika, garlic powder, black pepper, and oregano (all 1 tablespoon each)
Now this is a really straightforward recipe so all you need to do is tip your beef, salsa (homemade or otherwise), and seasoning into the crock pot and leave to cook. If you wanted a little extra protein, feel free to add a tin of kidney beans to complement the creaminess of the salsa-coated meat.
Leave to cook on a low heat for 5 hours, although if you're pressed for time, cook on high for 2 hours, but a longer cooking time is preferable, to really allow the meat to absorb those spices as it breaks apart and softens. If you're at home, try to stir the meat every hour-and-a-quarter to properly mix everything together.
And it's ready to serve! Enjoy with tacos and salad, or try it as the filling of a breakfast burrito with some cheese and scrambled eggs. The tanginess of the salsa would go very well with these 14" tomato burrito wraps, too.
Lettuce-wrapped bacon and avocado beef burgers
For those of you seeking delicious meals you can enjoy while on a ketogenic diet, this bread-free alternative to the hamburger is a great place to start. With its low-carb, high-fat ingredients, this recipe can be served with a healthy dose of salad to offer some added nutrients, as well as balance out the saltiness of the bacon and beef.
Then again, for a burger that substitutes its bun for large lettuce leaves, you won't be missing out on much salad. Those of you keeping a close eye on your calories will be relieved to know the fats on display here – bacon, avocado, and the homemade aioli you'll find below – all offer good sources of energy, so you may want to enjoy this meal at lunchtime if you have an especially busy day ahead.
To make the burgers, you'll need
2 lbs of ground beef
1 lb of smoked bacon rashers (6 for serving, the rest to use for cooking)
2 tablespoons of mixed salt and pepper
2 whole avocadoes, sliced to serve on your burgers
1 tablespoon of onion powder
1 tablespoon of garlic powder
1 small, shredded head of red cabbage
Large head of iceberg lettuce, with leaves big enough to wrap your burger
Homemade aioli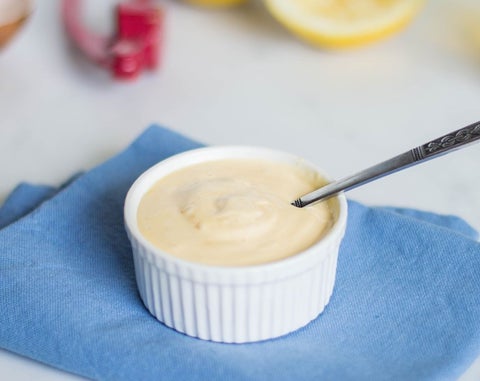 For a creamy, flavorful aioli that's easy to whip together, all you'll need is a food processor and the following ingredients:
Cup of mayonnaise
1 chopped and de-seeded jalapeno
1 chopped garlic clove
¼ cup of cilantro
Juice of a whole lime
Blend these all together until you're left with a smooth mixture that you can easily spread over your burgers.
Now, here's how to prepare the burgers themselves. Take the bacon rashers you're going to use for cooking and chop those up into chunks about the size of your fingertip; put them in a mixing bowl with your ground beef, salt, pepper, garlic powder and onion powder. Mix all of these ingredients together until everything is contained within the ground beef.
Now make 6 patties out of this seasoned beef mince, trying to keep them all roughly the same size (they should weigh around 5.5 ounces). You can pan-fry these burgers over high heat, but the smokiness of the beef is really accentuated when these burgers are grilled.
Put your gas grill on a high temperature, before lightly coating your burgers in olive oil. Grill them for a few minutes until they appear a golden brown, verging on slightly charred, then flip the burgers and repeat this process. This should take another 4 minutes for the burgers to be cooked medium rare, though you may wish to cut into one to see how well cooked it is.
While this is happening, start frying the 6 rashers of bacon from earlier, as you will soon need them to build your burgers. Once the patties have been grilled to your liking, place them in a large lettuce leaf and cover with shredded red cabbage, bacon, some chunks of avocado, and then top with your homemade aioli.
Depending on how many fillings you have in your burger, you may need a second lettuce leaf to contain it all!
A great way to get more protein into your diet, these have just been two recipe ideas on how to cook with ground beef – but there are so many other options for this rich, juicy meat. Why not try making some beef kofta kebabs with homemade tzatziki, or perhaps test out bison meat as an alternative source of protein with our buffalo meatloaf?