12 Chain Restaurants Saving the Planet with Plant-Based Menus
Supported the world over since its 2003 inception, Meatless Monday is a movement dedicated to reducing the consumption of meat, with benefits ranging from the personal to the global. With animal livestock accounting for almost 15% of greenhouse emissions worldwide, changing your diet really could change the world: the mission of Meatless Mondays is to reduce the amount of meat consumed and preserve the thousands of acres of land used to rear cattle.
McDonald's alone slaughters over 350,000 cattle each year to meet the demands of its fast food $129 bn empire. Such an exponential rate of consumption, combined with the extraordinary volume of methane gas produced by cattle, is one of the leading factors of climate change and deforestation – and that's why Meatless Mondays have been implemented in over 40 countries across the planet.
At home in the US, multiple fast-food chains have also made the shift to plant-based meats and are winning over a whole new customer base in the process. Here are 12 of the biggest chains with meat-free options on their menus.
Chopt Creative Salad
Unsurprisingly for a brand that literally has the word "salad" in its name, you can find a list of meatless items a yard long at Chopt Creative Salad. With a wide variety of pre-made menu choices, you'll find ingredients to satisfy every kind of dietary and allergy-related requirement: you can pick and mix seeds, nuts, salad leaves, fruits and vegetables to your heart's delight. There's even a series of ten different dressings that are vegan-friendly, including Lemon Tahini, Red Wine Vinegar, Mexican Goddess, and White Balsamic Vinaigrette.
Burger King Impossible Whopper


This is perhaps the most obvious variation of meat-free cuisine, centered around a meatless burger patty from leading US food tech company Impossible. The aptly named Impossible Whopper achieves just that: the impossible, making a plant-based product that tastes so good as to be virtually indistinguishable from the original Whopper beloved by carnivores. Served in a sesame seed bun with lettuce, mayonnaise, ketchup, tomatoes, pickles, and onions, Burger King quickly established itself as the largest chain to embrace meat-free menu items, when it launched the Impossible Whopper at 7,000 stores across the US.
Dunkin' Donuts Beyond Sausage Sandwich
Partnering with Beyond Meat in 2019, the famous doughnut supplier made the transition to meat-free breakfast items with their savory Beyond Sausage Sandwich, offering 100% plant-based proteins and a concoction of spices and flavorings specially devised for Dunkin' Donuts. Giving customers 10 grams of protein, the meat-free variant of their sausage sandwich has 33% less saturated fat and 29% less fat total than its real-deal Sausage, Egg and Cheese Breakfast Sandwich. This option is also passably vegan – even if the patty is prepared in the same work area as all other meat and dairy products – when served on an English muffin and little else.
Mellow Mushroom
The chain famous for reminding customers that pizzas really are pies for a reason, the Mellow Mushroom product line-up offers plenty of deep dishes and thick crusts – not to mention a colorful array of vegan and meatless items. With the choice to make your own pizza out of more ingredients than you can count on two hands, or to simply select a ready-made menu item, there are plenty of options for the meat-free diner. One of the healthiest-looking options, with a medium size offering just 450 calories, is the Vegan Veg Out. Giving you a whole load of vegan cheese, spinach, mushrooms, black olives, and a handful of other tasty ingredients, this is the definitely a good place to start.
McDonald's PLT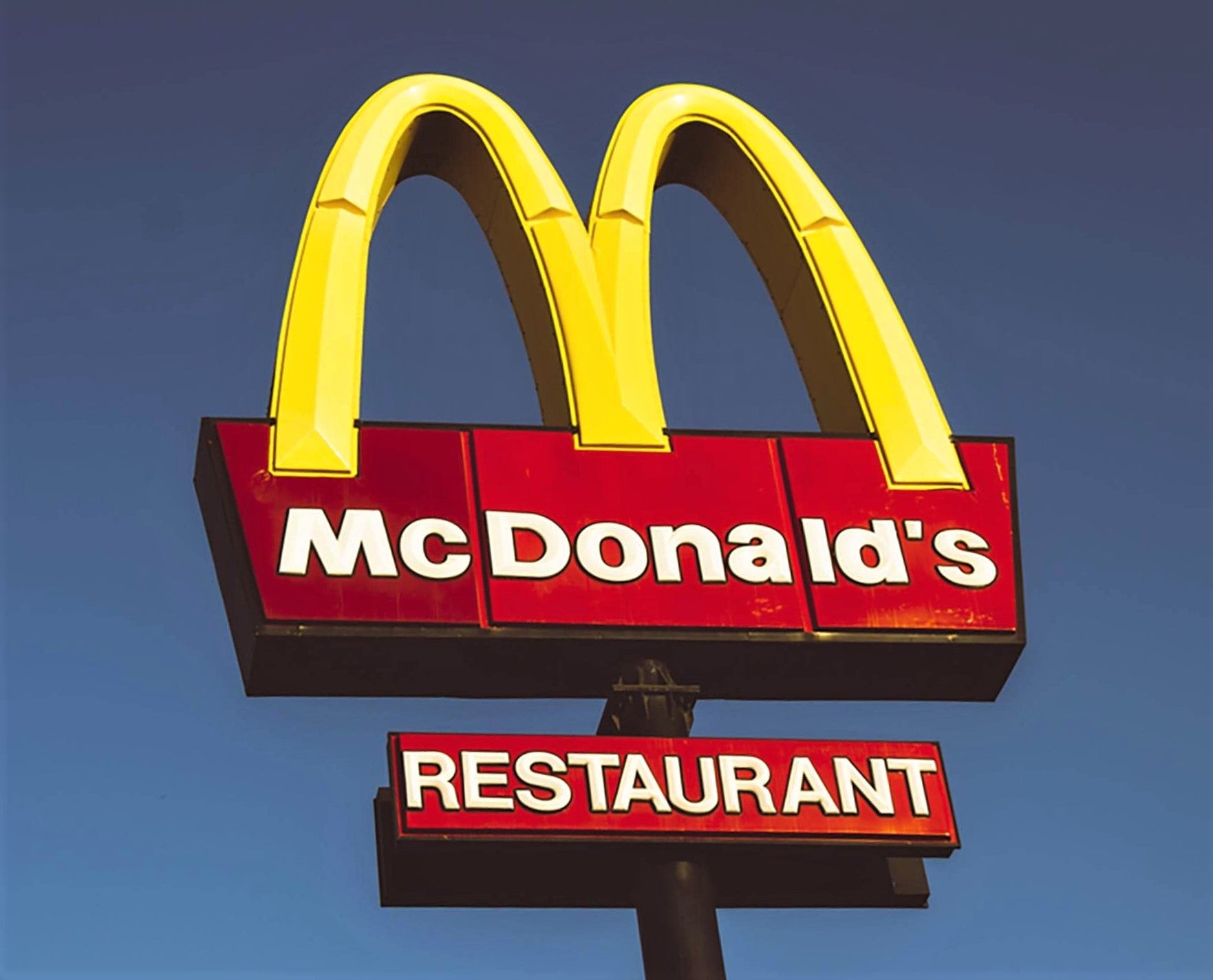 Another dive into the mainstream here, this time courtesy of those famed Golden Arches, yet you won't find any plant-based Big Macs here. The so-called PLT is the 500-calorie option that, like our Dunkin' Donuts sandwich previously, relies on a Beyond Meat patty and started life on a test run in 2019 which saw it being offered in just 28 locations in London, Ontario. Since then, the product has proved enough of a hit to secure itself a permanent place on the Macca's menu, served with mayo-style sauce, mustard, ketchup, tomato, lettuce, and a slice of processed cheese.
KFC Original Recipe Vegan Burger
Working tirelessly to create a vegan burger that tastes just the way the Colonel would have liked it, KFC's original recipe vegan burger offers a unique spin on the classic flavor created in 1952. The only major difference between their vegan burger and their standard Kentucky-fried line burger being the fillet itself, with this meat-free alternative coming in the form of a Quorn "chicken breast" coated in the bespoke KFC combination of 11 different herbs and spices. Served with lettuce and vegan mayo in a soft-glazed bun, there is enough of the original formula here to please even the most ardent KFC fans.
Pizza Hut vegan menu
Partnering with Beyond Meat, famed takeout provider Pizza Hut has recently taken a vegan route with an array of products to please even the pickiest of eaters. Whether it's a feast for someone's 7th birthday, or a desperate 3 am order at the end of a night on the town, Pizza Hut has got you covered if you want to steer clear of the standard Pepperoni or Meat Feast options. With tear-and-share breads, as well as a wide variety of garlic breads – such as their Beyond Italian Style Sausage option – there are more meat-free variations of classic pizzas than you could choose in five minutes.
TGI Fridays
One of the most high-profile chains to advocate Meatless Mondays, TGI Fridays even hosted Veganuary across their stores this year in support of the non-meat movement. Loaded with plant-based protein, the Vegan burger is famed for its juiciness and smoky taste, thanks to a unique combination of beetroot and coconut oil. Diners keen to try one can expect to find it sandwiched between two halves of a vegan bun and a helping of guacamole, served with the brand's patented Legendary Glaze and their house fries.
Panera Bread
The bakery chain that's often been ahead of the pack when it comes to vegan-friendly options, their menu offers more salads than you could shake a proverbial stick at, as well as plenty of meat-free sandwiches and a load of colorful smoothies. But their real triumph of late, in the spirt of Meatless Mondays, has been to launch an entire plant-based section of their menu with a whole host of soups, sandwiches, flatbreads, and even two different kinds of mac 'n' cheese.
QBODA
Another win for Impossible meat, Mexican food chain Qboda takes its lead from other QSRs (quick-service restaurants) to offer a line-up of vegan and meat-free fajitas and burrito bowls, substituting taco meat for their plant-based beef. But it's easy to choose a meatless option at Qboda, too, thanks to the wide variety of bowls on offer that give you piles of beans, rice, and salad – and you can quickly bulk that up with some added salsa or guacamole on the side.
Subway
Customers have always been able to heap their sandwiches with vegetarian items at Subway, thanks to the wealth of vibrant salads and seeds on offer, to be enjoyed as salad bowls on their own. But the sandwich chain has since made the move to meat-free menu items, in the form of their Beyond Meat Meatless-Meatball Marinara, which offers customers an impressive 24 grams of protein in their 6" sub. Load that up with a helping of lettuce, spinach, tomato, and red onion, and you're in for one hearty plant-based lunch.
Red Robin
Offering plenty of meat-free options, such as a spectrum of salads and their tasty selection of guacamole/salsa combos for nachos, Red Robin offers two kinds of meatless dining experiences. The simplest option is to swap out the beef patty of any burger on the menu with the Impossible burger meat on offer, or you can seek out their bespoke veggie-based item: the Veggie Burger gives you a plant-based patty wedged between avocado, roasted garlic aioli, Swiss cheese and diced tomato.
If all these meat-free menus have got your mouth watering, take a scroll through the menu of your nearest fast-food chain and see what vegan or plant-based items are on offer. If you wanted to take that one step further, and if you live in California, you can do your bit to control the effects of climate change by signing the Corporate Accountability Act. Fast food chains are some of the largest polluters in the world and this revolutionary bill allows greater public access to the impacts of the food industry – and it needs your support.