US Restaurants to Wait at Least a Month to Access Federal Relief Funds
Signed into law on March 11th, President Biden's American Rescue Plan is a third-wave stimulus program worth $1.9 trillion, designed to allow individuals and business owners to recover from the economic damage suffered across the past 12 months. Of that total sum, $28.6 billion has been allocated to the restaurant industry, a sector that has seen a quarter-trillion-dollar downturn since the coronavirus outbreak was officially recognized as a pandemic on March 11th of last year, making President Biden's signing of the bill into a law on that date a highly symbolic act.
However, such is the difficulty of correctly distributing such an enormous sum to so many businesses – in the US alone, independent restaurants number more than half a million – it is expected that restaurant owners will not see their federal relief grants until at least one month from now. It was on Wednesday of last week that representatives of the Biden administration informed the Senate Committee on Small Business and Entrepreneurship that a precise date cannot yet be ascertained, as to when the Small Business Administration can start to roll out the appropriate relief funds to the businesses in need of them. Distribution of funds for the hospitality sector falls under the responsibility of the Small Business Administration, a government agency that usually aids independent businesses with loans that have been secured via third-party lenders.
Administering federal relief to independent restaurants
In a payment package aptly titled the Restaurant Revitalization Fund, a fraction worth almost $29 billion will be channeled out of the near-two-trillion-dollar Rescue Plan total and invested into the hospitality sector. This sum will be distributed to restaurants in the form of grants designed to cover all expenses accrued across the pandemic, yet the challenge faced by the SBA will simply be processing the volume of applications. They anticipate receiving grant requests from hundreds of thousands of independent restaurants, all requiring very specific amounts that will need to be carefully assessed and allocated correctly.
What's causing the delay until next month is the present lack of administrative automation that can translate the application forms into appropriate grants, so that the business owners who filed those applications will receive precisely what is needed. As it stands, the SBA is looking into acquiring new AI-optimized technology that will quicken this process and reduce the involvement of human activity, thereby spreading the workload as far as possible at a time when few agencies are operating at anything close to full capacity. With many told to work from home, the ordinary challenges of processing such a high volume of applications is exacerbated all the more.
Differing from the stimulus checks that had been allotted to Americans twice previously in the past 12 months, the third-wave stimulus represented by the American Rescue Plan awards grants based on the amount of revenue lost rather than the sum of a business's payroll. It does, however, supplement existing payments rolled out by the Payment Protection Program, with the intent being to allow businesses to retain their workforce with support funds, so that they will not be forced to onboard new members of staff when trading recommences on the other side of this pandemic. With San Francisco's move to orange tier restriction levels last week, the return to normal trading is gradually being affected within many other states across the nation, making this relief fund something of an economic lifesaver before former revenue streams can begin to reconsolidate themselves.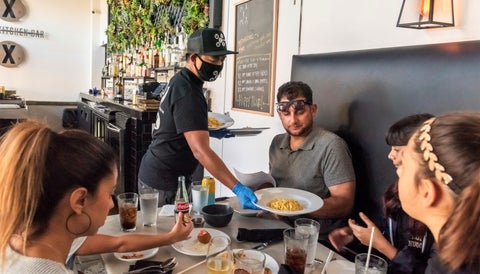 In order to calculate the amount they can expect to receive under the Restaurant Revitalization Fund, restaurant owners are told to put into effect the following formula:
Starting with the total sum of revenue generated in 2019 (pre-pandemic), subtract that figure from your total 2020 yearly revenue (business profits generated during the pandemic); the resulting figure is then to be subtracted from the combined total of the two previous waves of stimulus checks. The sum given at the end of this equation is the ultimate figure to which business owners are entitled.
Which businesses are eligible for relief grants
Under the definition provided by the American Rescue Plan's specific guidelines, there are numerous businesses that may receive federal relief grants. If you are a restauranteur managing a fixed-position entity – such as a saloon, bar, inn, restaurant, or "place where the public or patrons assemble for the primary purpose of being served food or drink" – or if you operate a mobile food-vending service, such as a food stand, truck, or cart, then you will have access to one of two maximum sums. Depending on how you qualify, restaurant owners will be able to receive up to $5,000,000 or $10,000,000.
If you are managing a business collective – an organization which oversees the operation of more than 20 trading hubs – then you will have access to the higher-tier grant of ten million dollars, while independent restaurants will be eligible for a maximum sum of half that value ($5,000,000). Out of the $28.6 bn total, a $5 bn fraction will be set aside for the relief of businesses whose yearly revenue accounts for less than $500,000. However, businesses must remain open in order to qualify for this relief fund, as the grants will not be extended to restaurants which have gone into foreclosure and are seeking federal assistance to cover their debts.
Keeping in-line with President Biden's actively liberal-minded administration, which has seen the swearing-in of numerous queer and non-Caucasian officials, the American Rescue Plan is notable for its affording priority status to women, veterans, and minority individuals within its first 21 days of taking effect.
Buffalo Market Restaurant Bridge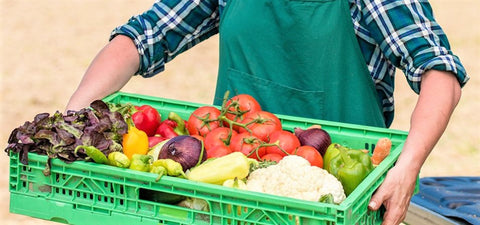 Did you know Buffalo Market has its own COVID relief fund? We do so much more than just deliver premium-quality produce to your door, as we also stock restaurants and hospitality businesses with some of the best organic produce in California – and at the most competitive prices. As an avid supporter of local business, trading only with local producers with whom we have nourished long-term working relationships, we also want to help out restaurant owners who have been adversely impacted by the pandemic.
Under our Restaurant Bridge relief scheme, we are offering restaurateurs six-month credit lines to help them keep their larders stocked and to keep their businesses afloat. Customers will still want their favorite foods even if they have to be enjoyed at home, and Buffalo Market is helping businesses meet that demand by supplying them for half a year with fresh, delicious produce. As federal grants continue to be processed through the Small Business Administration, with no precise estimate as to when you can expect to receive one in your account, take a look at how our own relief fund can help your business today.