What are the Packaging Cues for Sustainability in 2021?
From metal straws to reusable coffee cups, we're all trying to do our part to look after the planet.
By now we know great packaging design can increase sales, create a stronger brand identity and we all want to stand out on shelves. But we are also aware of how competitive the CPG market is, so how do you grab the customer's attention?
Use your CPG packaging cues!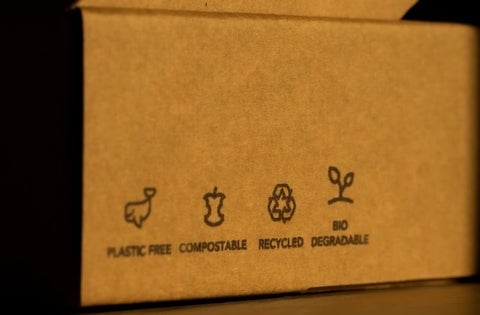 Packaging is your first chance to catch your customer's eye. From the material you're using to colors, text and certifications. These cues are vital in attracting your potential customers as well as making sure your fans can pick you out of a crowd in a second.
So how do you do it?
We've got your back. In this article, we'll break down all the labeling and packaging cues you can use in order to get your product chosen over your competitor's.
Color
When used correctly, color is one of the strongest CPG packaging cues you've got. It's important to get the color scheme right though, these will tell the customer almost everything they need to know about your CPG.
Seriously, some even go as far as saying it is the most important cue.
When customers are browsing in a grocery store, your CPG only has seconds to make an impression. Before the customer can even get close enough to read your label, they'll see the color of your CPG sitting on the shelf.
So how do you convey to the customer that your product is good for them and for the planet? Think natural, earthy tones. Browns, greens, even beige or lighter blues all convey feelings of calm, nature, and especially that you're environmentally friendly.
Choose colors that get your message across and complement other aspects of your packaging. Take into account any characters, fonts, designs and make sure they gel together well.
Try not to go too overboard, either. Too many colors can overwhelm your customer leaving them to wheel their carts to the other side of the aisle. Two or three complementary colors are enough to play with and ensure you're getting your messaging across coherently. Don't forget, you can use different tones of the same color if you're feeling a little limited.
A great example of color use is Beyond Meat's Plant-Based Burgers. Instantly, the brown packaging indicates a connection with nature. With their bold, green letters declaring that they are plant-based. Eye-catching and coherent. Bingo.
Packaging materials
You've taken in color. Next, what do you notice? Materials.
When a customer is scanning the aisles for sustainable products, recycled materials will instantly catch their eye. Anything too artificial, fussy or with excessive plastic is going to be a firm no.
It's no surprise that cardboard and paper are the two main indicators of environmentally friendly packaging, but there are a lot of ways to show a customer that your CPG is both ethical and environmentally conscious.
Use biodegradable, compostable, and recyclable materials
When it comes to materials, paper and cardboard are the clear winners. Studies have shown that customers care most about whether they can recycle a CPG once they're finished with it more than anything else.
That's why the recyclability of your product should be front-of-mind when considering the packaging. Be sure to have any recyclable claims as visible as possible. But, more on that later.
Upcycling is another consideration. A pretty, glass jar, with a label that comes off easily will attract the attention of a conscious consumer. They know they can get years out of it and will be more likely to reach for one.
Use less packaging
With everyone recycling as much as possible these days, we know the difference between necessary packaging and...unnecessary add-ons. Be conscious of what you're using, customers now know the hassle of sorting trash. They don't want it (to make life easier for themselves!) and because they know it's redundant.
Take the Sunrise Valley — they revolutionized the classic egg carton. Less material and a completely collapsible design makes the packaging functional and easy to store. The cartons are also made from 100% recycled products and can then be recycled again by the customer. Plus, they stand out! Win win.
Use less plastic
By now, everyone knows how bad plastic is for the environment. If you can't avoid packaging your CPG with plastic, use as little of it as possible, and make sure it's recycled and recyclable.
One 2020 study found that participants from the United States, France, and Germany all found that plastic was a huge CPG packaging cue, but not in a good way.
In fact, they found that the absence signaled "environmental merit to all three consumer groups". It's not just start-ups taking note, Veuve Clicquot came up with the first eco-friendly packaging solution for Champagne. Made from potato starch, the new and improved packaging is both biodegradable and recyclable.
It's not just recyclable packaging hitting the news — refillable packaging is also starting to take off. CPG giants, Procter & Gamble, recently launched their collect & recycle circular solutions. This refillable packaging is available across a range of their shampoo, mouthwash, and detergents in a bid to reduce their brand's single-use plastic.
Finding new, exciting, and sustainable ways to package your goods will benefit both your brand as well as the planet. And most importantly, attract customers.
Certification
Customers want to know what you stand for. In fact, a recent study showed that 44% of the participants relied on a CPG's label to assess how ethical a brand it is.
Are your CPGs certified organic? Are you made entirely in the USA? Is your packaging fully recyclable or made from recycled materials? These certifications are a clear indicator of your business ethics, showing your commitment to the environment and sustainability.
These are bound to grab the attention of your desired consumer — so use them!
You've worked hard for these certifications, so it's important that customers see them instantly. Make sure they are clearly positioned on your label, and back up any claims you are making.
Take the Happy Egg Co. You can't miss 'organic' or 'free range', because they don't want you to. These keywords have grabbed the customer's attention, which are backed up with the USDA seal of organic approval. Egg-cellent.
The packaging goes into further details: no pesticides, no hormones, and no antibiotics used. This offers the customer all the information they need in order to make a quick and informed choice. Most importantly, it's backed up.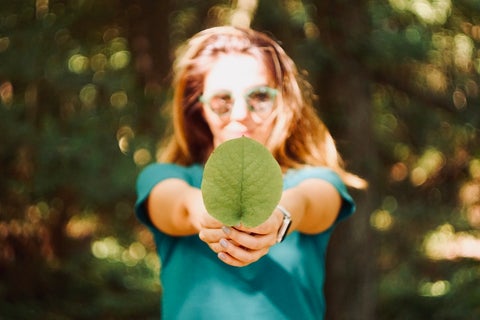 Use your cues to get the attention you deserve
All of these CPG packaging cues overlap with one another to create a strong message. The right packaging combines all the key elements: color, packaging materials, and certifications, to tell the customer exactly who you are and what your brand stands for.
The right packaging will get your CPG into the hands of customers who share your passion for ethical and sustainable food and beverage products. Better yet, you might convince new customers to join the cause!
If you need help figuring out which labels have to appear on your CPGs, don't forget to check out our handy guide.
What's next?
Once you've got your CPG packaged perfectly, it's time to find a distributor.
Buffalo Market is the leading distributor for sustainably and ethically driven products. If you've got a food or beverage product that's as good for people as it is for the planet, we want to hear from you.