Why You Should Be Eating Steak Just a Few Times a Week
The saying that all good things are to be enjoyed in moderation stands for good reason. Sure, you can grab yourself a triple-chocolate chunk cookie after lunch for a bit of a sugar kick to power you through until the end of the working day, but if you go ahead and eat the entire packet, there's a decent chance you'll have an unhelpful energy spike that would make sitting at your desk so much harder. You'll then have to deal with the intrusive sugar crash that results, and you'll find that your day has just gotten a whole lot longer. The trick is to get just enough of something to satiate that craving, without overindulging to the point where you regret having bitten off far more than you could chew – and the same can be said of eating meat, as it turns out.
Unfortunately, there's no getting around that food production is one of the most damaging industries in the world and rearing livestock for meat products is perhaps one of the worst offenders. In fact, as much as 15% of the planet's total greenhouse gas emissions can be attributed to the methane gases produced by cattle – and that's not to mention the millions of acres of forestland that is cleared each year to make room for all those cows. Indeed, this is one of the major proponents behind the rise of plant-based meats, but it's not to say that you should stop eating meat outright.
Steak and other meat-based products are still to be enjoyed – and as we'll discover, they have plenty of health benefits – but what you eat really can change the world. Cutting down on your consumption of meat to just a few times a day can make a substantial change to the world around you, and this ensures that you when you enjoy it in moderation, you will enjoy it all the more. Simply put, cutting down on consumption leads to downturn in demand, and that gradually leads to fewer cows bred for slaughter, a reduced rate of deforestation, and more trees to help the world breathe. But there are still plenty of benefits to be gained from eating meat just a few times a week, when you put steaks or pork fillets on the family dinner plan.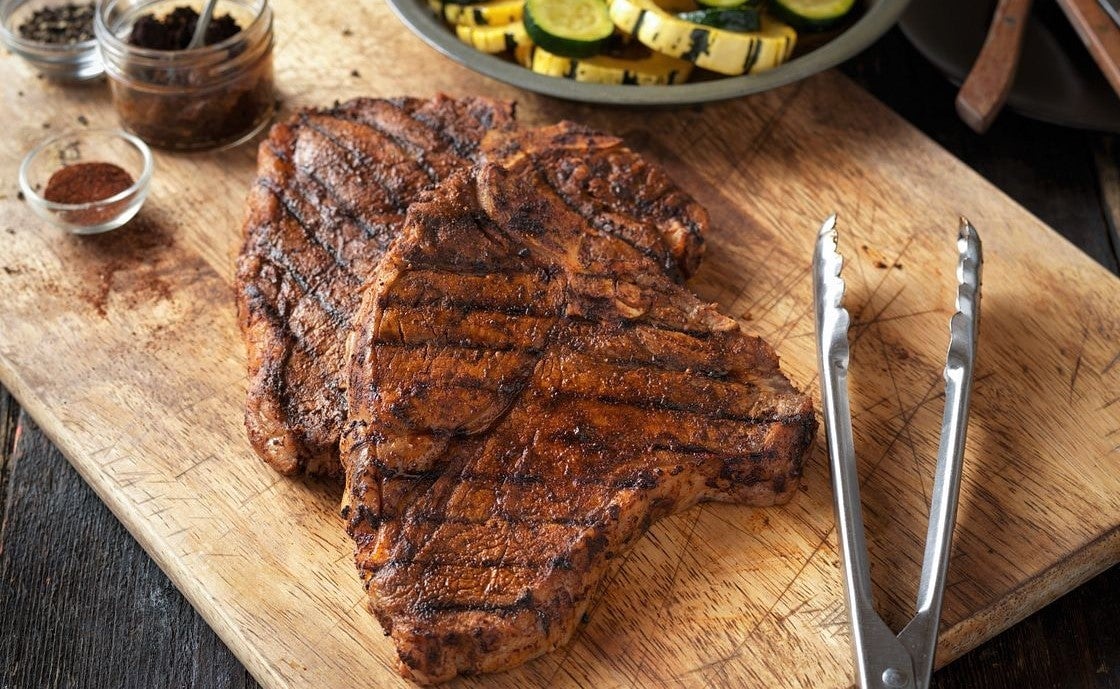 Benefits of a meat-based diet
Most meat products enjoy a wide range of uses, as the key components of pasta dishes, soups, stews, sandwich fillers and salad toppings, but they don't just taste great: a meat-based diet is also an easy way to load up on protein, fiber, and a healthy dose of vitamins and minerals. Beef, for example, has heaps of positive points, as a rich source of protein – which supports muscle growth and aids mass for those striving to build up their musculature – and it also gives you a lot of zinc, which has a whole host of benefits. Strengthening your hair and nails, as well as enhancing cognitive perception and fertility, zinc can also regulate the level of testosterone in your blood, an important process that ensures red blood cell production and fat distribution throughout the body occur as efficiently as possible. Not only that, but the iron content in beef can keep your immune system in top form, to help your body ward off illness and invading bacteria. This is why beef stews are great for frosty winter months, as they keep colds at bay and warm you up at the same time.
Pork, meanwhile, has a lot going for it, too. Thanks to its containing all nine of the essential amino acids required for bodily growth and development, consuming more pork not only provides a greater rate of muscle growth when going to the gym regularly, but also allows for faster recovery from surgery or injury. Pork is rich in unsaturated fats, which is a fantastic source of energy, and pork also allow for plenty of trimming which means you can regulate how much fat you consume. For those who want to enjoy pork in their meal plans with the least fat content should opt for lower-fat cuts of pork such as tenderloin, loin chops, and sirloin roast.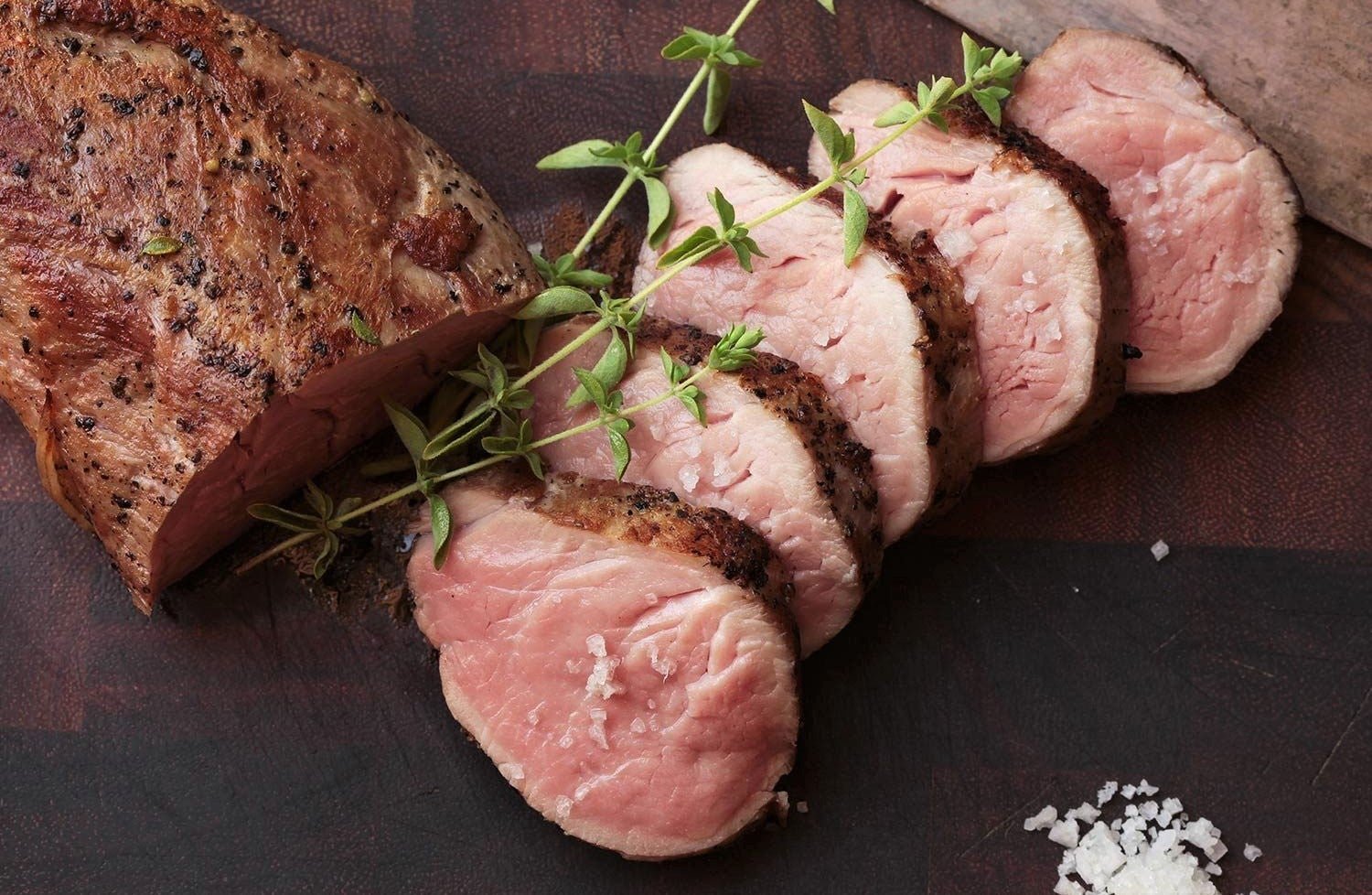 Land and Farm meats exclusively at Buffalo Market
Buffalo Market has built itself on trusted, long-standing relationships with independent producers all across California, allowing us to provide you with home delivery of some the finest, fresh, organic produce at the most competitive prices. Every cent of your purchase goes straight back to the farmer, without a middleman in sight, and it is thanks to the strength of our reputation as a fair trading partner that Buffalo Market has earned an exclusive partnership with Land and Farm meat suppliers. Offering a wide range of premium-quality beef, pork, poultry, and seafood to Michelin-starred and critics'-favorite restaurants, Land and Farm is now supplying Buffalo Market with a succulent array of lean, tender, and ethically sourced meat products.
If you can't decide between ribeye steak, filet mignon, or a hearty sirloin steak that we have on offer – among a whole load of other steakhouse-quality beef products we have – then you'll be happy to know that we've done the hard work for you. In our Carnivores' Delight selection, we're offering you more steak than a family of four could get through in two weeks. Reduced from its market value of $231 – to just $169, giving you a phenomenal $62 saving – you can enjoy all of this in just one box, and delivered at your convenience: x2 Beef Filet Mignon (8 oz), x2 Beef Ribeye Steaks (12 0z), x3 Top Sirloin Steaks (9 oz), and x2 huge Beef T-Bone Steaks (16 oz).
And is if that wasn't tempting enough, we have just launched our April Gift Card Special, in which every $100 spent on meat products gives you a $20 gift card. This is a deal not to be missed, so be sure to take delivery of your Carnivores' Delight meat selection and a Buffalo Market $20 gift card, to keep your kitchen stocked with market-quality produce.