Why Is There Such an Appetite For CPGs in LA?
Los Angeles is a melting pot for all kinds of food. They've got the culturally traditional, the artisan farm-craft specialties, street food fair, and the ingenious fusions. It's also ground zero for health and wellness, which means that when the foodies are taking time off from dining out, they're dining in with the freshest produce they can find.
While food makes the world go round, generally speaking, there's just something about California and LA, in particular, that makes it such a beacon for CPGs.
Let's talk about all the elements that come together to make LA and the great state of California the ultimate hotspot for the foods that fuel its appetite for CPGs.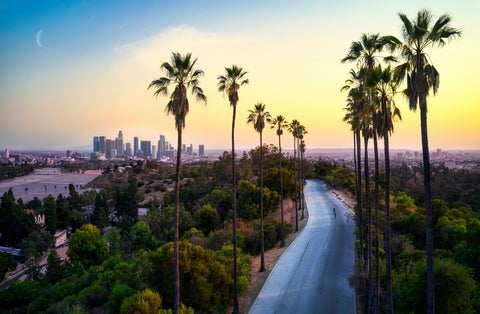 LA is known for its food scene
As mentioned above, LA is food.
In recent times, LA has been named "America's best and most exciting food city." And, if you ask us, that's because the LA food scene is a reflection of its people and their cultural identities.
Culture is clearly the focus here. Most restaurants in LA are rooted in immigrant communities that rely on their native foods to not only make a living but to keep their traditions alive.
As one generation evolved into multi-generations, traditional foods have been innovated upon. They've either been mixed with other emerging trends or brought in to fine dining with a bang!
Think: Korean barbeque meets Mexican carne asada and BOOM bulgogi tacos are born.
Of course, mouth-watering dishes — fused or otherwise — are not the only food on the menu. With the rise of conscious consumerism and the emphasis on health and wellness, more and more people are calling for creative plant-based dishes as well as organic produce.
LA is also a great place for CPG business
Some people go by the motto eat to live, don't live to eat. But Californians have mastered the art of doing both — while holding down a career.
With California being such a large state — and LA being such a large city — this region is arguably one of the best places in America to do business, CPG included. Here you have access to a globalized market, a never-ending pool of specialized talent, and let's not forget, some of the best weather around.
Moreover, you don't even need to invest in an expensive office space (or kitchen) to get started. Nor do you need to worry about starting off as a giant corporation. After all, many indie brands have started right in their home kitchen, and California law makes it pretty easy to register your kitchen as an SMB.
For example, there's a list of food products you're permitted to create for resale. There are also several economical options in terms of choosing a business structure, as well as straightforward permits for your resale intentions.
You can even allow immediate family members to help out without having to designate them as actual employees.
California is the perfect state for agriculture
Speaking of great weather and adding in tons of land, California is also a perfect place for agriculture. In fact, if California were its own country, it would come in 10th place for its value in goods and services.
It's also ahead of every other state in America in terms of farm income. Its top five agricultural products alone are diverse, as they include cattle, dairy products, greenhouse and nursery products, grapes, and almonds.
When you look at the state's agriculture as a whole, there are actually more than 200 different crops grown there. Additionally, California actually produces the majority of our country's almonds, olives, walnuts, corn, rice, strawberries, avocados, lemons, melons, peaches, broccoli, carrots, garlic, onions, peppers, and so much more.
California is also the second-ranked state in the production of livestock and livestock products, just after Texas.
It makes sense for LA-based CPGs to swarm around the city as it's so easy to source local and high-quality ingredients. This is even true for the more niche-oriented food markets.
California shoppers are known for their adventurous tastes
Whether it's grocery shopping or dining out, if there's one thing that the majority of Californians have in common it's their excitement for trying out new and exotic flavors. From raw fish to ramen, there's almost nothing a Californian won't try — or encourage their visiting guests to sample.
This is also something that makes the entire state a perfect spot for new product development (NPD) testing within the food and beverage industries.
Think about it this way: the possibilities are virtually endless when it comes to cultural combinations as it is. When you throw in beverage pairings, those possibilities and subsequent trends become almost infinite.
There will always be a new take on fresh Baja-style Mexican food or cuisine that has suddenly entered into the spotlight, such as Filipino fare. And there will always be a new craft beer, wine, juice, or tea that can be paired with it to bring out even more flavor.
Essentially, Californians have a divine need for the next new flavor — it's a whole other sense of adventure for an already adventurous bunch.
And don't even get us started on the desserts!
LA has fantastic wholesalers and distributors to back CPG businesses
The city of LA has an extensive list of wholesalers and distributors to choose from.
You'll have your pick from the regional, national, and international distributors to ensure that all of your needs are met. And no product is too niche.
The consumer packaged goods industry is fast-moving and in high demand at all times, especially in the city of LA where food innovation and creation never sleeps. Grocery stores, restaurants, hotels, and more depend on the restocking of all kinds of items daily to keep their customers happy.
What's more, the majority of these distribution companies are focused on high-quality produce, sustainability, and environmental care, which means you'll be working with mission-driven people (like you!).
Are you ready for LA?
With over 2,000 grocery stores and 29,560 restaurants — and counting — in LA, it's safe to say that the city has an endless appetite.
LA shoppers and diners alike also expect the best ingredients as well as conscientious and sustainable practices in terms of getting their food on the table. This has created the need for mission-driven brands, and the wholesale food distribution and CPG industry are no exception.
When you're ready to enter one of the world's best CPG states, Buffalo Market is here and waiting to become your leading distributor. Get in touch with us today to learn more about our mission and what we can do for you.