How to Design the Layout of Your Restaurant
It's often said the thing writers are most afraid of is the blank page, and the little cursor blinking at them expectantly as they wait for the words to flow. In all artistic endeavors, the blank canvas can be a daunting concept as the thousands of ideas spinning around in a person's head somehow need to be rooted to something that other people can understand. When it comes to the blank page in the world of business, however, there is a strict guiding principle as certain actions will have certain outcomes. A good example of this is found within the hospitality sector, and especially when designing a new restaurant: there are just some things that will result in a negative response, and some things that will drive the potential of that business.
As with every aspect of running a restaurant, you must always consider the customer's needs. While there are plenty of elements involved in effective interior design – such as lighting, furniture, tableware, and a heap of other things besides – before any of that can happen, you need to make sure your restaurant is laid out logically and comfortably. You want there to be enough seating to maximize your capacity, but you don't there to be so many chairs in the dining area that your servers can't navigate from one end of it to the other. Here are some of the key considerations for you to bear in mind as you turn your restaurant business plan into a fully functioning business.
Decide on a business concept
This will really help you determine the kinds of materials you are going to need and where you intend to position them. If your desired atmosphere will replicate that of a bistro or a provincial tavern, them you will want to create the feeling of coziness that comes from these typically smaller kinds of eatery. You will likely be looking for cushioned wooden benches or deep-seated chesterfield armchairs, and you may want to install a wood-burning stove or a real fireplace. The accessories and fixtures you buy to complement this furniture will impact the balance you strike between open space and seating capacity.
If you are taking a much more modern approach, and are seeking a restaurant venue with large windows and a plentiful source of natural light, than this sensation of space and airiness will benefit from appropriate table and seating plans. You need to consider how the available space of your restaurant affects its vibe and how this will impact your diners, so in the case of the 'modern' restaurant concept it won't quite fit to have a sea of tables squashed into such an expansive sunlit dining area.
Perfect the ratio of style to function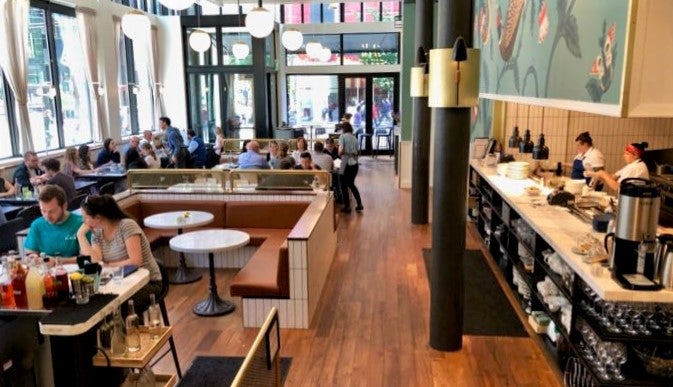 This rule adheres mostly to the kinds of material you intend to use when laying the foundations of your restaurant. The first consideration should be flooring, and this will depend on your restaurant's location and its intended demographic. If you are setting up your business in a region that sees a lot of rainfall or icy conditions, then you will want to think again about laying down the waxed wooden floorboards you had your heart set on. These may look terrific, sure, but if they are going to be traversed by customers with rain-soaked shoes or boots that will leave behind chunks of snow, which will melt into a slippery safety hazard, then you aren't going to want to such a perilously smooth surface.
Conversely, if you have designs for your restaurant to be pointedly family-friendly, then you will want to think again about fitting any plush carpeting that looks great but is actually a nightmare to keep clean. Young children may add another vein of income to your revenue stream, especially as families can represent some of the most profitable areas of a restaurant's clientele, but they are also among your messiest patrons. Toddlers learning to eat are apt to make a mess of their plate of pasta sauce, which can make trying to keep your shagpile carpets clean a real challenge, so try to walk the line between what looks good and what is going to be practical on a day-to-day basis.
Table plan
As a balance between available space, aesthetics, and local regulations, deciding on your table plan can be a real head-scratcher for any new restauranteur. The most important factor of any new restaurant will be its number of safety exits, as this will determine the volume of tables you are permitted to fit into your floorplan, allowing for a certain number of square feet per customer as defined by specific regional business codes. This is a vital consideration to factor into the early stages of your restaurant design, as you do not want to be in violation of the safety statues imposed by the county within which you are opening your restaurant.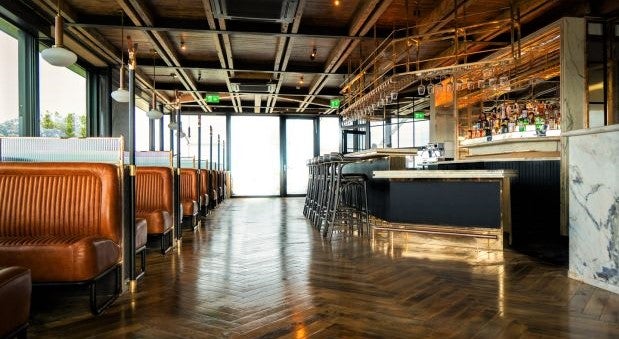 Beyond that, you will need to decide whether you will offering chef's tables or VIP tables that may be positioned on elevated platforms or with a view into the kitchen. You will need to factor in the position of your overhead lighting or floor lamps to ensure the tables are all properly illuminated, and that the tables are positioned in such a way as to utilize any sources of natural light if your restaurant features an especially prominent quantity of windows.
When it comes to opening and operating something as complicated as a restaurant, there is no easy way to do it, and no amount of experience can ever be an absolute guarantee of a quick solution. As we've all experienced over the past year, no-one can ever say what's around the corner, so it always helps to resolve each problem as it comes. Yet perhaps more so than any other industry, knowledge really is power when it comes to the hospitality sector – and that's where Buffalo Market comes in.
We don't just provide your restaurant with top-tier organic produce at the best wholesale prices, but we also have our own restaurant owner's blog to help you navigate the choppy waters of running a business. Whether you want to know about some of the biggest food trends of recent years, or how to design an effective restaurant menu, we've got all the basics covered. Take a look today and see how you can streamline your business operations and maximize your turnover.