The Easy Way to Design Your Restaurant Logo
Once a company establishes its own consumer base, its reputation for quality can then be attributed to their brand. Almost as important as the product on sale is the brand recognition of that outlet, retailer, or food service hub. You'll know you've really made it when a distinct icon – or even a single letter, in the case of the universally recognizable Coca-Cola logo – can represent your product with just a single glance.
The same can be said of the restaurant industry, where an endless array of competitors can lead some customers to simply stick to their guns and order from the same place they always do. Brand loyalty is a powerful force of persuasion when it comes to making the decision of what to eat and where - and you can bet that decision is made a whole lot faster when the customer is getting hangry…
Designing a logo, then, is a vital part of your restaurant marketing strategy, to help your business stand out from the crowd in its earliest days and eventually become the face of your brand entirely. The good news is that designing an eye-catching restaurant logo doesn't need to be expensive, and you won't need to hire a graphic designer to make it for you. Here are some of the tips and tricks to consider when creating your own bespoke business logo.
Choose the basis of your logo
Just as Apple uses the eponymous fruit to represent its products, the key to effective brand recognition is often simplicity. Twitter has its little blue bird, Windows has its multi-colored window, and Target's logo is literally a target: keeping it simple is an easy, impactful way to stamp your brand into the customer's mind, so you want to make sure the basis of your logo isn't something too obscure or overly 'busy'. Big and bold are what you want here.
Just like those famous brands, you want to choose something that can be reproduced in simple block colors and clean lines. One of the best free-to-use services is the logo-making platform BrandCrowd, which provides users with an expansive library of food- and restaurant-related logo templates that you can then modify to your own liking. The simplicity of this service is its primary point of appeal, allowing you to create functional business logos in a matter of minutes, every aspect of which – from the slogan, to the color of the text and the typeface itself – is then freely customizable.
When selecting the basis of your logo, consider items that are relevant to the nationality of your cuisine – don't use a croissant as your sushi bar logo, for instance – and try to employ an attractive balance of bold colors that will complement one another. Steer clear of neon hues and instead focus on more true-to-life tones that reflect the color palette of your menu. Industry standards include warm brown, yellow, and earth-red shades, building an association with soil and the organic produce uprooted from it.
Wrap these colors in thick, simple black lines and you'll have a logo that's easy on the eye and ready to print on everything from business cards to restaurant menus.
Free logo makers
If you want to convey your point quickly, easily, and cheaply, you can get your business off the ground with a decent logo for next to nothing. You can easily go upmarket with your graphic design, but it's best to leave that as an extravagance for when you have a secure revenue flow and familiar clientele. There are plenty of free logo makers available on the internet, and two of the best ones are the rather aptly named LogoMakr and Canva Free.
The former is well regarded for its ease-of-use and the lengthy list of features and typefaces available, as well as an expansive library of shape and object templates for you to play around with. While you can pay a $19 fee to distribute your logo in a vector SVG format, the free version of your logo requires you to credit LogoMakr every time it is reproduced so you may want to consider that as a potential obstacle.
Next up is Canva Free, the no-charge version of their digital design utilities which include menu design, over 420,000 image templates updated every day, and 100 GB of cloud storage. Even in its Free form, there is a huge amount of design versatility on offer and the resulting logos made with Canva can be printed out or shared to social media channels directly from their website
Use a restaurant slogan
The impact of a strong logo can always be strengthened by a catchy slogan. Indeed, the world's most successful companies have a reputation for quality affirmed not only by ongoing customer satisfaction but some of the most watertight brand taglines out there. Just think of KFC's "finger-lickin' good," Nike's "just do it," and Apple's "think different" – they all communicate what the brand can do for you or what it can make you do.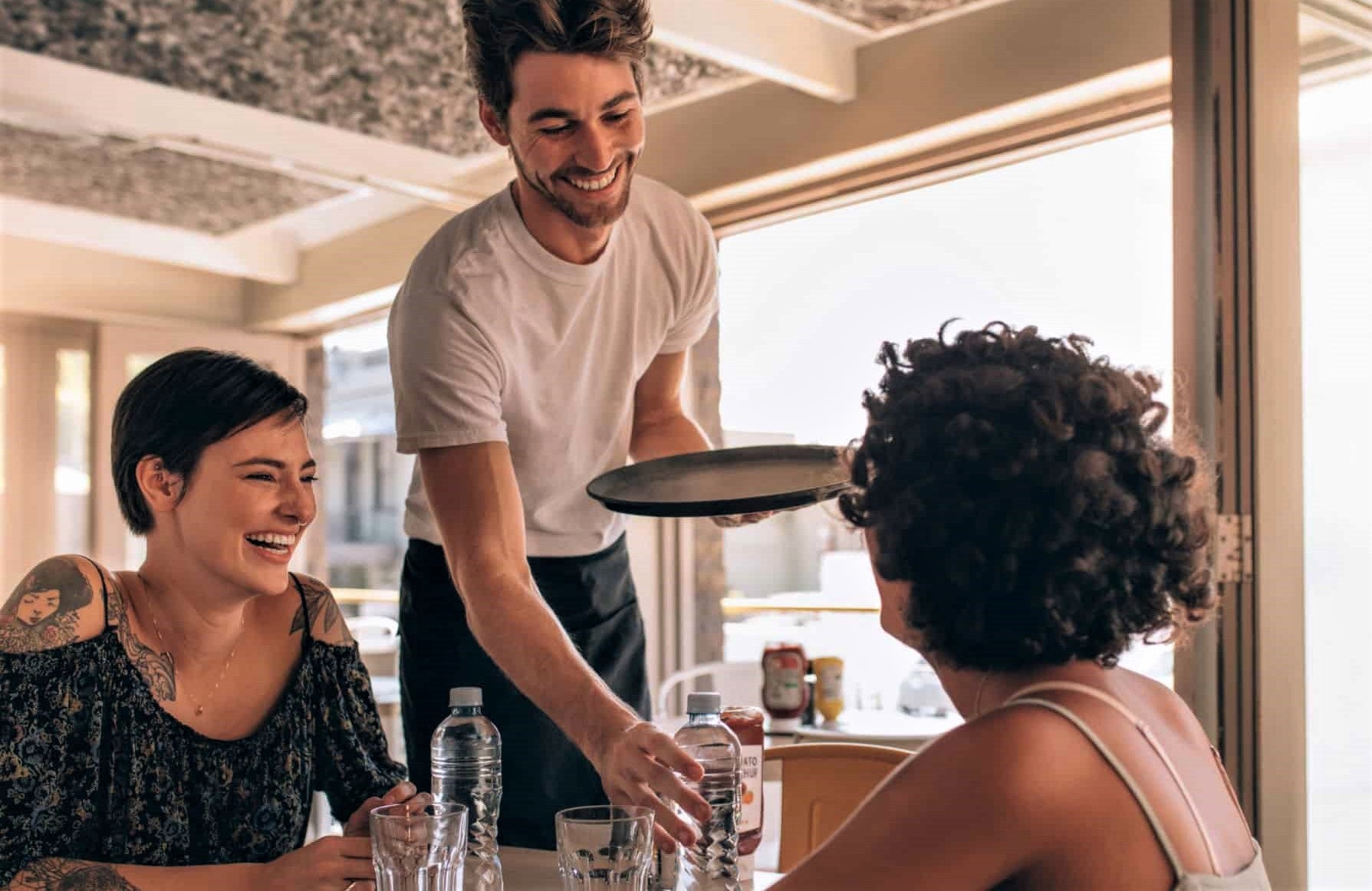 When designing the tagline of your restaurant logo, think of what you want the customer to take away from their dining experience; what do you want them to associate with your product? Just as McDonald's assures their customers that they will be "lovin' it" when they trade their hard-earned cash for a Big Mac and fries, what kind of response do you want diners to have from your menu?
The key to maximum impact is to utilize no more than seven words – ideally less than five – to allow the message to be relayed as cleanly as possible, with the reduced number of characters in a slogan allowing it to be printed in larger, bolder font across your website and social media platforms.
With so many platforms out there for you to experiment, you won't need to part with a single penny of your budget to design a successful restaurant logo. Marketing your business is one of the most important parts of getting started in the hospitality industry, but just as important as that is stocking your kitchen with high-quality produce that will put an extra kick in your product line up.
This is where Buffalo Market comes in, giving you more than 2,600 market-quality items to choose from, as well as plenty of extra perks for purchasing our organic ingredients sourced from local California farmers. For all orders over $125, for example, we throw in a Produce Surprise Box heaped with our hand-picked produce - and valued at a whopping $60 total. Head over to Buffalo Market now to get your hands on one today, in a deal as sweet as the fruits and vegetables we've got on sale.