Food Distribution Jobs: Is Wholesale Food Distributor a Good Career?

What is food distribution?
The practice of food distribution goes as far back as the Roman Empire and has since then helped societies deal with the difficult issue of getting food and drink adequately distributed throughout the population.
Food distributors transport goods from the point of harvest or production and see them along their journey to the point of sale. Participants all along the food supply chain rely on the work of food distributors—farmers, CPG manufacturers, truck drivers, warehouses, restaurants, grocers, retailers, and consumers.
Food distribution (which is different from food wholesale) takes many forms worldwide and can range in service area from hyperlocal to international.
Are you interested in a career as a wholesale food distributor? Get in touch with the team at Buffalo Market, one of the fastest-growing distributors in the industry.
Different types of distribution in the US
Different food service providers will have different requirements for their business or organization. There are several main types of food distributors in the United States that they may select from. It's common for a seller to choose more than one type of distributor and work with multiple companies.
Broadline: Most large-scale food distribution is made up of broad-line distributors—organizations that distribute many different products in large volumes. These massive operations make regular visits to buyers that need a lot of inventory with high turnover, like retailers and supermarkets.


Cash and Carry: Wholesale goods from the manufacturer are sold from a warehouse to individual resellers rather than delivered. You can think of a cash-and-carry warehouse as a sort of bulk grocery store for restaurants and catering companies.


Specialty: Specialty distributors focus on specific categories of items and use that focus to optimize their services. Items like fish, international imports, and kosher products might all be handled by a specialty distributor.


Redistributors: Not all food service establishments need or have the ability to take on large quantities of inventory. Redistributors purchase goods from manufacturers and then sell it to smaller distributors, from whom restaurants and retailers may order less than a truckload (LTL).
Direct Store Delivery (DSD) vs. Distribution Centers
Given the many different types of food products—fresh, frozen, refrigerated, dry, shelf-stable, alcohol, meat, dairy, etc.—it becomes necessary to make the best use of your logistical options for food distribution.
Direct Store Delivery (DSD)

: DSD distributors take products directly from the manufacturer to the retailer, bypassing the warehouse. Some DSD distributors, like

Buffalo Market

, will even restock shelves and promote the merchandise with in-store displays. This type of distribution works particularly well for high-sell items that need constant restocking or those with a shorter shelf life that lose sellability every minute they sit in a warehouse.
Distribution Center

: Also known as centralized distribution, this logistical model involves CPG goods being delivered to a retailer's warehouse before they're brought to individual stores. This gives retailers control over when and how much of each product is delivered to their shelves. The downside to using a distribution center is that it requires much more of the retailer's resources to maintain—storage, delivery, and labor are all the seller's responsibility.
How do food distributors make money?
Food distributors wouldn't exist if they couldn't make a profit, but they also have to ensure that both their suppliers and buyers benefit from their service.
Food distributors' income is typically percentage-based, collecting between 10% and 25% of the sale of goods to a restaurant or retailer, depending on the distributor's level of service and size.
Large, broad-line distributors are more likely to take a smaller commission, but due to their size and the fact that they represent so many brands and service so many stores, these companies aren't able to provide high-touch service or support for businesses outside of making (hopefully) on-time deliveries.
Specialized distributors, though, have the bandwidth to service brands or stores with care, meaning they will be more able to support sales of products and will be more invested in their partnerships. Therefore, businesses can expect to pay a slightly higher percentage to work with a smaller distributor.
Are there good food distribution jobs?
Yes! Whether you excel at sales and relationship-building, are great at thinking of creative ways to market your services, or value the importance of representing yourself and your company well, there's undoubtedly a perfect role for you in food distribution.
As an industry, food distribution also offers some of the best job security, with many opportunities for growth. Working environments vary from offices and warehouses to truck cabins and supermarket sales floors. There are food distribution jobs for people that are comfortable working behind a desk as well as behind the wheel. Check out our Delivery Partners page for more information on joining Buffalo Market's distribution network.
What are some food distribution jobs?
Like any business, food distribution companies employ a wide range of different roles that, when appropriately staffed, ensure the smooth running of operations and optimal productivity. Here are just a few food distribution jobs you'd expect to find at a company.
Sales: It is the job of salespeople to negotiate with brands and retailers and develop a partnership with them. Brands must feel that the distributor will represent their company well and help them to sell more products in more stores. Retailers must be convinced that they can rely on timely deliveries and that the proposed products are desirable to their customer base. Salespeople make those assurances and establish agreements with parties on both sides.

Salespeople are critical to growing the business and maintaining relationships with the food distributor's partners.


Marketing: Marketers use a variety of tactics to attract new business for the food distribution company. These tactics include directing advertising, email campaigns, creating a social media presence, blog posts, and other forms of appealing content. Marketers need to know who their target audience is and how best to reach them.

In this role, you help shape the customer-facing image and voice of the company.


Delivery: Unsurprisingly, delivery drivers are responsible for collecting, transporting, and delivering goods along the food supply chain. This might mean visiting manufacturers directly or collecting from a central warehouse. In either case, the driver delivers the products to the next stop in the chain, whether it's another distributor or the seller themselves.

Food distribution couldn't exist without the drivers on the road.


Merchandising: This role might also be filled by the driver, but it's the merchandisers' task to stock the shelves with products inside the store. They have to be conscious of shelf space, sell-by dates, inventory levels, and the general presentation of their products. Merchandisers represent the brand of the product they handle, as well as the store in which the product is sold.

Merchandisers are often the only face at the company that buyers will interact with in person, so it's important that they go above and beyond in their role as ambassadors.


How much do food distributors make?
It largely depends on your role within the company and the region you work in, but food distributors in the US can expect to earn an average of about $47,000 per year, or $23 per hour.


Food distributor jobs at Buffalo Market
Buffalo Market is the most efficient, transparent, and brand-friendly food distributor in the industry.
We specialize in working with the fastest-moving products and the largest retail chains in the country.
If you'd like to join a fast-growing, tech-forward company on a mission to make better food more accessible across the United States, send us a message today!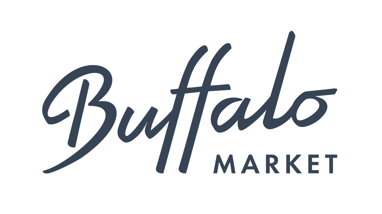 What about food distributor jobs near me?
If you're looking for a food distributor that's more local to you, check out some of our regional lists: